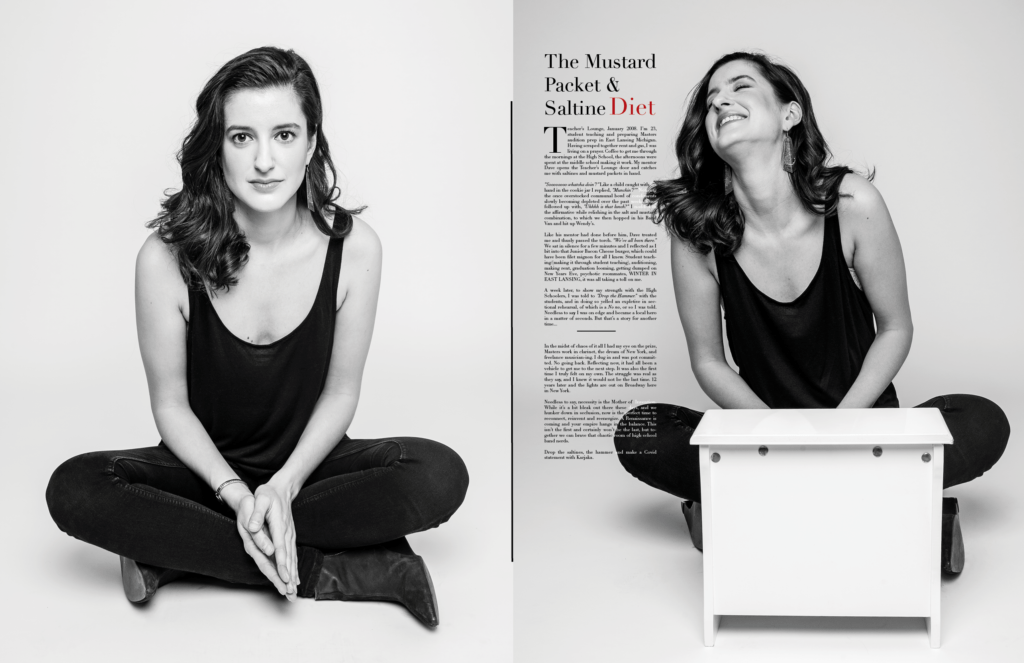 Teacher's Lounge, January 2008.
I'm 23, student teaching and preparing Masters audition prep in East Lansing Michigan. Having scraped together rent and gas, I was living on a prayer. Coffee to get me through the mornings at the High School, the afternoons were spent at the Middle School making it work. My mentor Dave opens the Teacher's Lounge door and catches me with saltines and mustard packets in hand.
"Soooooooo whatcha doin'?" Like a child caught with his hand in the cookie jar I replied, "Munchin'?'" Noticing the once overstocked communal bowl of condiments slowly becoming depleted over the past weeks, Dave followed up with, "Uhhhh is that lunch?" I nodded in the affirmative while relishing in the salt and mustard combination, to which we then hopped in his Band Van and hit up Wendy's.
Like his mentor had done before him, Dave treated me and thusly passed the torch. "We've all been there." We sat in silence for a few minutes and I reflected as I bit into that Junior Bacon Cheese burger, which could have been filet mignon for all I knew. Student teaching/(making it through student teaching), auditioning, making rent, graduation looming, getting dumped on New Years Eve, psychotic roommates, WINTER IN EAST LANSING, it was all taking a toll on me.
A week later, to show my strength with the High Schoolers, I was told to "Drop the Hammer" with the students, and in doing so yelled an expletive in sectional rehearsal, of which is a No no, or so I was told. Needless to say I was on edge and became a local hero in a matter of seconds. But that's a story for another time…
---
In the midst of chaos et al, I had my eye on the prize, Masters work in clarinet, the dream of New York, and freelance musician-ing. I dug in and was pot committed. No going back. Reflecting now, it had all been a vehicle to get me to the next step. It was also the first time I truly felt on my own. The struggle was real as they say, and I knew it would not be the last time. 12 years later and the lights are out on Broadway here in New York.
Needless to say, necessity is the Mother of Invention. While it's a bit bleak out there these days, and we hunker down in seclusion, now is the perfect time to reconnect, reinvent and reenergize. A Renaissance is coming and your empire hangs in the balance. This isn't the first and certainly won't be the last, but together we can brave that chaotic room of high school band nerds.
Drop the saltines, the hammer and make a Covid statement with Karjaka.