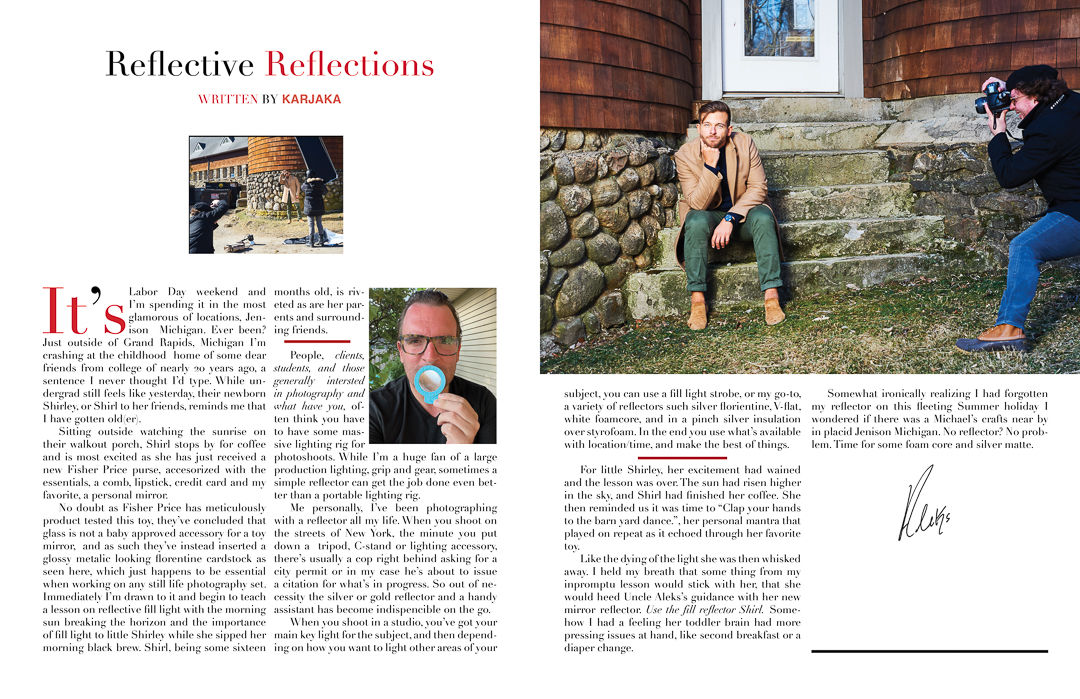 It's Labor Day weekend and I'm spending it in the most glamorous of locations, Jenison  Michigan. Ever been? Just outside of Grand Rapids, Michigan I'm crashing at the childhood home of some dear friends from college of nearly 20 years ago, a sentence I never thought I'd type. While undergrad still feels like yesterday, their newborn Shirley, or Shirl to her friends, reminds me that I have gotten old(er).
Sitting outside watching the sunrise on their walkout porch, Shirl stops by for coffee and is most excited as she has just received a new Fisher Price purse, accesorized with the essentials, a comb, lipstick, credit card and my favorite, a personal mirror.
No doubt as Fisher Price has meticulously product tested this toy, they've concluded that glass is not a baby approved accessory for a toy mirror, and as such they've instead inserted a glossy metalic looking florentine cardstock as seen here, which just happens to be essential when working on any still life photography set. Immediately I'm drawn to it and begin to teach a lesson on reflective fill light with the morning sun breaking the horizon and the importance of fill light to little Shirley while she sipped her morning black brew. Shirl, being some sixteen months old, is riveted as are her parents and surrounding friends.
People, clients, students, and those generally intersted in photography and what have you, often think you have to have some massive lighting rig for photoshoots. While I'm a huge fan of a large production lighting, grip and gear, sometimes a simple reflector can get the job done even better than a portable lighting rig.
Me personally, I've been photographing with a reflector all my life. When you shoot on the streets of New York, the minute you put down a tripod, C-stand or lighting accessory, there's usually a cop right behind asking for a city permit or in my case he's about to issue a citation for what's in progress. So out of necessity the silver or gold reflector and a handy assistant has become indispencible on the go.
When you shoot in a studio, you've got your main key light for the subject, and then depending on how you want to light other areas of your subject, you can use a fill light strobe, or my go-to, a variety of reflectors such silver florientine, V-flat, white foamcore, and in a pinch silver insulation over styrofoam. In the end you use what's available with location/time, and make the best of things.
For little Shirley, her excitement had wained and the lesson was over. The sun had risen higher in the sky, and Shirl had finished her coffee. She then reminded us it was time to "Clap your hands to the barn yard dance.", her personal mantra that played on repeat as it echoed through her favorite toy.
Like the dying of the light she was then whisked away. I held my breath that some thing from my inpromptu lesson would stick with her, that she would heed Uncle Aleks's guidance with her new mirror reflector. Use the fill reflector Shirl. Somehow I had a feeling her toddler brain had more pressing issues at hand, like second breakfast or a diaper change.
Somewhat ironically realizing I had forgotten my reflector on this fleeting Summer holiday I wondered if there was a Michael's crafts near by in placid Jenison Michigan. No reflector? No problem. Time for some foam core and silver matte.