Karjaka goes for a walk with the Feral Homeless, a Russian Oligarch, Koreans, Angry Couples, and Grand Central… Oh My!
Letter from the Editor…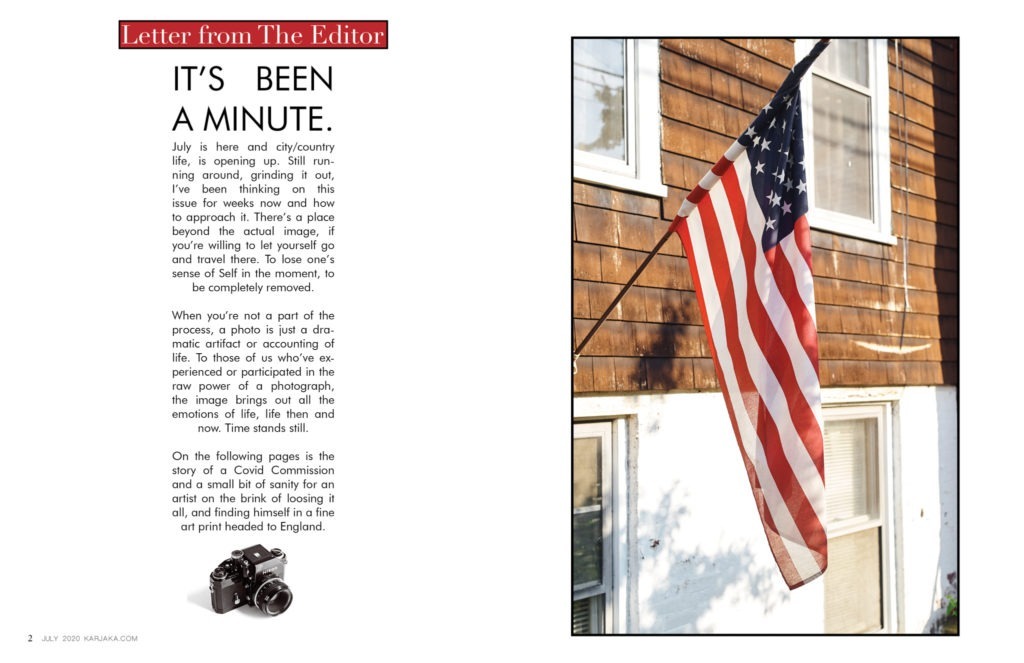 It's been a minute. July is here and city/country life, is opening up. Still running around, grinding it out, I've been thinking on this issue for weeks now and how to approach it. There's a place beyond the actual image, if you're willing to let yourself go and travel there. To lose one's sense of Self in the moment, to be completely removed.
When you're not a part of the process, a photo is just a dramatic artifact or accounting of life. To those of us who've experienced or participated in the raw power of a photograph, the image brings out all the emotions of life, life then and now. Time stands still.
On the following pages is the story of a Covid Commission and a small bit of sanity for an artist on the brink of loosing it all, and finding himself in a fine art print headed to England.
On The Road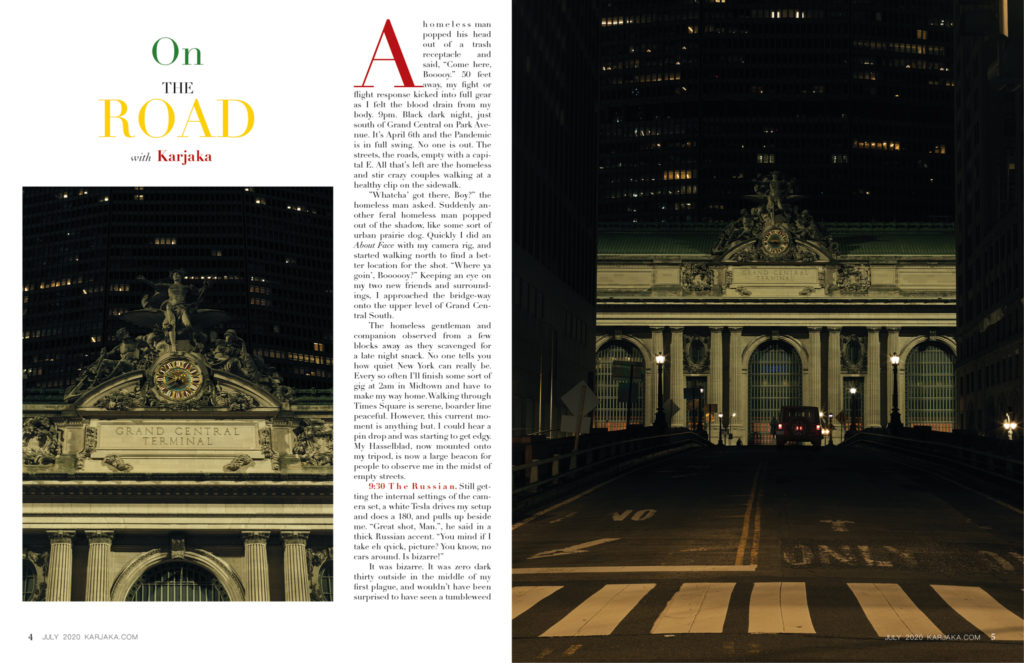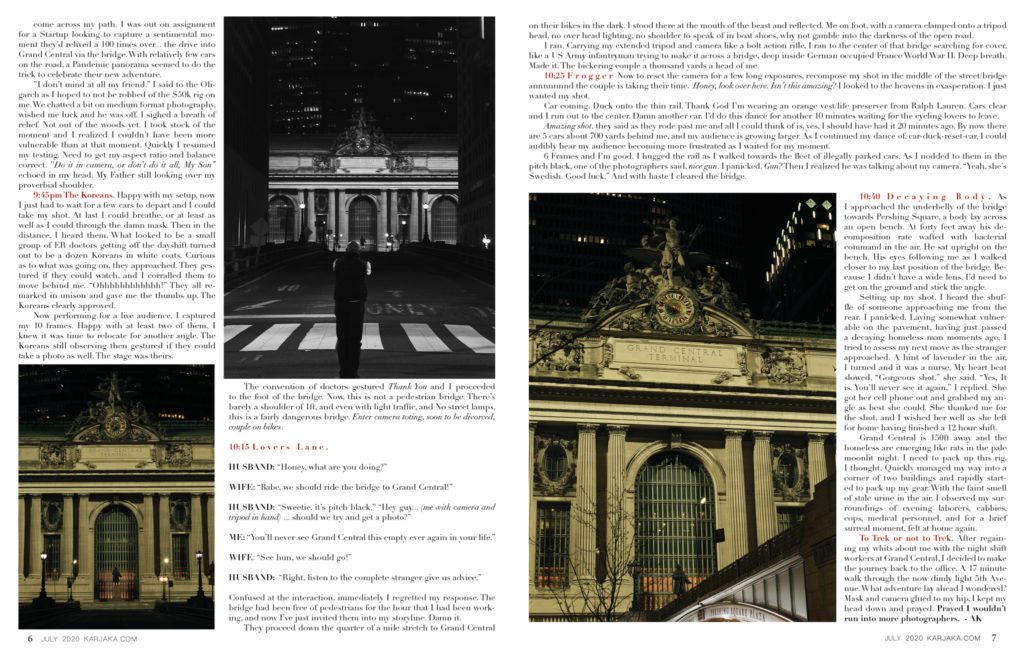 A homeless man popped his head out of a trash receptacle and said, "Come here, Booooy." 50 feet away, my fight or flight response kicked into full gear as I felt the blood drain from my body. 9pm. Black dark night, just south of Grand Central on Park Avenue. It's April 6th and the Pandemic is in full swing. No one is out. The streets, the roads, empty with a capital E. All that's left are the homeless and stir crazy couples walking at a healthy clip on the sidewalk.
"Whatcha' got there, Boy?" the homeless man asked. Suddenly another feral homeless man popped out of the shadow, like some sort of urban prairie dog. Quickly I did an About Face with my camera rig, and started walking north to find a better location for the shot. "Where ya goin', Boooooy?" Keeping an eye on my two new friends and surroundings, I approached the bridge-way onto the upper level of Grand Central South.
The homeless gentleman and companion observed from a few blocks away as they scavenged for a late night snack. No one tells you how quiet New York can really be. Every so often I'll finish some sort of gig at 2am in Midtown and have to make my way home. Walking through Times Square is serene, boarder line peaceful. However, this current moment is anything but. I could hear a pin drop and was starting to get edgy. My Hasselblad, now mounted onto my tripod, is now a large beacon for people to observe me in the midst of empty streets.
9:30 The Russian. Still getting the internal settings of the camera set, a white Tesla drives my setup and does a 180, and pulls up beside me. "Great shot, Man.", he said in a thick Russian accent. "You mind if I take eh qvick, picture? You know, no cars around. Is bizarre!"
It was bizarre. It was zero dark thirty outside in the middle of my first plague, and wouldn't have been surprised to have seen a tumbleweed come across my path. I was out on assignment for a Startup looking to capture a sentimental moment they'd relived a 100 times over… the drive into Grand Central via the bridge. With relatively few cars on the road, a Pandemic panorama seemed to do the trick to celebrate their new adventure.
"I don't mind at all my friend." I said to the Oligarch as I hoped to not be robbed of the $50k rig on me. We chatted a bit on medium format photography, wished me luck and he was off. I sighed a breath of relief. Not out of the woods yet. I took stock of the moment and I realized I couldn't have been more vulnerable than at that moment. Quickly I resumed my testing. Need to get my aspect ratio and balance correct. "Do it in camera, or don't do it all, My Son" echoed in my head. My Father still looking over my proverbial shoulder.
9:45pm The Koreans. Happy with my setup, now I just had to wait for a few cars to depart and I could take my shot. At last I could breathe, or at least as well as I could through the damn mask. Then in the distance, I heard them. What looked to be a small group of ER doctors getting off the dayshift turned out to be a dozen Koreans in white coats. Curious as to what was going on, they approached. They gestured if they could watch, and I corralled them to move behind me. "Ohhhhhhhhhhhh!" They all remarked in unison and gave me the thumbs up. The Koreans clearly approved.
Now performing for a live audience, I captured my 10 frames. Happy with at least two of them, I knew it was time to relocate for another angle. The Koreans still observing then gestured if they could take a photo as well. The stage was theirs.
The convention of doctors gestured Thank You and I proceeded to the foot of the bridge. Now, this is not a pedestrian bridge. There's barely a shoulder of 1ft, and even with light traffic, and No street lamps, this is a fairly dangerous bridge. Enter camera toting, soon to be divorced, couple on bikes.
10:15 Lovers Lane.
HUSBAND: "Honey, what are you doing?"
WIFE: "Babe, we should ride the bridge to Grand Central!"
HUSBAND: "Sweetie, it's pitch black." "Hey guy… (me with camera and tripod in hand) … should we try and get a photo?"
ME: "You'll never see Grand Central this empty ever again in your life."
WIFE: "See hun, we should go!"
HUSBAND: "Right, listen to the complete stranger give us advice."
Confused at the interaction, immediately I regretted my response. The bridge had been free of pedestrians for the hour that I had been working, and now I've just invited them into my storyline. Damn it.
They proceed down the quarter of a mile stretch to Grand Central on their bikes in the dark. I stood there at the mouth of the beast and reflected. Me on foot, with a camera clamped onto a tripod head, no over head lighting, no shoulder to speak of in boat shoes, why not gamble into the darkness of the open road.
I ran. Carrying my extended tripod and camera like a bolt action rifle, I ran to the center of that bridge searching for cover, like a US Army infantryman trying to make it across a bridge, deep inside German occupied France World War II. Deep breath. Made it. The bickering couple a thousand yards a head of me.
10:25 Frogger Now to reset the camera for a few long exposures, recompose my shot in the middle of the street/bridge annnnnnnd the couple is taking their time. Honey, look over here. Isn't this amazing? I looked to the heavens in exasperation. I just wanted my shot.
Car coming. Duck onto the thin rail. Thank God I'm wearing an orange vest/life preserver from Ralph Lauren. Cars clear and I run out to the center. Damn another car. I'd do this dance for another 10 minutes waiting for the cycling lovers to leave.
Amazing shot, they said as they rode past me and all I could think of is, yes, I should have had it 20 minutes ago. By now there are 5 cars about 700 yards behind me, and my audience is growing larger. As I continued my dance of , car-duck-reset-car, I could audibly hear my audience becoming more frustrated as I waited for my moment.
6 Frames and I'm good. I hugged the rail as I walked towards the fleet of illegally parked cars. As I nodded to them in the pitch black, one of the photographers said, nice gun. I panicked. Gun? Then I realized he was talking about my camera. "Yeah, she's Swedish. Good luck." And with haste I cleared the bridge.
10:40 Decaying Body. As I approached the underbelly of the bridge towards Pershing Square, a body lay across an open bench. At forty feet away his decomposition rate wafted with bacterial command in the air. He sat upright on the bench. His eyes following me as I walked closer to my last position of the bridge. Because I didn't have a wide lens, I'd need to get on the ground and stick the angle.
Setting up my shot, I heard the shuffle of someone approaching me from the rear. I panicked. Laying somewhat vulnerable on the pavement, having just passed a decaying homeless man moments ago, I tried to assess my next move as the stranger approached. A hint of lavender in the air, I turned and it was a nurse. My heart beat slowed. "Gorgeous shot." "Yes, It is. You'll never see it again," I replied. She got her cell phone out and grabbed my angle as best she could. She thanked me for the shot, and I wished her well as she left for home having finished a 12 hour shift.
Grand Central is 150ft away and the homeless are emerging like rats in the pale moonlit night. I need to pack up this rig, I thought. Quickly managed my way into a corner of two buildings and rapidly started to pack up my gear. With the faint smell of stale urine in the air, I observed my surroundings of evening laborers, cabbies, cops, medical personnel, and for a brief surreal moment, felt at home again.
To Trek or not to Trek. After regaining my whits about me with the night shift workers at Grand Central, I decided to make the journey back to the office. A 17 minute walk through the now dimly light 5th Avenue. What adventure lay ahead I wondered? Mask and camera glued to my hip, I kept my head down and prayed. Prayed I wouldn't run into more photographers.
Experiencing the Print.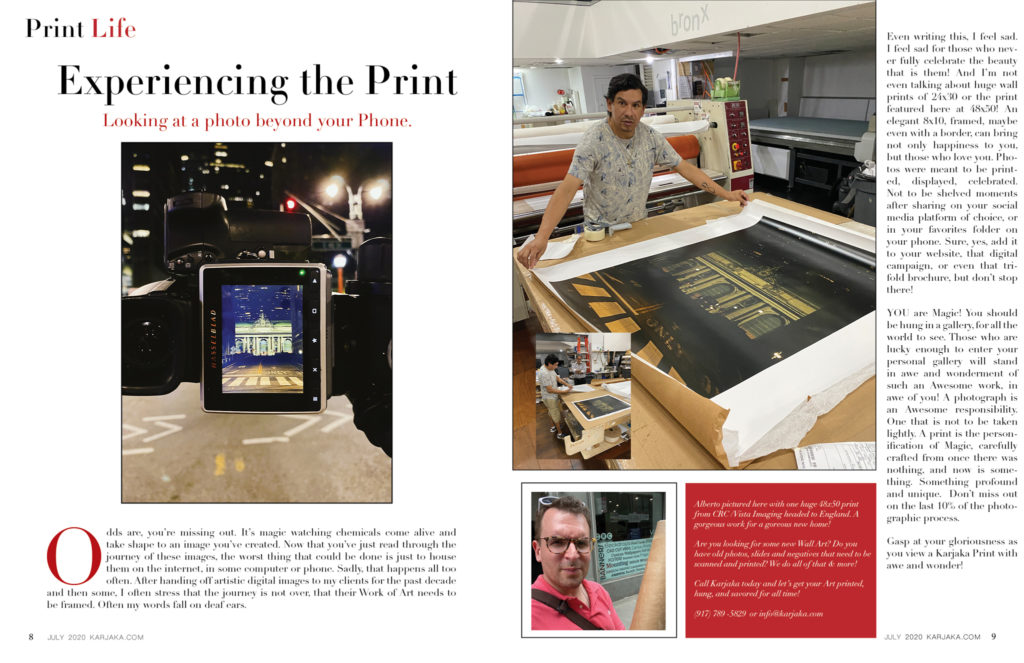 Odds are, you're missing out. It's magic watching chemicals come alive and take shape to an image you've created. Now that you've just read through the journey of these images, the worst thing that could be done is just to house them on the internet, in some computer or phone. Sadly, that happens all too often. After handing off artistic digital images to my clients for the past decade and then some, I often stress that the journey is not over, that their Work of Art needs to be framed. Often my words fall on deaf ears.
Even writing this, I feel sad. I feel sad for those who never fully celebrate the beauty that is them! And I'm not even talking about huge wall prints of 24×30 or the print featured here at 48×50! An elegant 8×10, framed, maybe even with a border, can bring not only happiness to you, but those who love you. Photos were meant to be printed, displayed, celebrated. Not to be shelved moments after sharing on your social media platform of choice, or in your favorites folder on your phone. Sure, yes, add it to your website, that digital campaign, or even that trifold brochure, but don't stop there!
YOU are Magic! You should be hung in a gallery, for all the world to see. Those who are lucky enough to enter your personal gallery will stand in awe and wonderment of such an Awesome work, in awe of you! A photograph is an Awesome responsibility. One that is not to be taken lightly. A print is the personification of Magic, carefully crafted from once there was nothing, and now is something. Something profound and unique. Don't miss out on the last 10% of the photographic process.
Gasp at your gloriousness as you view a Karjaka Print with awe and wonder.
---
Alberto pictured here with one huge 48×50 print from CRC /Vista Imaging headed to England. A gorgeous work for a goreous new home!
Are you looking for some new Wall Art? Do you have old photos, slides and negatives that need to be scanned and printed? We do all of that & more!
Call Karjaka today and let's get your Art printed, hung, and savored for all time!
(917) 789 -5829 or [email protected]