Letter From the Editor – Sins of the Novel Marketer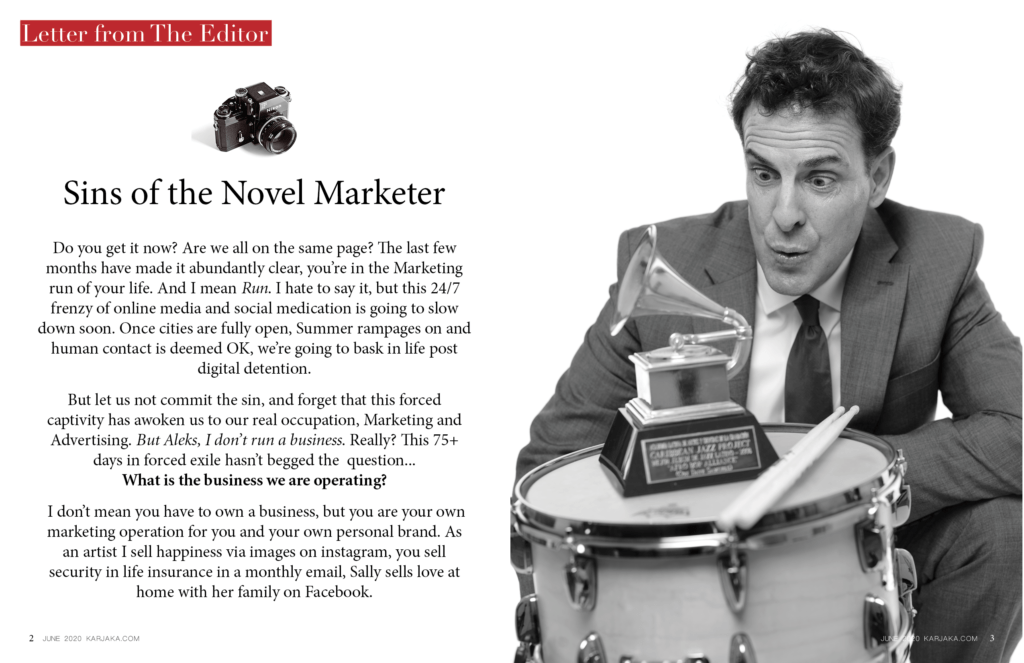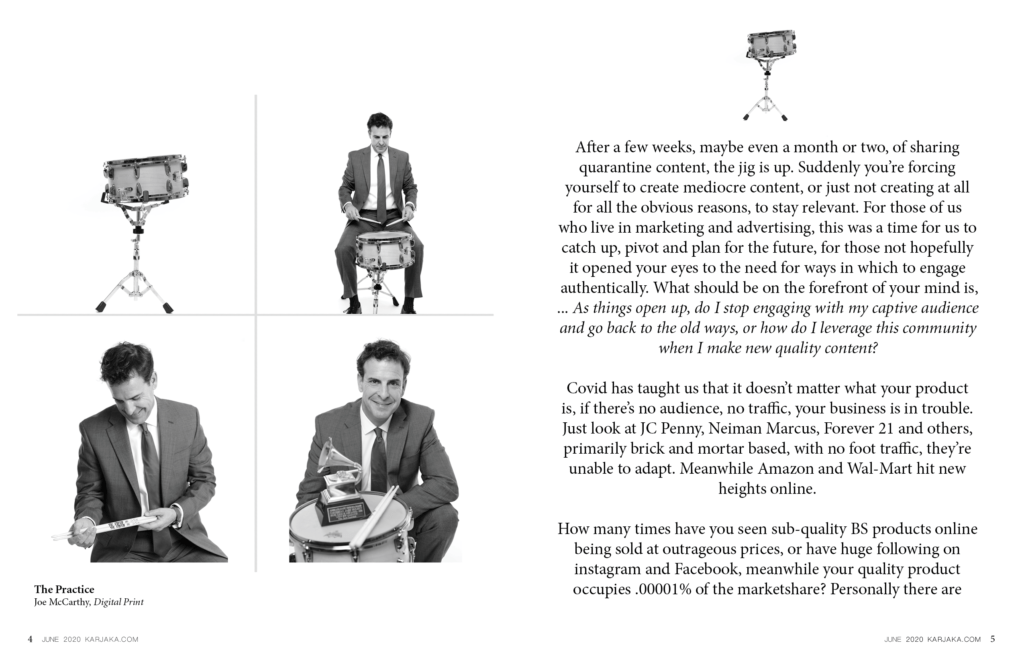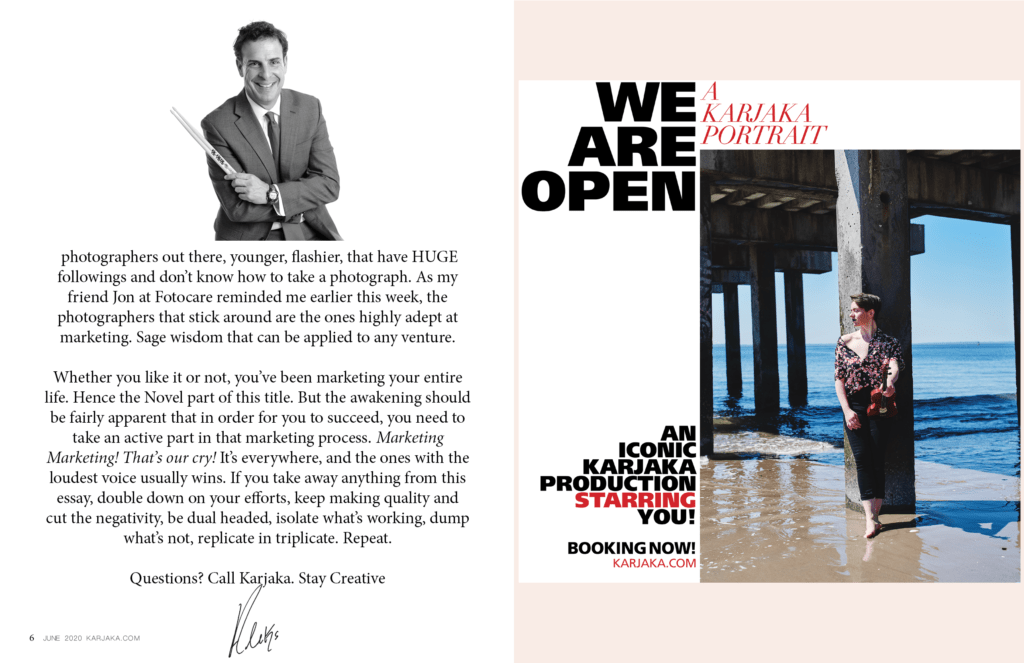 Do you get it now? Are we all on the same page? The last few months have made it abundantly clear, you're in the Marketing run of your life. And I mean Run. I hate to say it, but this 24/7 frenzy of online media and social medication is going to slow down soon. Once cities are fully open, Summer rampages on and human contact is deemed OK, we're going to bask in life post digital detention.
But let us not commit the sin, and forget that this forced captivity has awoken us to our real occupation, Marketing & Advertising. But Aleks, I don't run a business. Really? This 75+ days in forced exile hasn't begged the question… What is the business we are operating? I don't mean you have to own a business, but you are your own marketing operation for you and your own personal brand. As an artist I sell happiness via images on instagram, you sell security in life insurance in a monthly email, Sally sells love at home with her family on Facebook.
After a few weeks, maybe even a month or two, of sharing quarantine content, the jig is up. Suddenly you're forcing yourself to create mediocre content, or just not creating at all for all the obvious reasons, to stay relevant. For those of us who live in marketing and advertising, this was a time for us to catch up, pivot and plan for the future, for those not hopefully it opened your eyes to the need for ways in which to engage authentically. What should be on the forefront of your mind is, … As things open up do I stop engaging with my captive audience and go back to the old ways, or how do I leverage this community when I make new quality content?
Covid has taught us that it doesn't matter what your product is, if there's no audience, no traffic, your business is in trouble. Just look at JC Penny, Neiman Marcus, Forever 21 and others, primarily brick and mortar based, with no foot traffic, they're unable to adapt. Meanwhile Amazon and Wal-Mart hit new heights online.
How many times have you seen sub-quality BS products online being sold at outrageous prices, or have huge following on instagram and Facebook, meanwhile your quality product occupies .00001% of the marketshare? Personally there are photographers out there, younger, flashier, that have HUGE followings and don't know how to take a photograph. As my friend Jon at Fotocare reminded me earlier this week, the photographers that stick around are the ones highly adept at marketing. Sage wisdom that can be applied to any venture.
Whether you like it or not, you've been marketing your entire life. Hence the Novel part of this title. But the awakening should be fairly apparent that in order for you to succeed, you need to take an active part in that marketing process. Marketing Marketing! That's our cry! It's everywhere, and the ones with the loudest voice usually wins. If you take away anything from this essay, double down on your efforts, keep making quality and cut the negativity, be dual headed, isolate what's working, dump what's not, replicate in triplicate. Repeat.
Questions? Call Karjaka. Stay Creative.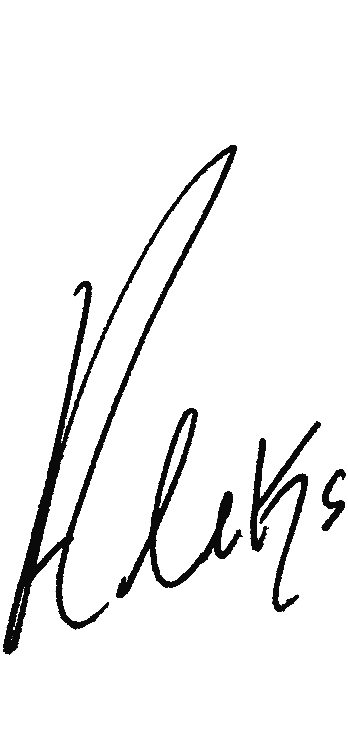 How to Look Sharp on Camera and Off: Men's Edition
By Tavia Sharp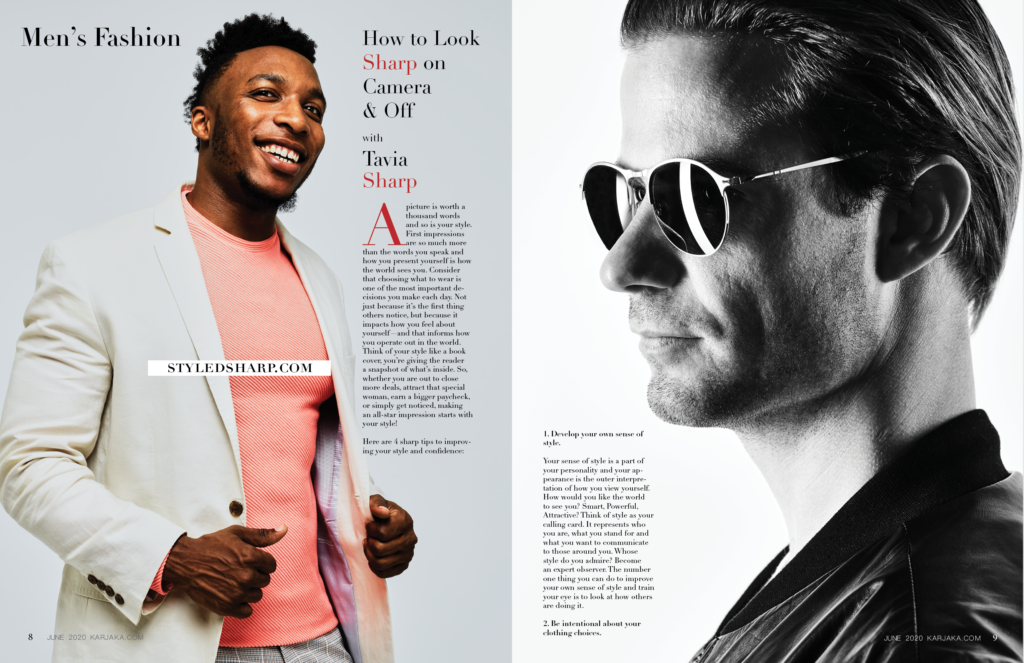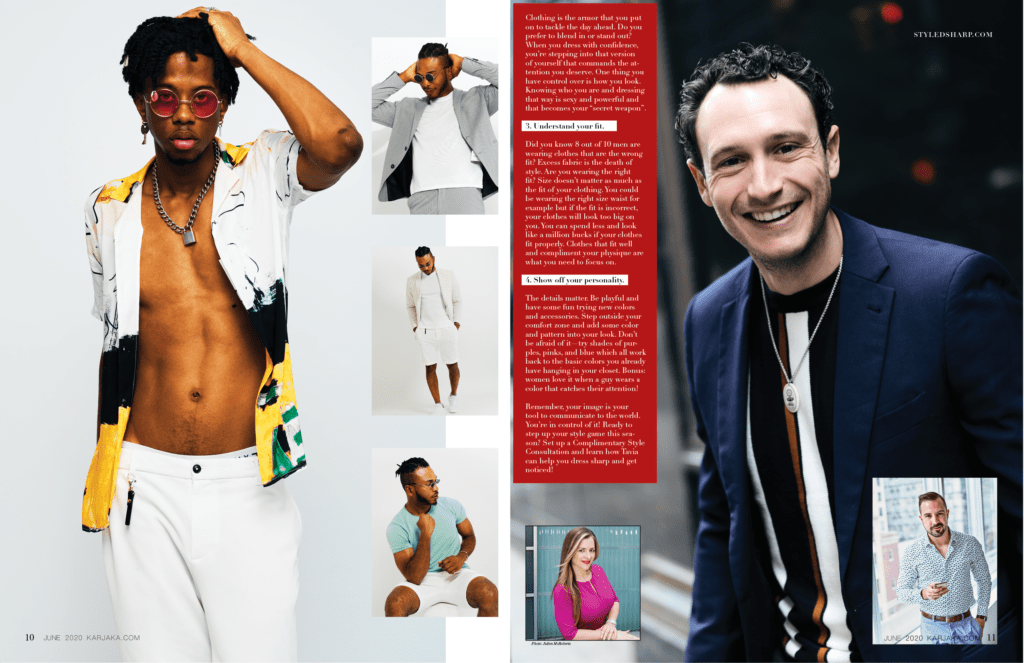 A picture is worth a thousand words and so is your style. First impressions are so much more than the words you speak and how you present yourself is how the world sees you. Consider that choosing what to wear is one of the most important decisions you make each day. Not just because it's the first thing others notice, but because it impacts how you feel about yourself—and that informs how you operate out in the world. Think of your style like a book cover, you're giving the reader a snapshot of what's inside. So, whether you are out to close more deals, attract that special woman, earn a bigger paycheck, or simply get noticed, making an all-star impression starts with your style!
Here are 4sharp tips to improving your style and confidence:
1.Develop your own sense of style.
Your sense of style is a part of your personality and your appearance is the outer interpretation of how you view yourself. How would you like the world to see you? Smart, Powerful, Attractive? Think of style as your calling card. It represents who you are, what you stand for and what you want to communicate to those around you. Whose style do you admire? Become an expert observer. The number one thing you can do to improve your own sense of style and train your eye is to look at how others are doing it.
2.Be intentional about your clothing choices.
Clothing is the armor that you put on to tackle the day ahead. Do you prefer to blend in or stand out? When you dress with confidence, you're stepping into that version of yourself that commands the attention you deserve. One thing you have control over is how you look. Knowing who you are and dressing that way is sexy and powerful and that becomes your "secret weapon".
3.Understand your fit.
Did you know 8 out of 10 men are wearing clothes that are the wrong fit? Excess fabric is the death of style. Are you wearing the right fit? Size doesn't matter as much as the fit of your clothing. You could be wearing the right size waist for example but if the fit is incorrect, your clothes will look too big on you. You can spend less and look like a million bucks if your clothes fit properly. Clothes that fit well and compliment your physique are what you need to focus on.
4.Show off your personality.
The details matter. Be playful and have some fun trying new colors and accessories. Step outside your comfort zone and add some color and pattern into your look. Don't be afraid of it—try shades of purples, pinks, and blue which all work back to the basic colors you already have hanging in your closet. Bonus: women love it when a guy wears a color that catches their attention!

Remember, your image is your tool to communicate to the world. You're in control of it! Ready to step up your style game this season? Set up a Complimentary Style Consultation and learn how Tavia can help you dress sharp and get noticed!
Five Easy Pieces With Carl Bolleia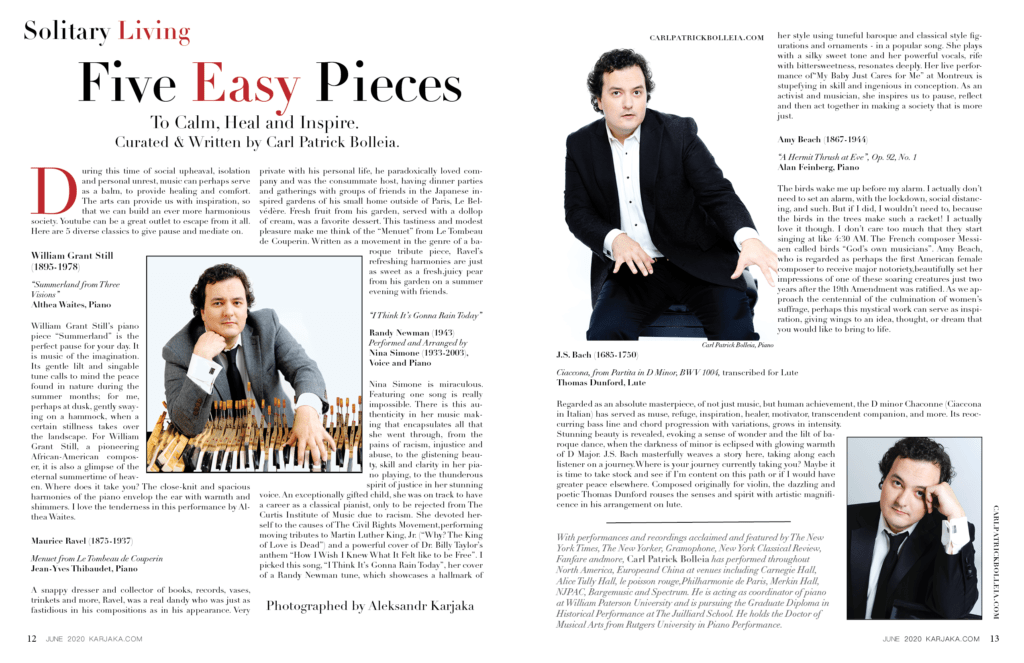 During this time of social upheaval, isolation and personal unrest, music can perhaps serve as a balm, to provide healing and comfort. The arts can provide us with inspiration, so that we can build an ever more harmonious society. Youtube can be a great outlet to escape from it all. Here are 5 diverse classics to give pause and mediate on.
William Grant Still (1895-1978)
"Summerland from Three
Visions"
Althea Waites, Piano
William Grant Still's piano piece "Summerland" is the perfect pause for your day. It is music of the imagination. Its gentle lilt and singable tune calls to mind the peace found in nature during the summer months; for me, perhaps at dusk, gently swaying on a hammock, when a certain stillness takes over the landscape. For William Grant Still, a pioneering African-American composer, it is also a glimpse of the eternal summertime of heaven. Where does it take you? The close-knit and spacious harmonies of the piano envelop the ear with warmth and shimmers. I love the tenderness in this performance by Althea Waites.
Maurice Ravel (1875-1937)
Menuet from Le Tombeau de Couperin
Jean-Yves Thibaudet, Piano
A snappy dresser and collector of books, records, vases, trinkets and more, Ravel, was a real dandy who was just as fastidious in his compositions as in his appearance. Very private with his personal life, he paradoxically loved company and was the consummate host, having dinner parties and gatherings with groups of friends in the Japanese inspired gardens of his small home outside of Paris, Le Belvédère. Fresh fruit from his garden, served with a dollop of cream, was a favorite dessert. This tastiness and modest pleasure make me think of the "Menuet" from Le Tombeau de Couperin. Written as a movement in the genre of a baroque tribute piece, Ravel's refreshing harmonies are just as sweet as a fresh, juicy pear from his garden on a summer evening with friends.
"I Think It's Gonna Rain Today"
Randy Newman (1943)
Performed and Arranged by Nina Simone (1933-2003), Voice and Piano
Nina Simone is miraculous. Featuring one song is really impossible. There is this authenticity in her music making that encapsulates all that she went through, from the pains of racism, injustice and abuse, to the glistening beauty, skill and clarity in her piano playing, to the thunderous spirit of justice in her stunning voice. An exceptionally gifted child, she was on track to have a career as a classical pianist, only to be rejected from The Curtis Institute of Music due to racism. She devoted herself to the causes of The Civil Rights Movement, performing moving tributes to Martin Luther King, Jr. ("Why? The King of Love is Dead") and a powerful cover of Dr. Billy Taylor's anthem "How I Wish I Knew What It Felt like to be Free". I picked this song, "I Think It's Gonna Rain Today", her cover of a Randy Newman tune, which showcases a hallmark of her style using tuneful baroque and classical style figurations and ornaments – in a popular song. She plays with a silky sweet tone and her powerful vocals, rife with bittersweetness, resonates deeply. Her live performance of"My Baby Just Cares for Me" at Montreux is stupefying in skill and ingenious in conception. As an activist and musician, she inspires us to pause, reflect and then act together in making a society that is more just.
Amy Beach (1867-1944)
"A Hermit Thrush at Eve", Op. 92, No. 1
Alan Feinberg, Piano
The birds wake me up before my alarm. I actually don't need to set an alarm, with the lockdown, social distancing, and such. But if I did, I wouldn't need to, because the birds in the trees make such a racket! I actually love it though. I don't care too much that they start singing at like 4:30 AM. The French composer Messiaen called birds "God's own musicians". Amy Beach, who is regarded as perhaps the first American female composer to receive major notoriety, beautifully set her impressions of one of these soaring creatures just two years after the 19th Amendment was ratified. As we approach the centennial of the culmination of women's suffrage, perhaps this mystical work can serve as inspiration, giving wings to an idea, thought, or dream that you would like to bring to life.
J.S. Bach (1685-1750)
Ciaccona, from Partita in D Minor, BWV 1004, transcribed for Lute
Thomas Dunford, Lute
Regarded as an absolute masterpiece, of not just music, but human achievement, the D minor Chaconne (Ciaccona in Italian) has served as muse, refuge, inspiration, healer, motivator, transcendent companion, and more. Its reoccurring bass line and chord progression with variations, grows in intensity. Stunning beauty is revealed, evoking a sense of wonder and the lilt of baroque dance, when the darkness of minor is eclipsed with glowing warmth of D Major. J.S. Bach masterfully weaves a story here, taking along each listener on a journey.Where is your journey currently taking you? Maybe it is time to take stock and see if I'm content on this path or if I would have greater peace elsewhere. Composed originally for violin, the dazzling and poetic Thomas Dunford rouses the senses and spirit with artistic magnificence in his arrangement on lute.
---
With performances and recordings acclaimed and featured by The New York Times, The New Yorker, Gramophone, New York Classical Review, Fanfare and more, Carl Patrick Bolleia has performed throughout North America, Europe and China at venues including Carnegie Hall, Alice Tully Hall, le poisson rouge, Philharmonie de Paris, Merkin Hall, NJPAC, Bargemusic and Spectrum. He is acting as coordinator of piano at William Paterson University and is pursuing the Graduate Diploma in Historical Performance at The Juilliard School. He holds the Doctor of Musical Arts from Rutgers University in Piano Performance.