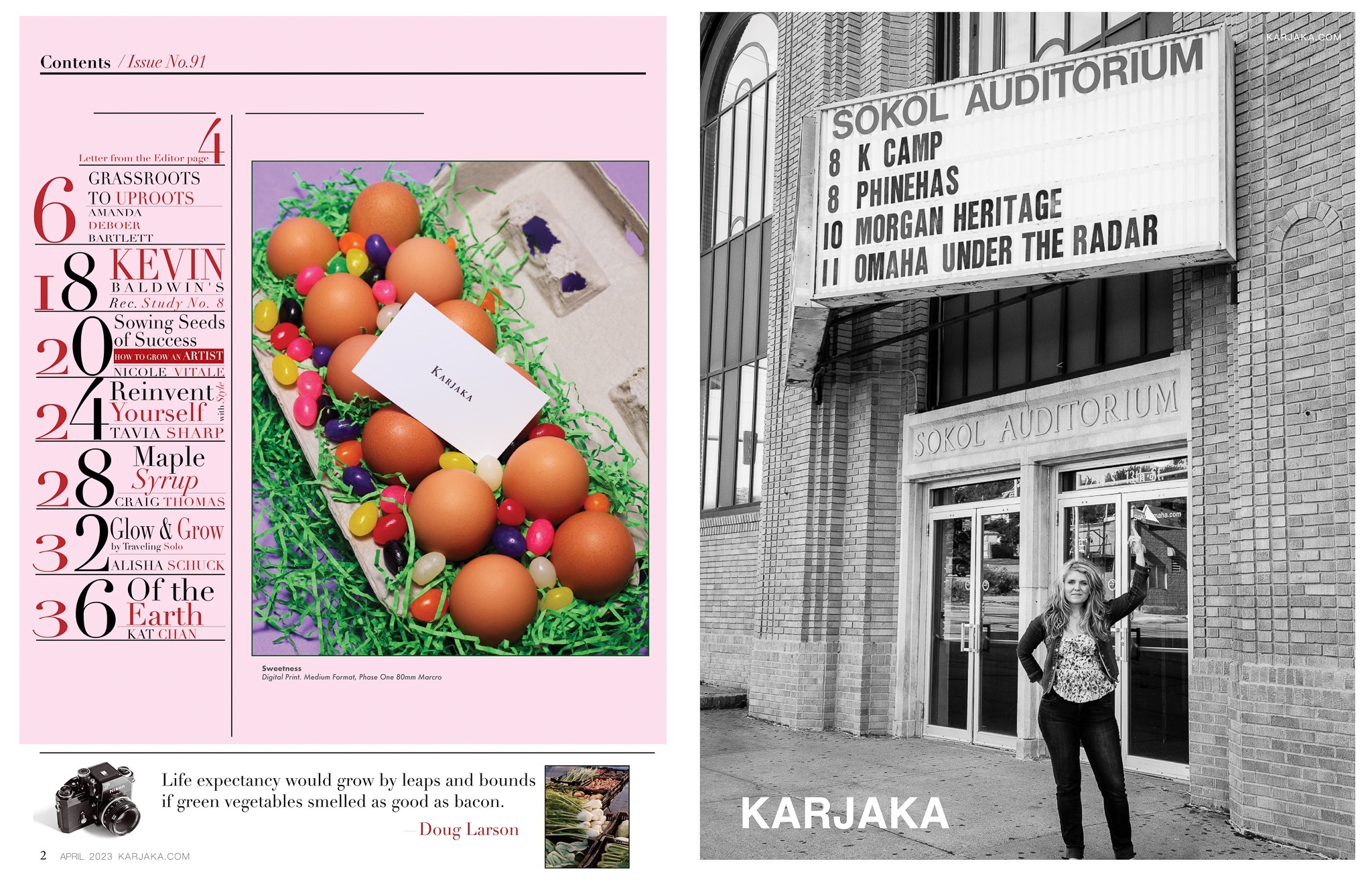 LETTER FROM THE EDITOR
Of the Earth, get dirty, dig. Journeys are never what they seem to those who aren't you traveling your path. Plans, ideas, seeds, we all have idyllic visions of how things could or should look, only to be surprised at what actually takes hold in the soil. Regardless of what we do, what we can all agree on though is that digging is required. Photoshoots are no different. Every piece of art, an exploration of dirt only to uncover that piece of Gold amongst the failed attempts, and Fool's Gold.
This edition digs into creation and exploration of the Earth featuring Amanda Deboer Bartlett's Grassroots to Uproots, Kevin's copper and charcoal acrylic, Nikki V. sows artistic seeds, rebirth with Tavia, Craig gets sappy, Alisha glows and grows, and Kat converses in concrete. Spring has sprung and it's time to create something from the feet up.
Get Dirty. Get Creative. Get KARJAKA.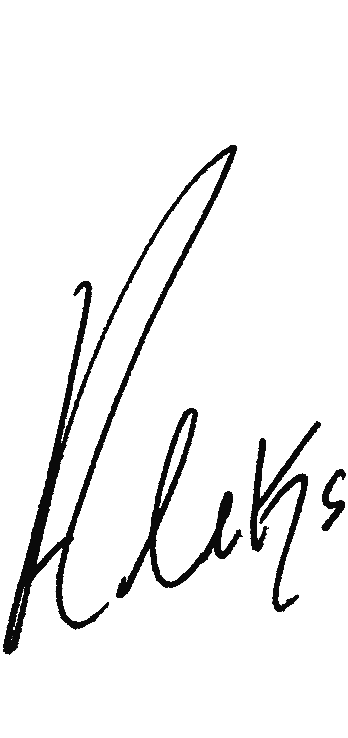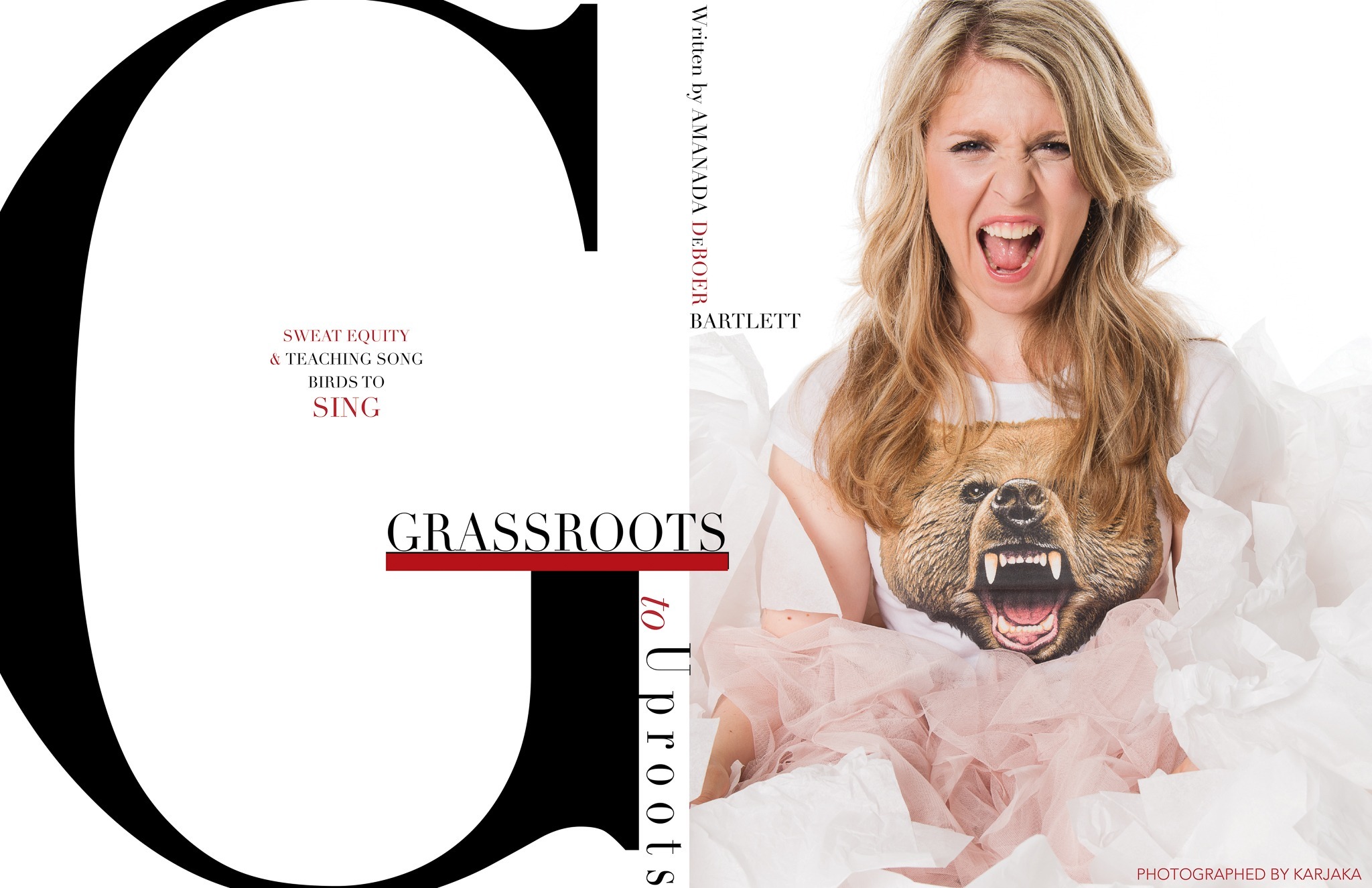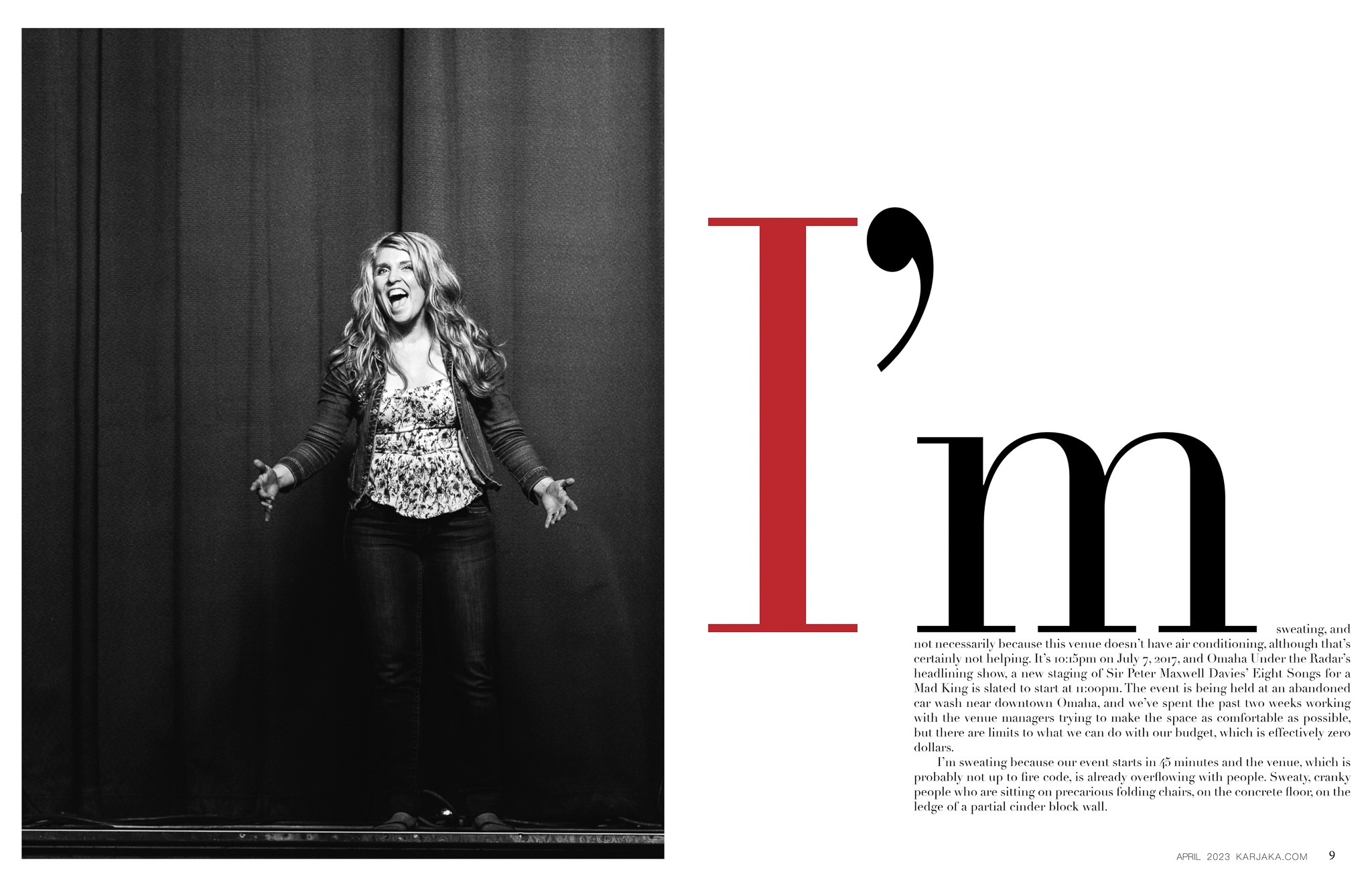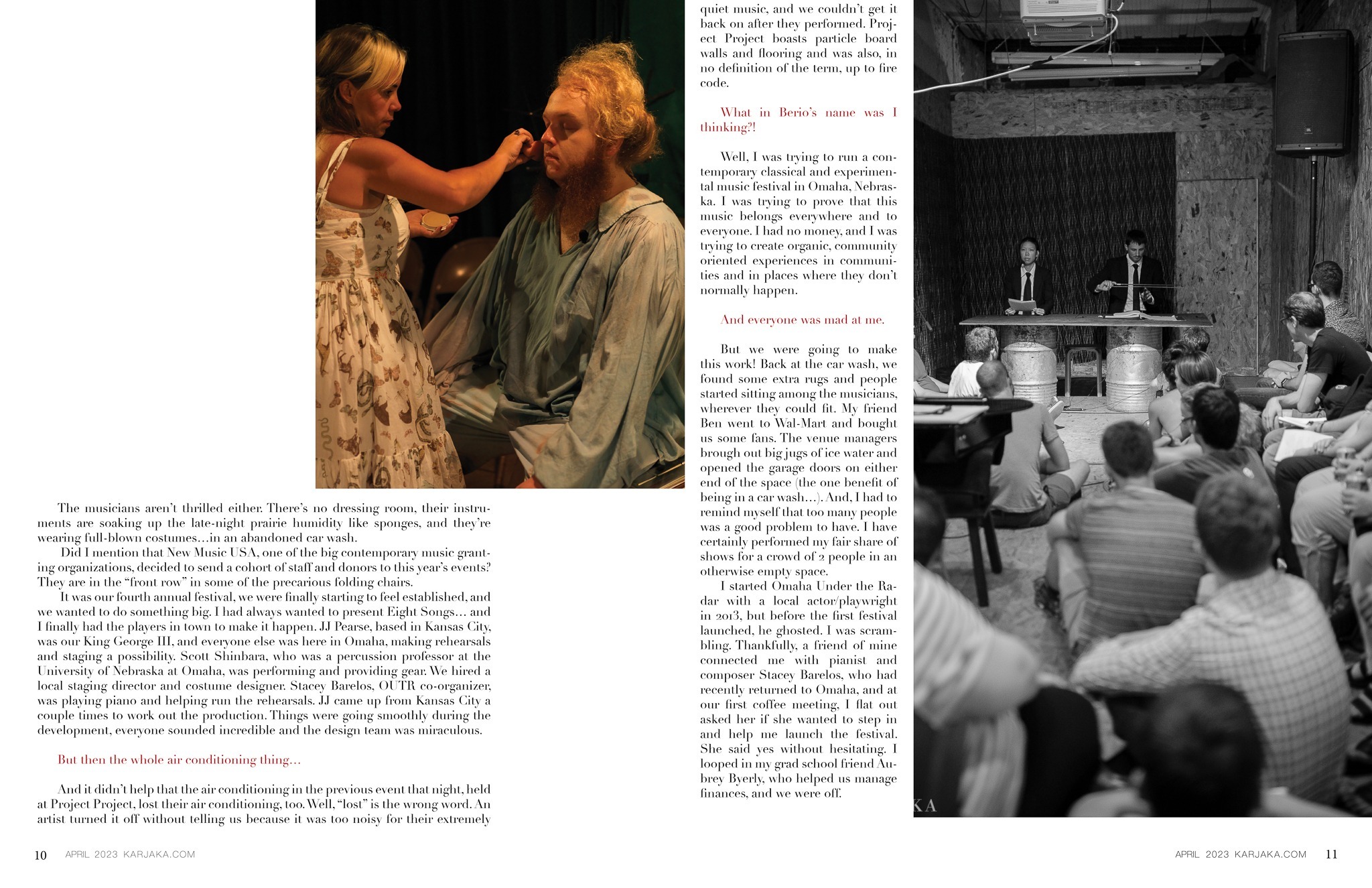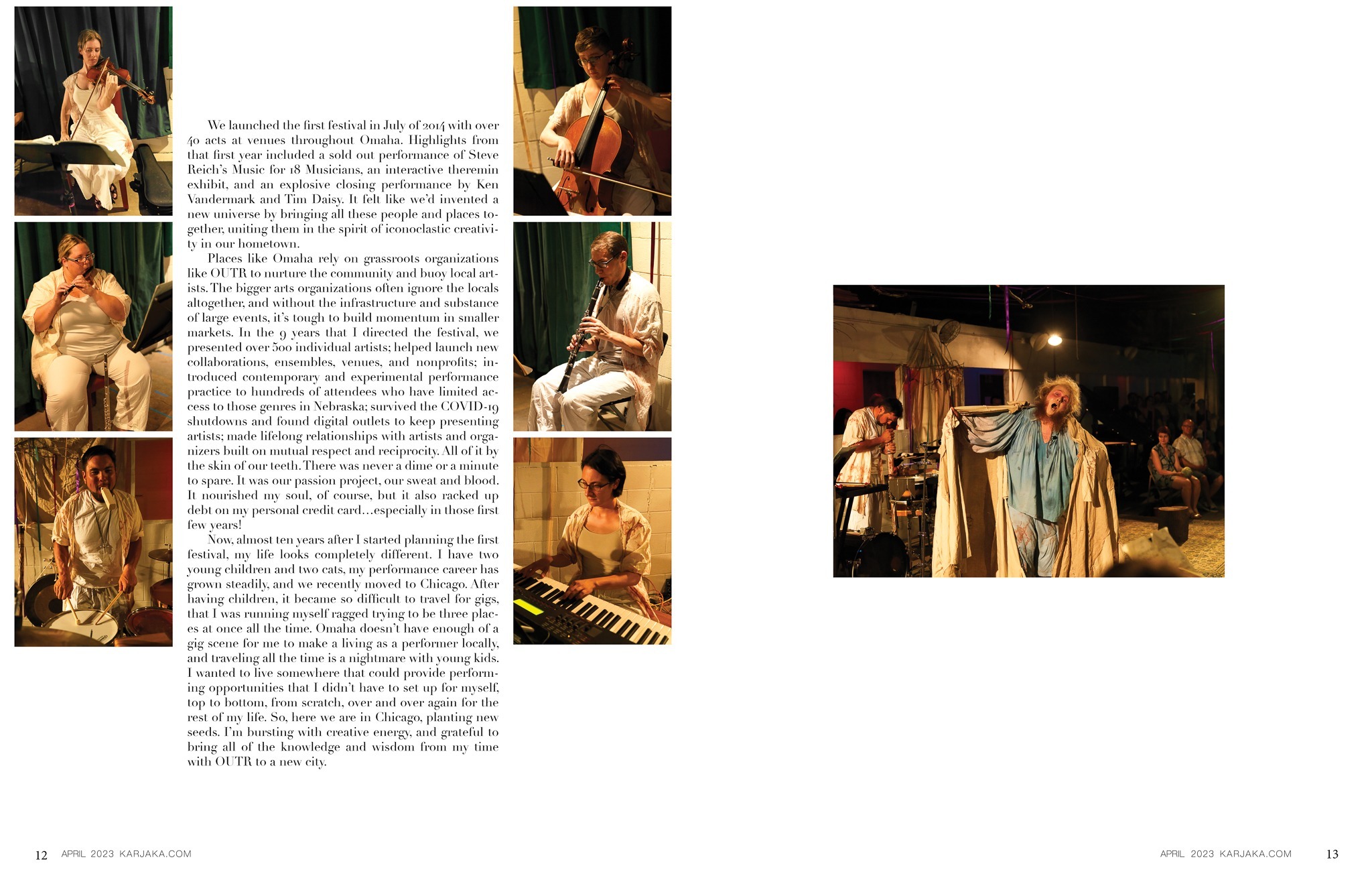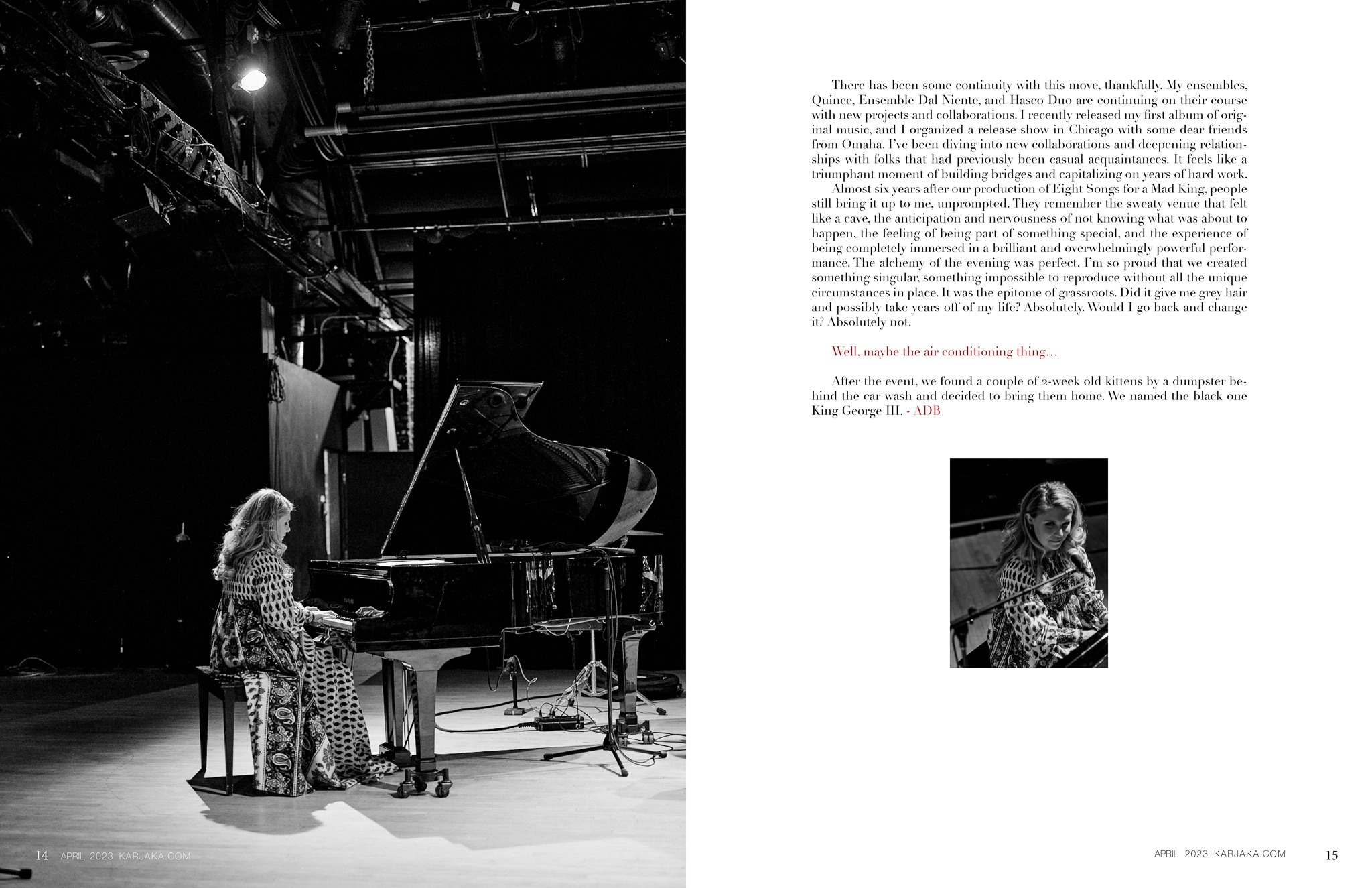 I'm sweating, and not necessarily because this venue doesn't have air conditioning, although that's certainly not helping. It's 10:15pm on July 7, 2017, and Omaha Under the Radar's headlining show, a new staging of Sir Peter Maxwell Davies' Eight Songs for a Mad King is slated to start at 11:00pm. The event is being held at an abandoned car wash near downtown Omaha, and we've spent the past two weeks working with the venue managers trying to make the space as comfortable as possible, but there are limits to what we can do with our budget, which is effectively zero dollars.
I'm sweating because our event starts in 45 minutes and the venue, which is probably not up to fire code, is already overflowing with people. Sweaty, cranky people who are sitting on precarious folding chairs, on the concrete floor, on the ledge of a partial cinder block wall.

The musicians aren't thrilled either. There's no dressing room, their instruments are soaking up the late-night prairie humidity like sponges, and they're wearing full-blown costumes…in an abandoned car wash.
Did I mention that New Music USA, one of the big contemporary music granting organizations, decided to send a cohort of staff and donors to this year's events? They are in the "front row" in some of the precarious folding chairs.
It was our fourth annual festival, we were finally starting to feel established, and we wanted to do something big. I had always wanted to present Eight Songs… and I finally had the players in town to make it happen. JJ Pearse, based in Kansas City, was our King George III, and everyone else was here in Omaha, making rehearsals and staging a possibility. Scott Shinbara, who was a percussion professor at the University of Nebraska at Omaha, was performing and providing gear. We hired a local staging director and costume designer. Stacey Barelos, OUTR co-organizer, was playing piano and helping run the rehearsals. JJ came up from Kansas City a couple times to work out the production. Things were going smoothly during the development, everyone sounded incredible and the design team was miraculous.
But then the whole air conditioning thing…
And it didn't help that the air conditioning in the previous event that night, held at Project Project, lost their air conditioning, too. Well, "lost" is the wrong word. An artist turned it off without telling us because it was too noisy for their extremely quiet music, and we couldn't get it back on after they performed. Project Project boasts particle board walls and flooring and was also, in no definition of the term, up to fire code.
What in Berio's name was I thinking?!
Well, I was trying to run a contemporary classical and experimental music festival in Omaha, Nebraska. I was trying to prove that this music belongs everywhere and to everyone. I had no money, and I was trying to create organic, community oriented experiences in communities and in places where they don't normally happen.
And everyone was mad at me.
But we were going to make this work! Back at the car wash, we found some extra rugs and people started sitting among the musicians, wherever they could fit. My friend Ben went to Wal-Mart and bought us some fans. The venue managers brough out big jugs of ice water and opened the garage doors on either end of the space (the one benefit of being in a car wash…). And, I had to remind myself that too many people was a good problem to have. I have certainly performed my fair share of shows for a crowd of 2 people in an otherwise empty space.
I started Omaha Under the Radar with a local actor/playwright in 2013, but before the first festival launched, he ghosted. I was scrambling. Thankfully, a friend of mine connected me with pianist and composer Stacey Barelos, who had recently returned to Omaha, and at our first coffee meeting, I flat out asked her if she wanted to step in and help me launch the festival. She said yes without hesitating. I looped in my grad school friend Aubrey Byerly, who helped us manage finances, and we were off.
We launched the first festival in July of 2014 with over 40 acts at venues throughout Omaha. Highlights from that first year included a sold out performance of Steve Reich's Music for 18 Musicians, an interactive theremin exhibit, and an explosive closing performance by Ken Vandermark and Tim Daisy. It felt like we'd invented a new universe by bringing all these people and places together, uniting them in the spirit of iconoclastic creativity in our hometown.
Places like Omaha rely on grassroots organizations like OUTR to nurture the community and buoy local artists. The bigger arts organizations often ignore the locals altogether, and without the infrastructure and substance of large events, it's tough to build momentum in smaller markets. In the 9 years that I directed the festival, we presented over 500 individual artists; helped launch new collaborations, ensembles, venues, and nonprofits; introduced contemporary and experimental performance practice to hundreds of attendees who have limited access to those genres in Nebraska; survived the COVID-19 shutdowns and found digital outlets to keep presenting artists; made lifelong relationships with artists and organizers built on mutual respect and reciprocity. All of it by the skin of our teeth. There was never a dime or a minute to spare. It was our passion project, our sweat and blood. It nourished my soul, of course, but it also racked up debt on my personal credit card…especially in those first few years!
Now, almost ten years after I started planning the first festival, my life looks completely different. I have two young children and two cats, my performance career has grown steadily, and we recently moved to Chicago. After having children, it became so difficult to travel for gigs, that I was running myself ragged trying to be three places at once all the time. Omaha doesn't have enough of a gig scene for me to make a living as a performer locally, and traveling all the time is a nightmare with young kids. I wanted to live somewhere that could provide performing opportunities that I didn't have to set up for myself, top to bottom, from scratch, over and over again for the rest of my life. So, here we are in Chicago, planting new seeds. I'm bursting with creative energy, and grateful to bring all of the knowledge and wisdom from my time with OUTR to a new city.
There has been some continuity with this move, thankfully. My ensembles, Quince, Ensemble Dal Niente, and Hasco Duo are continuing on their course with new projects and collaborations. I recently released my first album of original music, and I organized a release show in Chicago with some dear friends from Omaha. I've been diving into new collaborations and deepening relationships with folks that had previously been casual acquaintances. It feels like a triumphant moment of building bridges and capitalizing on years of hard work.
Almost six years after our production of Eight Songs for a Mad King, people still bring it up to me, unprompted. They remember the sweaty venue that felt like a cave, the anticipation and nervousness of not knowing what was about to happen, the feeling of being part of something special, and the experience of being completely immersed in a brilliant and overwhelmingly powerful performance. The alchemy of the evening was perfect. I'm so proud that we created something singular, something impossible to reproduce without all the unique circumstances in place. It was the epitome of grassroots. Did it give me grey hair and possibly take years off of my life? Absolutely. Would I go back and change it? Absolutely not.
Well, maybe the air conditioning thing…
After the event, we found a couple of 2-week old kittens by a dumpster behind the car wash and decided to bring them home. We named the black one King George III. – ADB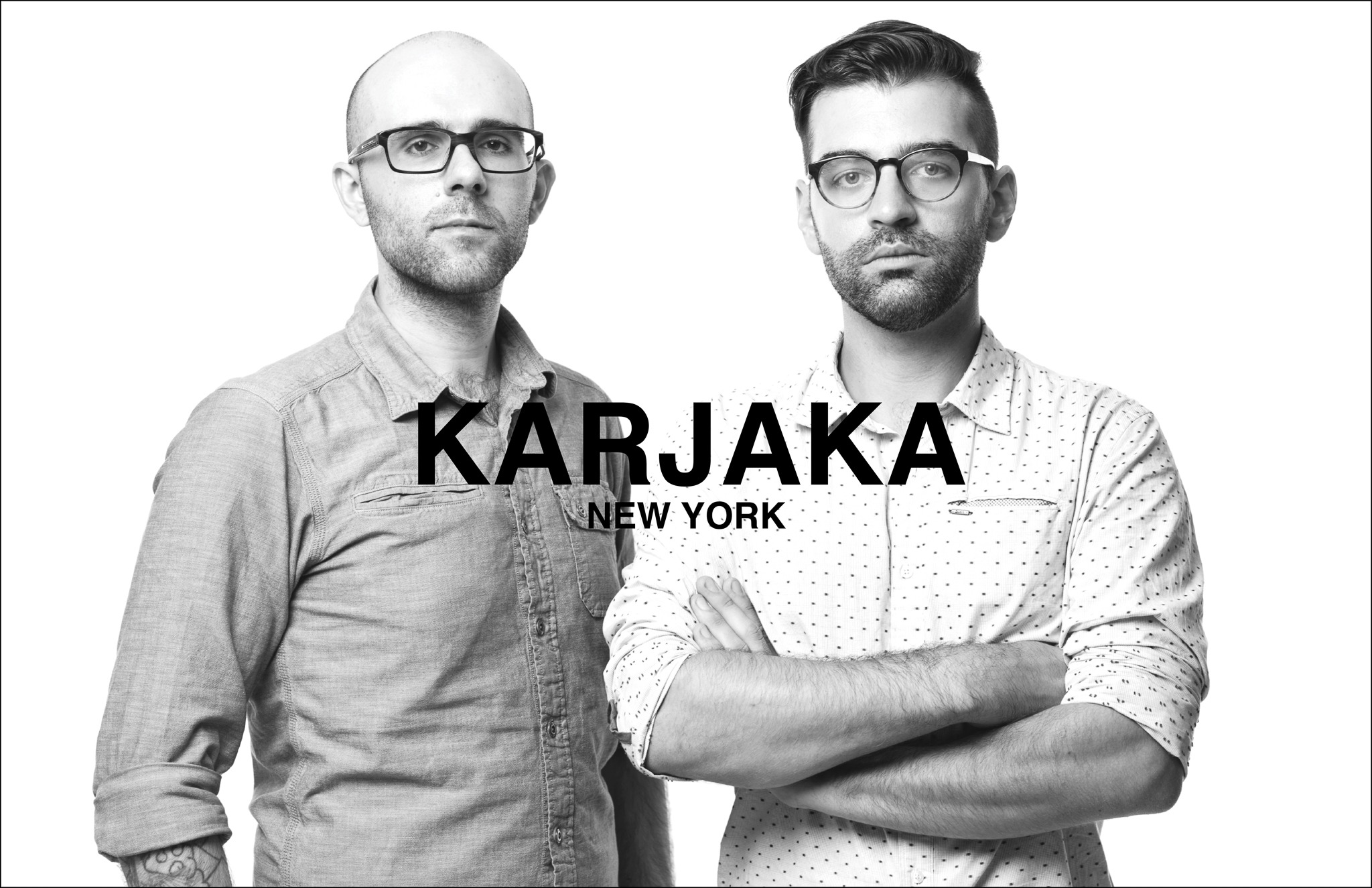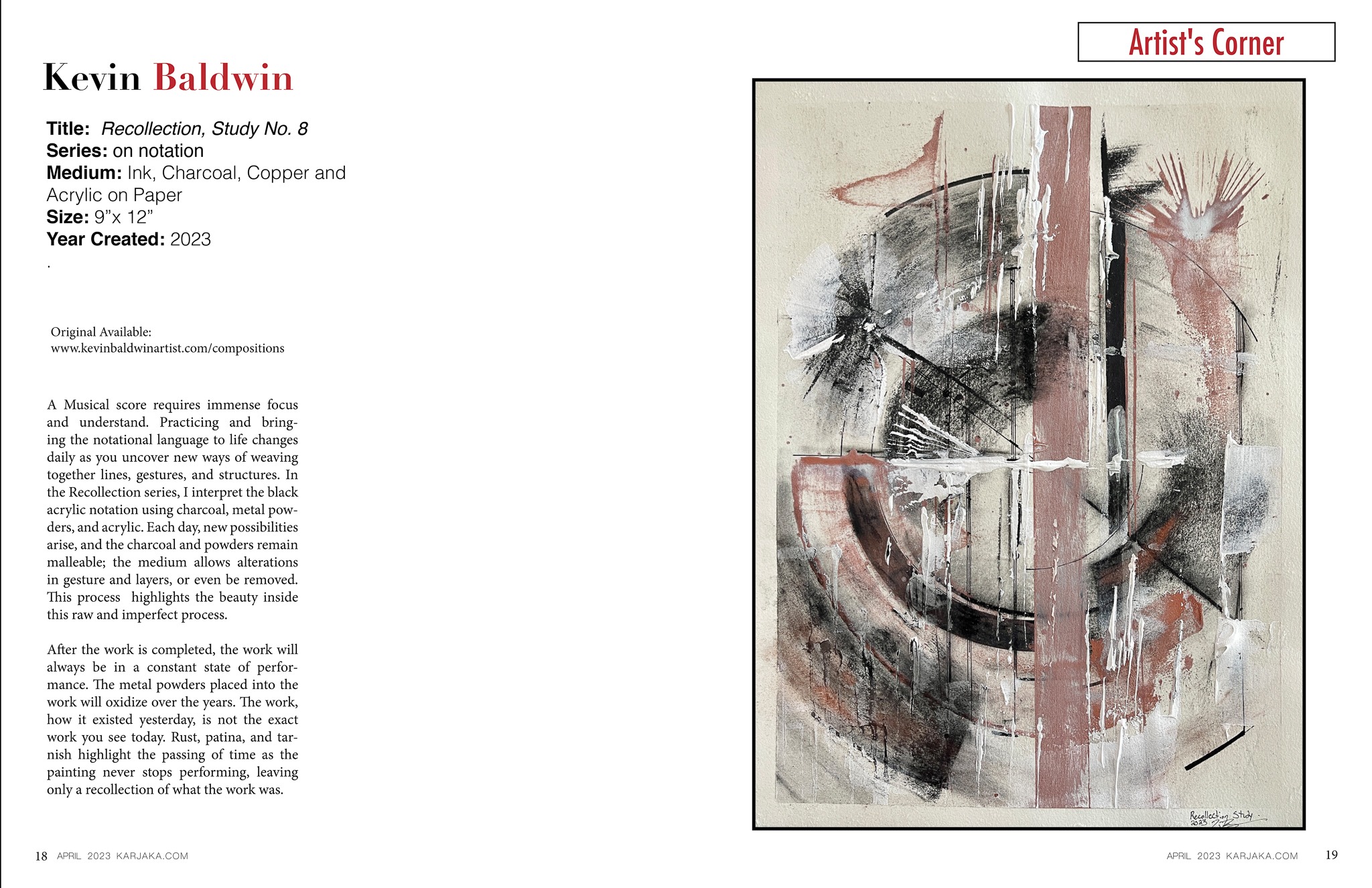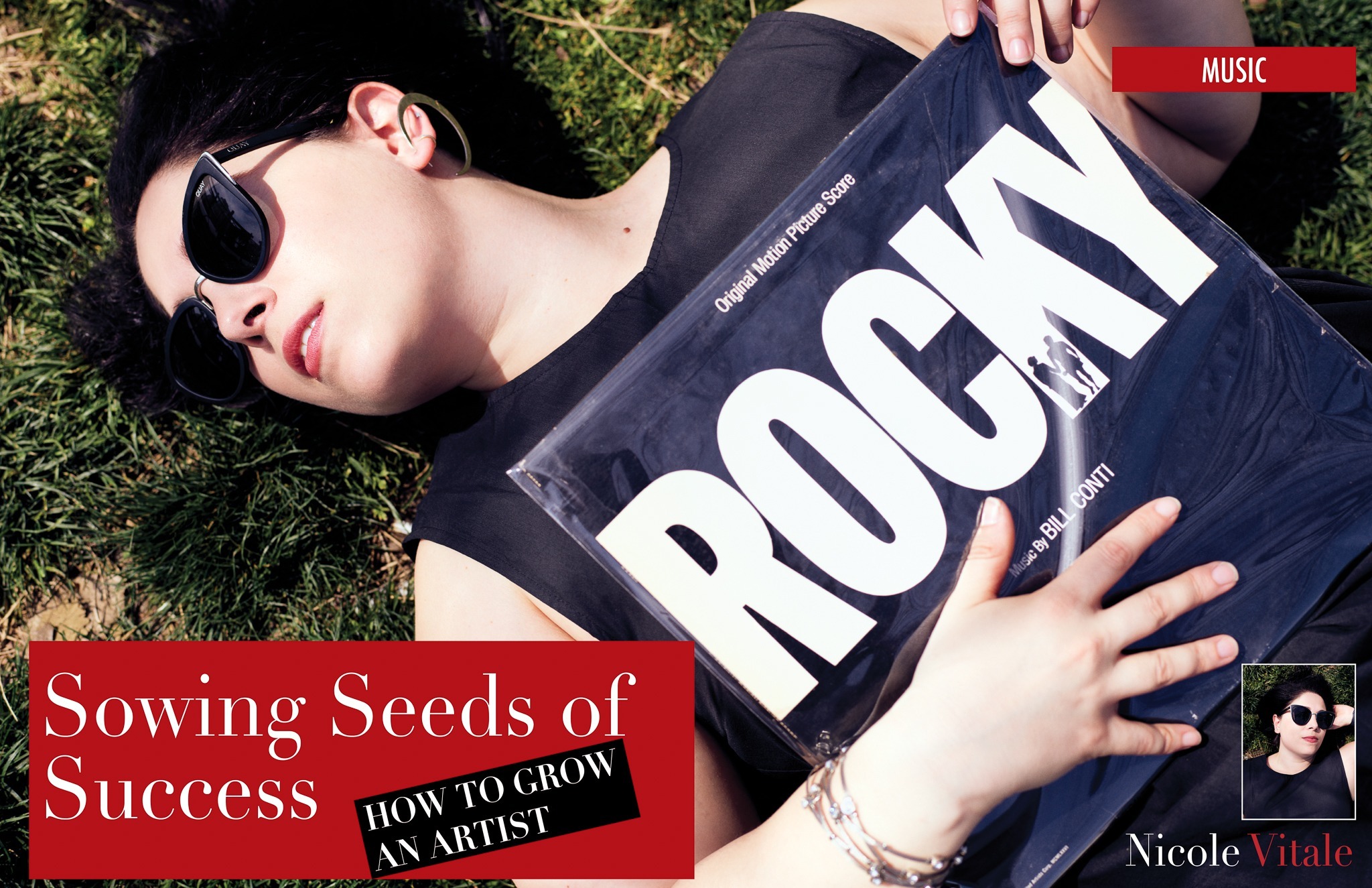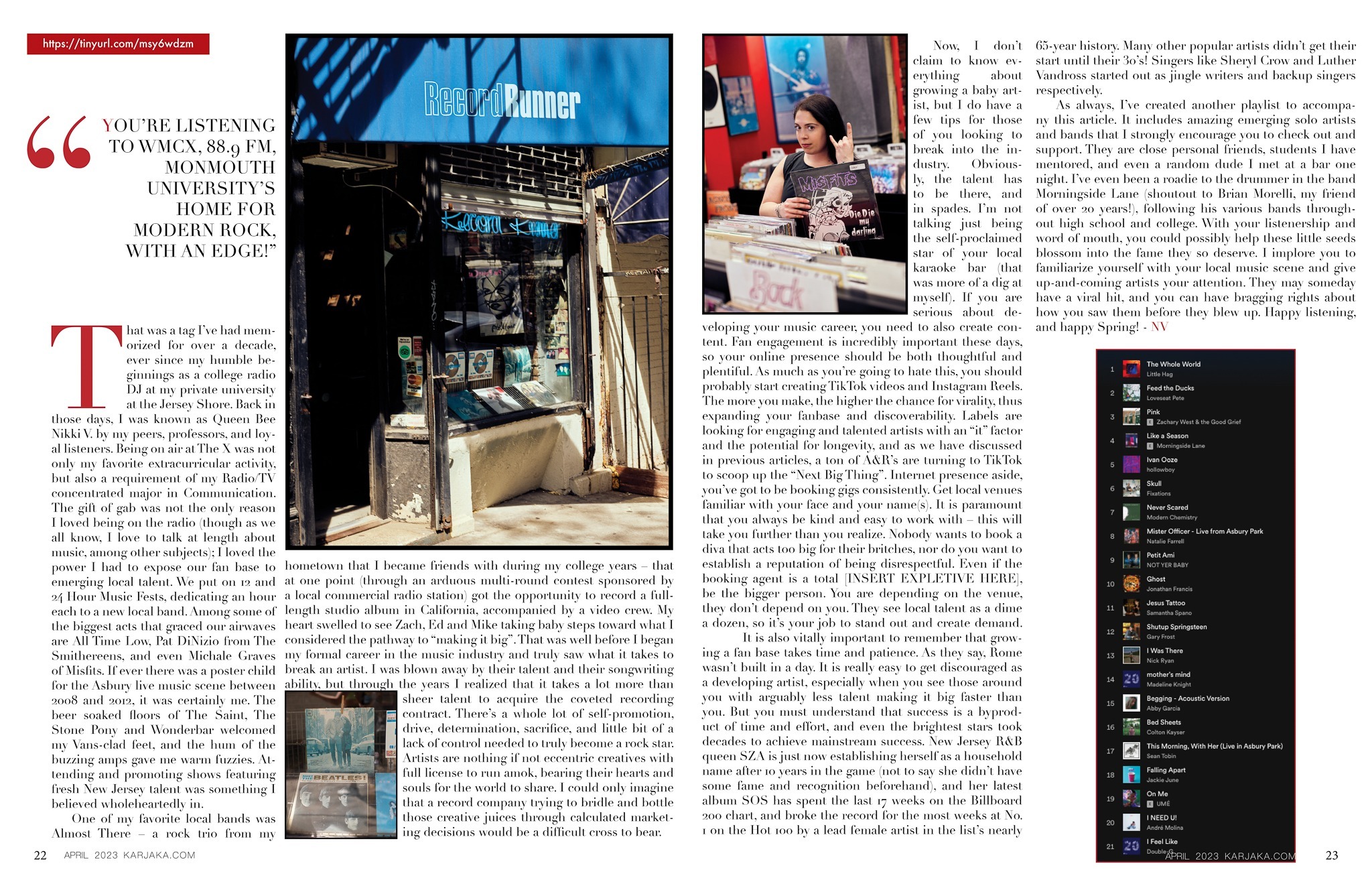 "You're listening to WMCX, 88.9 fm, Monmouth University's home for modern rock, with an edge!"
That was a tag I've had memorized for over a decade, ever since my humble beginnings as a college radio DJ at my private university at the Jersey Shore. Back in those days, I was known as Queen Bee Nikki V. by my peers, professors, and loyal listeners. Being on air at The X was not only my favorite extracurricular activity, but also a requirement of my Radio/TV concentrated major in Communication. The gift of gab was not the only reason I loved being on the radio (though as we all know, I love to talk at length about music, among other subjects); I loved the power I had to expose our fan base to emerging local talent. We put on 12 and 24 Hour Music Fests, dedicating an hour each to a new local band. Among some of the biggest acts that graced our airwaves are All Time Low, Pat DiNizio from The Smithereens, and even Michale Graves of Misfits. If ever there was a poster child for the Asbury live music scene between 2008 and 2012, it was certainly me. The beer soaked floors of The Saint, The Stone Pony and Wonderbar welcomed my Vans-clad feet, and the hum of the buzzing amps gave me warm fuzzies. Attending and promoting shows featuring fresh New Jersey talent was something I believed wholeheartedly in.
One of my favorite local bands was Almost There – a rock trio from my hometown that I became friends with during my college years – that at one point (through an arduous multi-round contest sponsored by a local commercial radio station) got the opportunity to record a full-length studio album in California, accompanied by a video crew. My heart swelled to see Zach, Ed and Mike taking baby steps toward what I considered the pathway to "making it big". That was well before I began my formal career in the music industry and truly saw what it takes to break an artist. I was blown away by their talent and their songwriting ability, but through the years I realized that it takes a lot more than sheer talent to acquire the coveted recording contract. There's a whole lot of self-promotion, drive, determination, sacrifice, and little bit of a lack of control needed to truly become a rock star. Artists are nothing if not eccentric creatives with full license to run amok, bearing their hearts and souls for the world to share. I could only imagine that a record company trying to bridle and bottle those creative juices through calculated marketing decisions would be a difficult cross to bear.
Now, I don't claim to know everything about growing a baby artist, but I do have a few tips for those of you looking to break into the industry. Obviously, the talent has to be there, and in spades. I'm not talking just being the self-proclaimed star of your local karaoke bar (that was more of a dig at myself). If you are serious about developing your music career, you need to also create content. Fan engagement is incredibly important these days, so your online presence should be both thoughtful and plentiful. As much as you're going to hate this, you should probably start creating TikTok videos and Instagram Reels. The more you make, the higher the chance for virality, thus expanding your fanbase and discoverability. Labels are looking for engaging and talented artists with an "it" factor and the potential for longevity, and as we have discussed in previous articles, a ton of A&R's are turning to TikTok to scoop up the "Next Big Thing". Internet presence aside, you've got to be booking gigs consistently. Get local venues familiar with your face and your name(s). It is paramount that you always be kind and easy to work with – this will take you further than you realize. Nobody wants to book a diva that acts too big for their britches, nor do you want to establish a reputation of being disrespectful. Even if the booking agent is a total [INSERT EXPLETIVE HERE], be the bigger person. You are depending on the venue, they don't depend on you. They see local talent as a dime a dozen, so it's your job to stand out and create demand.
It is also vitally important to remember that growing a fan base takes time and patience. As they say, Rome wasn't built in a day. It is really easy to get discouraged as a developing artist, especially when you see those around you with arguably less talent making it big faster than you. But you must understand that success is a byproduct of time and effort, and even the brightest stars took decades to achieve mainstream success. New Jersey R&B queen SZA is just now establishing herself as a household name after 10 years in the game (not to say she didn't have some fame and recognition beforehand), and her latest album SOS has spent the last 17 weeks on the Billboard 200 chart, and broke the record for the most weeks at No. 1 on the Hot 100 by a lead female artist in the list's nearly 65-year history. Many other popular artists didn't get their start until their 30's! Singers like Sheryl Crow and Luther Vandross started out as jingle writers and backup singers respectively.
As always, I've created another playlist to accompany this article. It includes amazing emerging solo artists and bands that I strongly encourage you to check out and support. They are close personal friends, students I have mentored, and even a random dude I met at a bar one night. I've even been a roadie to the drummer in the band Morningside Lane (shoutout to Brian Morelli, my friend of over 20 years!), following his various bands throughout high school and college. With your listenership and word of mouth, you could possibly help these little seeds blossom into the fame they so deserve. I implore you to familiarize yourself with your local music scene and give up-and-coming artists your attention. They may someday have a viral hit, and you can have bragging rights about how you saw them before they blew up. Happy listening, and happy Spring! – NV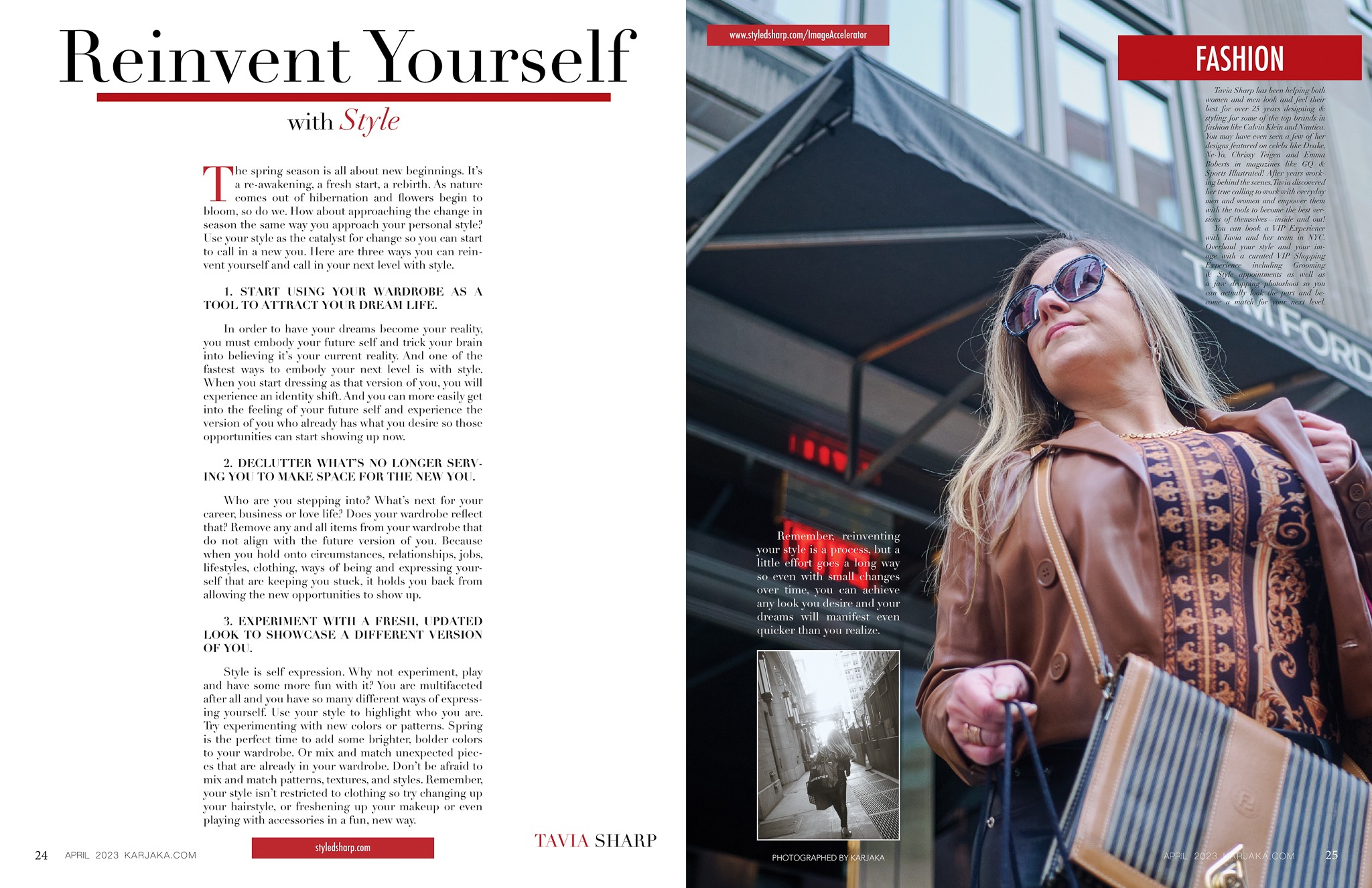 The spring season is all about new beginnings. It's a re-awakening, a fresh start, a rebirth. As nature comes out of hibernation and flowers begin to bloom, so do we. How about approaching the change in season the same way you approach your personal style? Use your style as the catalyst for change so you can start to call in a new you. Here are three ways you can reinvent yourself and call in your next level with style.
1. Start using your wardrobe as a tool to attract your dream life.
In order to have your dreams become your reality, you must embody your future self and trick your brain into believing it's your current reality. And one of the fastest ways to embody your next level is with style. When you start dressing as that version of you, you will experience an identity shift. And you can more easily get into the feeling of your future self and experience the version of you who already has what you desire so those opportunities can start showing up now.
2. Declutter what's no longer serving you to make space for the new you.
Who are you stepping into? What's next for your career, business or love life? Does your wardrobe reflect that? Remove any and all items from your wardrobe that do not align with the future version of you. Because when you hold onto circumstances, relationships, jobs, lifestyles, clothing, ways of being and expressing yourself that are keeping you stuck, it holds you back from allowing the new opportunities to show up.
3. Experiment with a fresh, updated look to showcase a different version of you.
Style is self expression. Why not experiment, play and have some more fun with it? You are multifaceted after all and you have so many different ways of expressing yourself. Use your style to highlight who you are. Try experimenting with new colors or patterns. Spring is the perfect time to add some brighter, bolder colors to your wardrobe. Or mix and match unexpected pieces that are already in your wardrobe. Don't be afraid to mix and match patterns, textures, and styles. Remember, your style isn't restricted to clothing so try changing up your hairstyle, or freshening up your makeup or even playing with accessories in a fun, new way.
Remember, reinventing your style is a process, but a little effort goes a long way so even with small changes over time, you can achieve any look you desire and your dreams will manifest even quicker than you realize.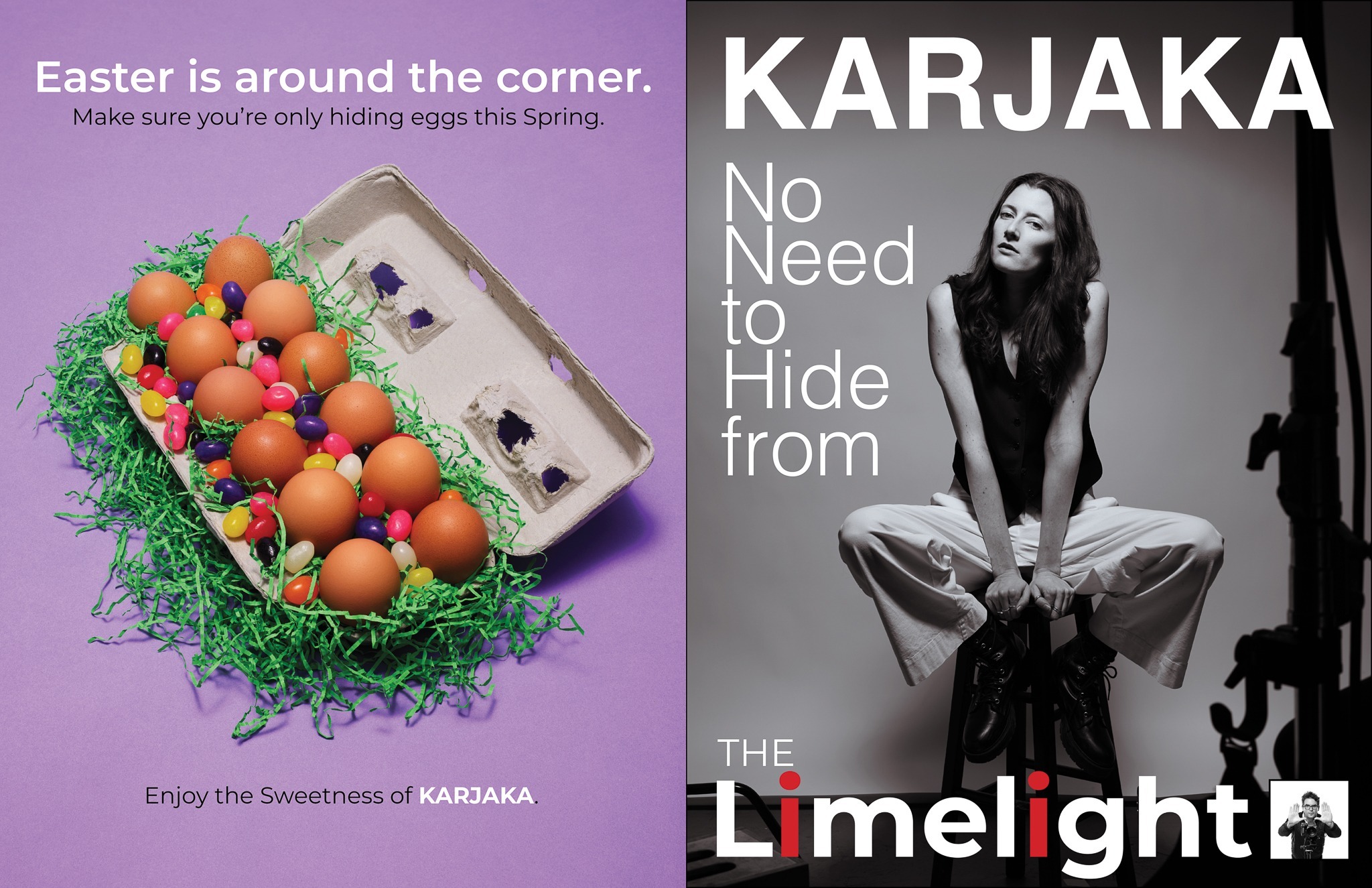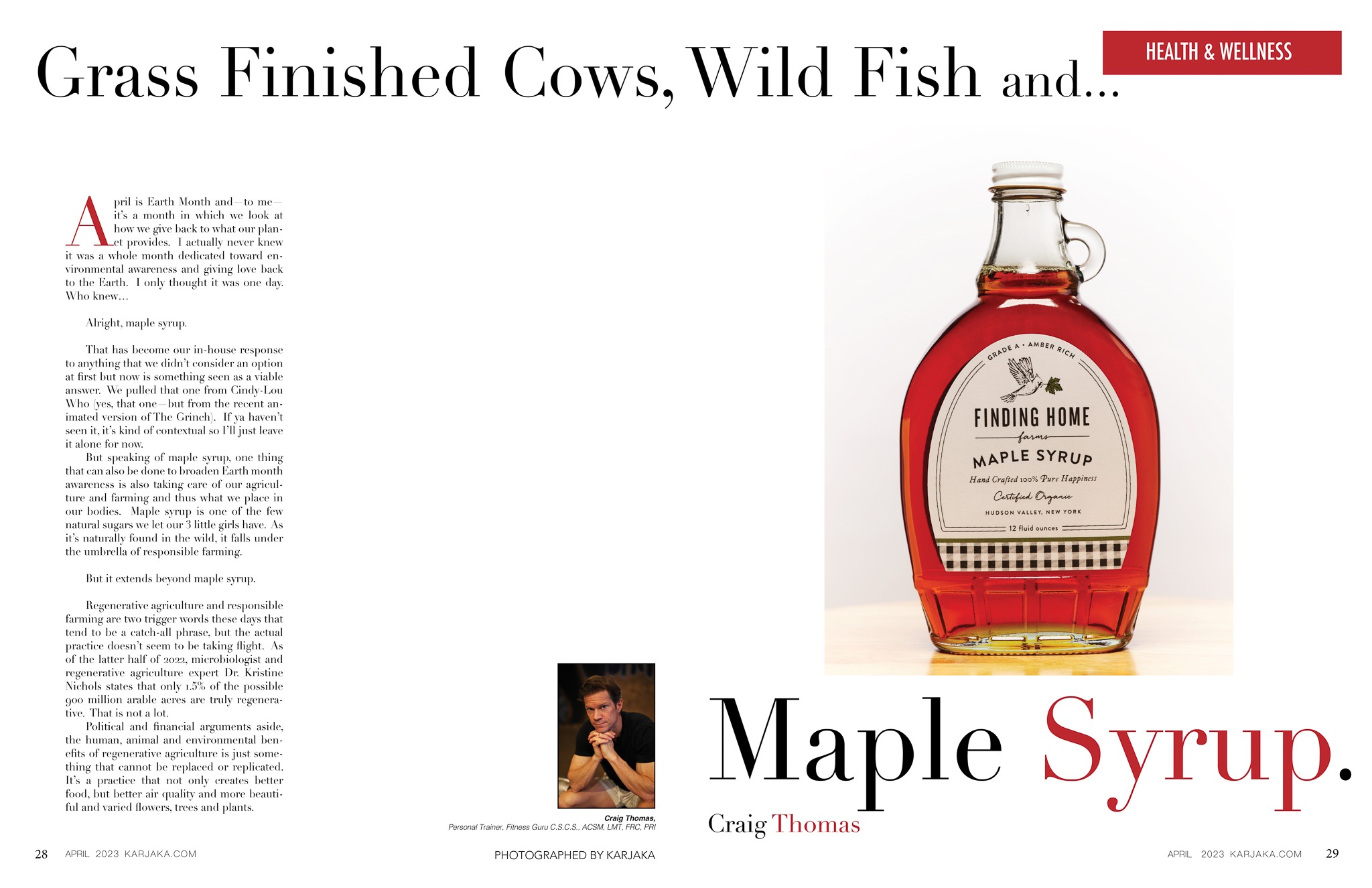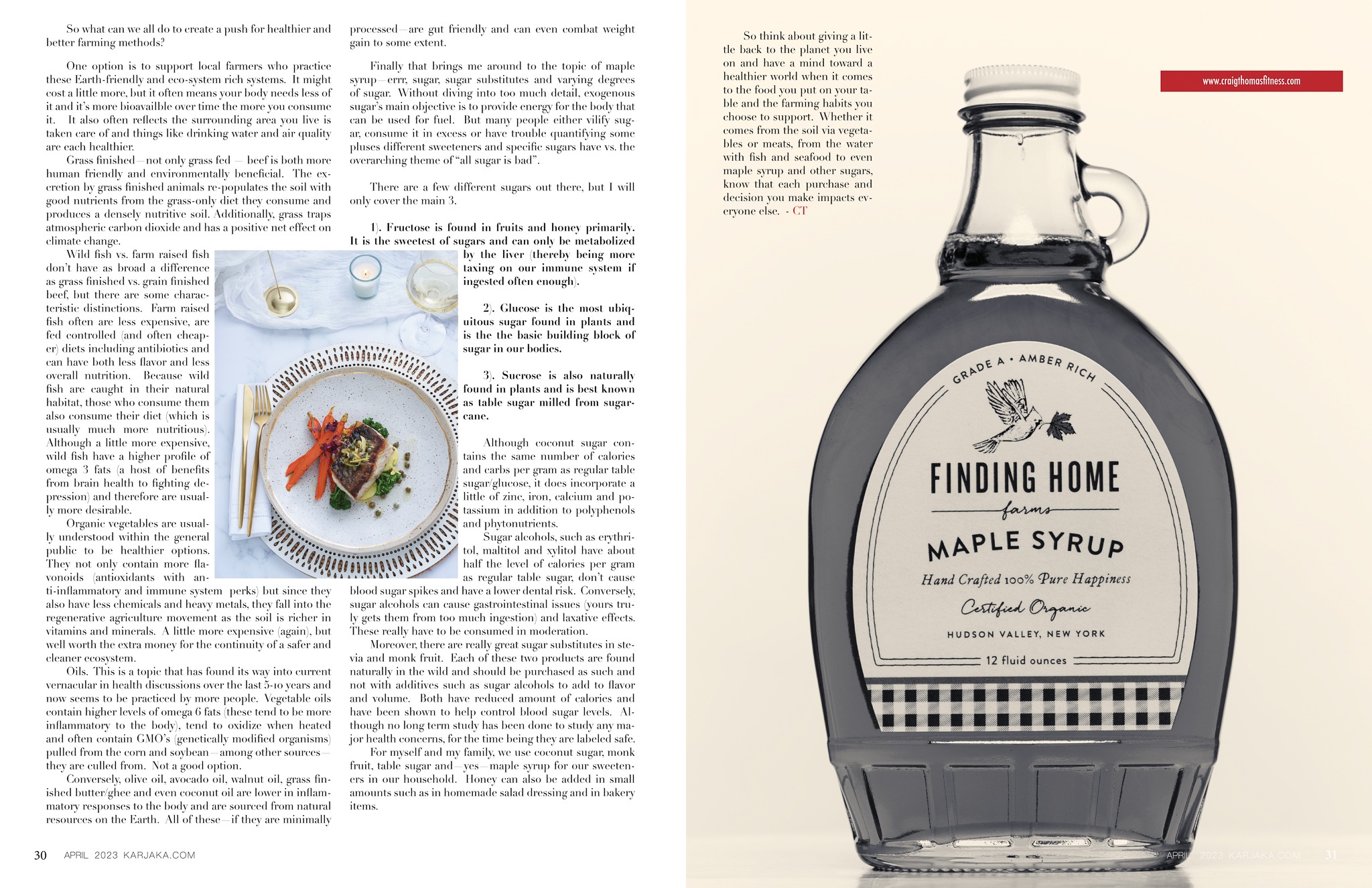 April is Earth Month and—to me—it's a month in which we look at how we give back to what our planet provides. I actually never knew it was a whole month dedicated toward environmental awareness and giving love back to the Earth. I only thought it was one day. Who knew…
Alright, maple syrup.
That has become our in-house response to anything that we didn't consider an option at first but now is something seen as a viable answer. We pulled that one from Cindy-Lou Who (yes, that one—but from the recent animated version of The Grinch). If ya haven't seen it, it's kind of contextual so I'll just leave it alone for now.
But speaking of maple syrup, one thing that can also be done to broaden Earth month awareness is also taking care of our agriculture and farming and thus what we place in our bodies. Maple syrup is one of the few natural sugars we let our 3 little girls have. As it's naturally found in the wild, it falls under the umbrella of responsible farming.
But it extends beyond maple syrup.
Regenerative agriculture and responsible farming are two trigger words these days that tend to be a catch-all phrase, but the actual practice doesn't seem to be taking flight. As of the latter half of 2022, microbiologist and regenerative agriculture expert Dr. Kristine Nichols states that only 1.5% of the possible 900 million arable acres are truly regenerative. That is not a lot.
Political and financial arguments aside, the human, animal and environmental benefits of regenerative agriculture is just something that cannot be replaced or replicated. It's a practice that not only creates better food, but better air quality and more beautiful and varied flowers, trees and plants.
So what can we all do to create a push for healthier and better farming methods?
One option is to support local farmers who practice these Earth-friendly and eco-system rich systems. It might cost a little more, but it often means your body needs less of it and it's more bioavailble over time the more you consume it. It also often reflects the surrounding area you live is taken care of and things like drinking water and air quality are each healthier.
Grass finished—not only grass fed — beef is both more human friendly and environmentally beneficial. The excretion by grass finished animals re-populates the soil with good nutrients from the grass-only diet they consume and produces a densely nutritive soil. Additionally, grass traps atmospheric carbon dioxide and has a positive net effect on climate change.
Wild fish vs. farm raised fish don't have as broad a difference as grass finished vs. grain finished beef, but there are some characteristic distinctions. Farm raised fish often are less expensive, are fed controlled (and often cheaper) diets including antibiotics and can have both less flavor and less overall nutrition. Because wild fish are caught in their natural habitat, those who consume them also consume their diet (which is usually much more nutritious). Although a little more expensive, wild fish have a higher profile of omega 3 fats (a host of benefits from brain health to fighting depression) and therefore are usually more desirable.
Organic vegetables are usually understood within the general public to be healthier options. They not only contain more flavonoids (antioxidants with anti-inflammatory and immune system perks) but since they also have less chemicals and heavy metals, they fall into the regenerative agriculture movement as the soil is richer in vitamins and minerals. A little more expensive (again), but well worth the extra money for the continuity of a safer and cleaner ecosystem.
Oils. This is a topic that has found its way into current vernacular in health discussions over the last 5-10 years and now seems to be practiced by more people. Vegetable oils contain higher levels of omega 6 fats (these tend to be more inflammatory to the body), tend to oxidize when heated and often contain GMO's (genetically modified organisms) pulled from the corn and soybean—among other sources—they are culled from. Not a good option.
Conversely, olive oil, avocado oil, walnut oil, grass finished butter/ghee and even coconut oil are lower in inflammatory responses to the body and are sourced from natural resources on the Earth. All of these—if they are minimally processed—are gut friendly and can even combat weight gain to some extent.
Finally that brings me around to the topic of maple syrup—errr, sugar, sugar substitutes and varying degrees of sugar. Without diving into too much detail, exogenous sugar's main objective is to provide energy for the body that can be used for fuel. But many people either vilify sugar, consume it in excess or have trouble quantifying some pluses different sweeteners and specific sugars have vs. the overarching theme of "all sugar is bad".
There are a few different sugars out there, but I will only cover the main 3.
1). Fructose is found in fruits and honey primarily. It is the sweetest of sugars and can only be metabolized by the liver (thereby being more taxing on our immune system if ingested often enough).
2). Glucose is the most ubiquitous sugar found in plants and is the the basic building block of sugar in our bodies.
3). Sucrose is also naturally found in plants and is best known as table sugar milled from sugarcane.
Although coconut sugar contains the same number of calories and carbs per gram as regular table sugar/glucose, it does incorporate a little of zinc, iron, calcium and potassium in addition to polyphenols and phytonutrients.
Sugar alcohols, such as erythritol, maltitol and xylitol have about half the level of calories per gram as regular table sugar, don't cause blood sugar spikes and have a lower dental risk. Conversely, sugar alcohols can cause gastrointestinal issues (yours truly gets them from too much ingestion) and laxative effects. These really have to be consumed in moderation.
Moreover, there are really great sugar substitutes in stevia and monk fruit. Each of these two products are found naturally in the wild and should be purchased as such and not with additives such as sugar alcohols to add to flavor and volume. Both have reduced amount of calories and have been shown to help control blood sugar levels. Although no long term study has been done to study any major health concerns, for the time being they are labeled safe.
For myself and my family, we use coconut sugar, monk fruit, table sugar and—yes—maple syrup for our sweeteners in our household. Honey can also be added in small amounts such as in homemade salad dressing and in bakery items.
So think about giving a little back to the planet you live on and have a mind toward a healthier world when it comes to the food you put on your table and the farming habits you choose to support. Whether it comes from the soil via vegetables or meats, from the water with fish and seafood to even maple syrup and other sugars, know that each purchase and decision you make impacts everyone else. – CT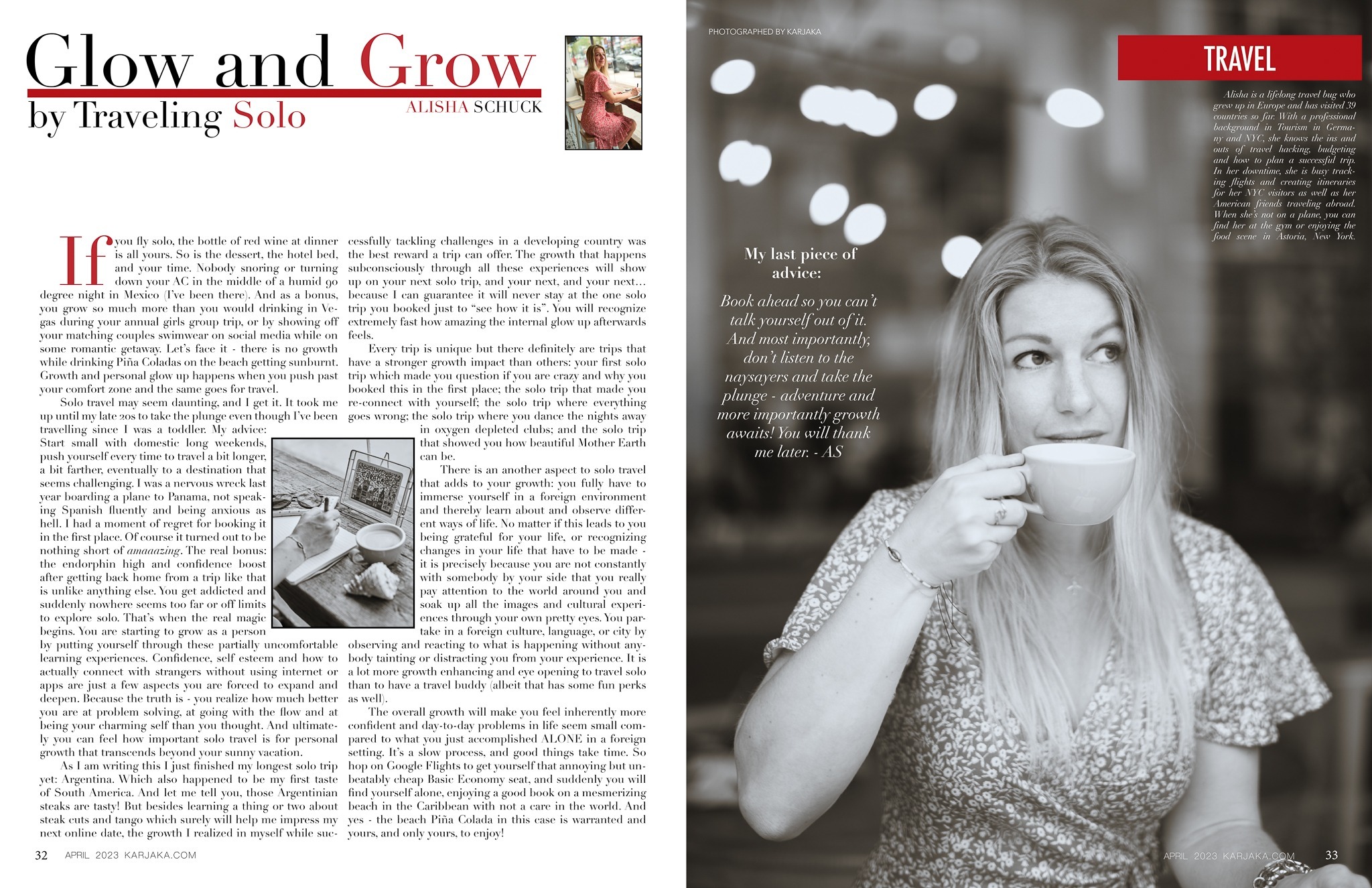 If you fly solo, the bottle of red wine at dinner is all yours. So is the dessert, the hotel bed, and your time. Nobody snoring or turning down your AC in the middle of a humid 90 degree night in Mexico (I've been there). And as a bonus, you grow so much more than you would drinking in Vegas during your annual girls group trip, or by showing off your matching couples swimwear on social media while on some romantic getaway. Let's face it – there is no growth while drinking Piña Coladas on the beach getting sunburnt. Growth and personal glow up happens when you push past your comfort zone and the same goes for travel.
Solo travel may seem daunting, and I get it. It took me up until my late 20s to take the plunge even though I've been travelling since I was a toddler. My advice: Start small with domestic long weekends, push yourself every time to travel a bit longer, a bit farther, eventually to a destination that seems challenging. I was a nervous wreck last year boarding a plane to Panama, not speaking Spanish fluently and being anxious as hell. I had a moment of regret for booking it in the first place. Of course it turned out to be nothing short of amaaazing. The real bonus: the endorphin high and confidence boost after getting back home from a trip like that is unlike anything else. You get addicted and suddenly nowhere seems too far or off limits to explore solo. That's when the real magic begins. You are starting to grow as a person by putting yourself through these partially uncomfortable learning experiences. Confidence, self esteem and how to actually connect with strangers without using internet or apps are just a few aspects you are forced to expand and deepen. Because the truth is – you realize how much better you are at problem solving, at going with the flow and at being your charming self than you thought. And ultimately you can feel how important solo travel is for personal growth that transcends beyond your sunny vacation.
As I am writing this I just finished my longest solo trip yet: Argentina. Which also happened to be my first taste of South America. And let me tell you, those Argentinian steaks are tasty! But besides learning a thing or two about steak cuts and tango which surely will help me impress my next online date, the growth I realized in myself while successfully tackling challenges in a developing country was the best reward a trip can offer. The growth that happens subconsciously through all these experiences will show up on your next solo trip, and your next, and your next…
because I can guarantee it will never stay at the one solo trip you booked just to "see how it is". You will recognize extremely fast how amazing the internal glow up afterwards feels.
Every trip is unique but there definitely are trips that have a stronger growth impact than others: your first solo trip which made you question if you are crazy and why you booked this in the first place; the solo trip that made you re-connect with yourself; the solo trip where everything goes wrong; the solo trip where you dance the nights away in oxygen depleted clubs; and the solo trip that showed you how beautiful Mother Earth can be.
There is an another aspect to solo travel that adds to your growth: you fully have to immerse yourself in a foreign environment and thereby learn about and observe different ways of life. No matter if this leads to you being grateful for your life, or recognizing changes in your life that have to be made – it is precisely because you are not constantly with somebody by your side that you really pay attention to the world around you and soak up all the images and cultural experiences through your own pretty eyes. You partake in a foreign culture, language, or city by observing and reacting to what is happening without anybody tainting or distracting you from your experience. It is a lot more growth enhancing and eye opening to travel solo than to have a travel buddy (albeit that has some fun perks as well).
The overall growth will make you feel inherently more confident and day-to-day problems in life seem small compared to what you just accomplished ALONE in a foreign setting. It's a slow process, and good things take time. So hop on Google Flights to get yourself that annoying but unbeatably cheap Basic Economy seat, and suddenly you will find yourself alone, enjoying a good book on a mesmerizing beach in the Caribbean with not a care in the world. And yes – the beach Piña Colada in this case is warranted and yours, and only yours, to enjoy!
Book ahead so you can't talk yourself out of it. And most importantly, don't listen to the naysayers and take the plunge – adventure and more importantly growth awaits! You will thank me later. – AS
Alisha is a lifelong travel bug who grew up in Europe and has visited 39 countries so far. With a professional background in Tourism in Germany and NYC, she knows the ins and outs of travel hacking, budgeting and how to plan a successful trip. In her downtime, she is busy tracking flights and creating itineraries for her NYC visitors as well as her American friends traveling abroad. When she's not on a plane, you can find her at the gym or enjoying the food scene in Astoria, New York.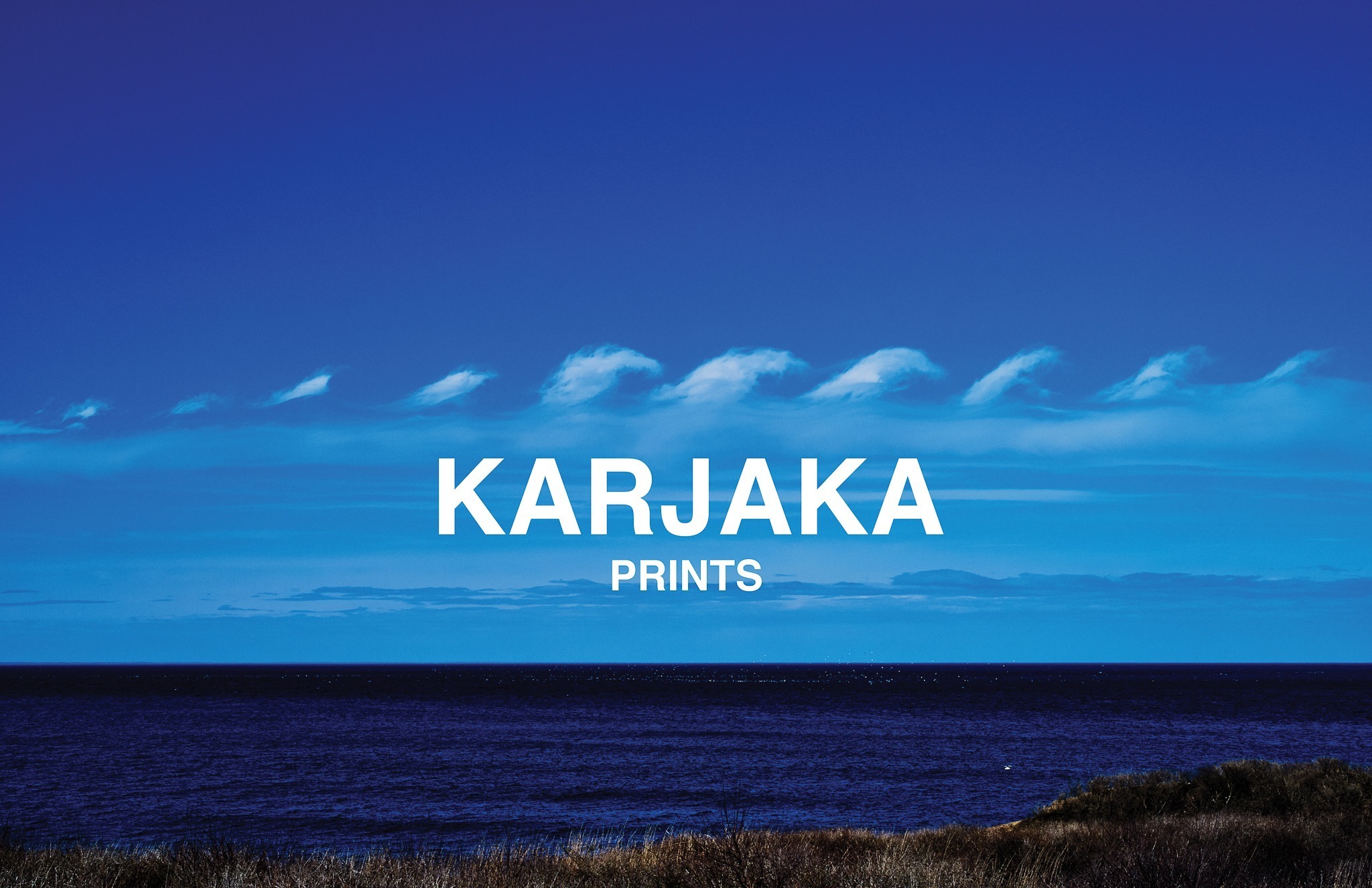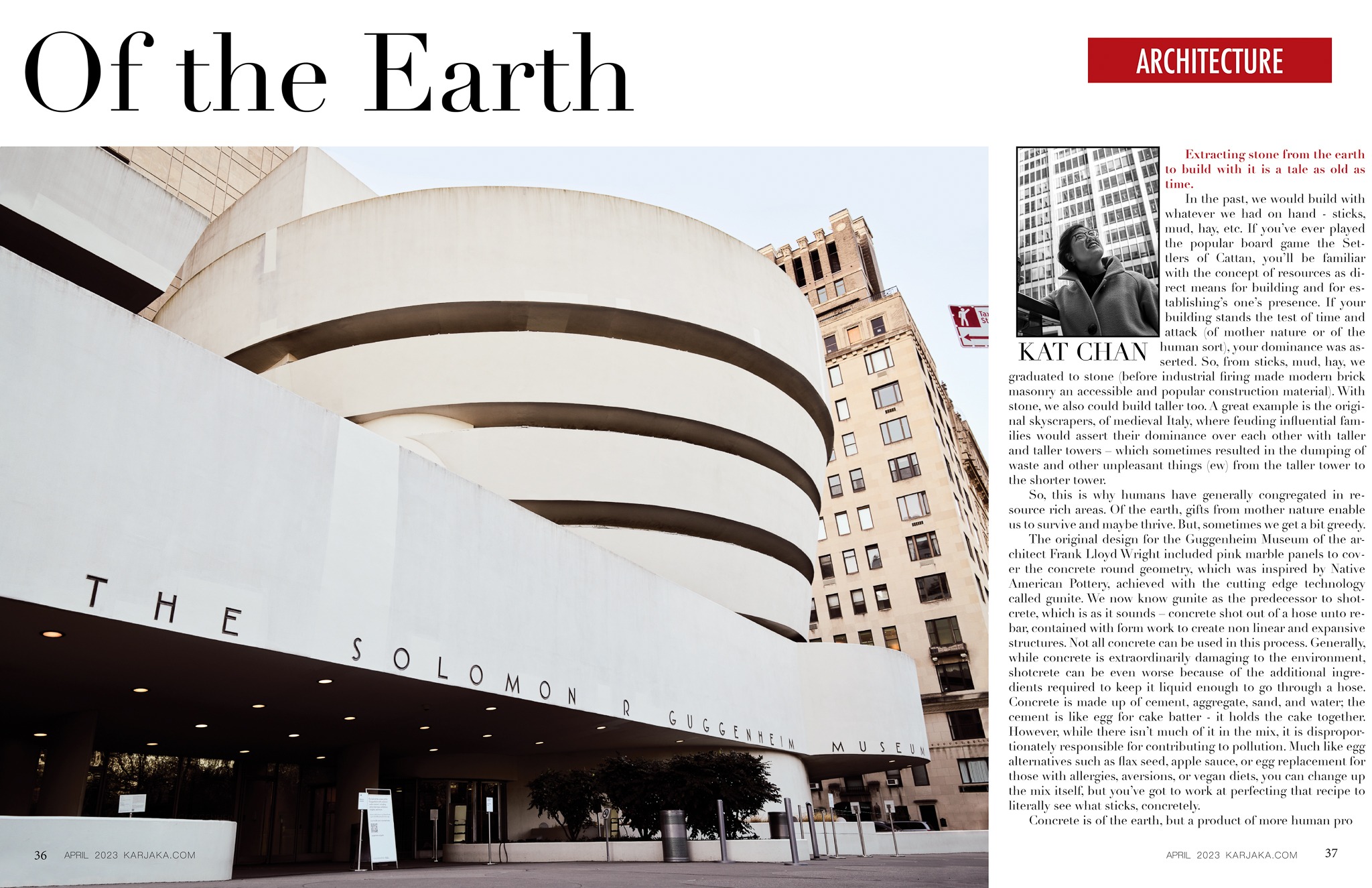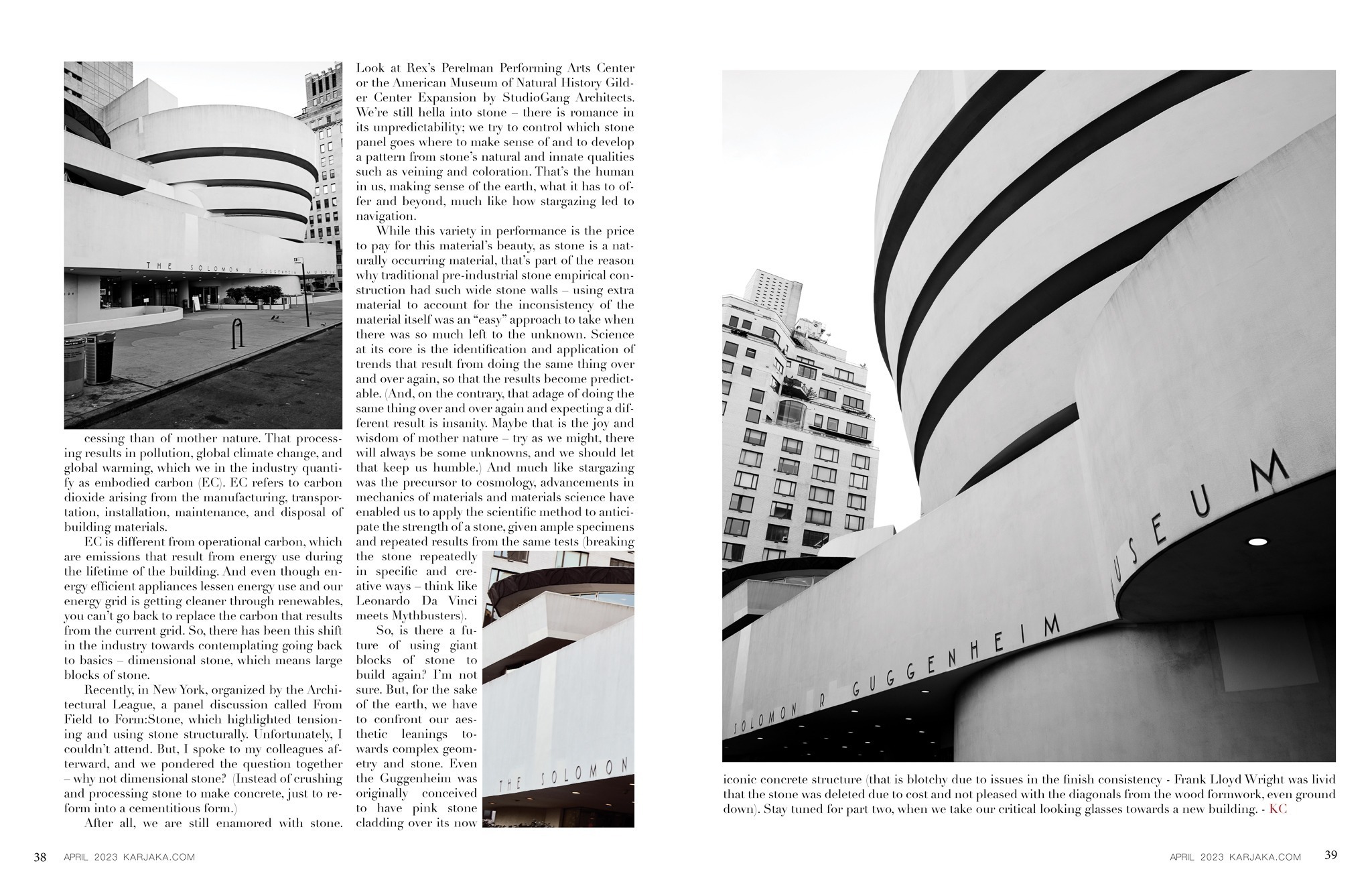 Extracting stone from the earth to build with it is a tale as old as time.
In the past, we would build with whatever we had on hand – sticks, mud, hay, etc. If you've ever played the popular board game the Settlers of Cattan, you'll be familiar with the concept of resources as direct means for building and for establishing's one's presence. If your building stands the test of time and attack (of mother nature or of the human sort), your dominance was asserted. So, from sticks, mud, hay, we graduated to stone (before industrial firing made modern brick masonry an accessible and popular construction material). With stone, we also could build taller too. A great example is the original skyscrapers, of medieval Italy, where feuding influential families would assert their dominance over each other with taller and taller towers – which sometimes resulted in the dumping of waste and other unpleasant things (ew) from the taller tower to the shorter tower.
So, this is why humans have generally congregated in resource rich areas. Of the earth, gifts from mother nature enable us to survive and maybe thrive. But, sometimes we get a bit greedy.
The original design for the Guggenheim Museum of the architect Frank Lloyd Wright included pink marble panels to cover the concrete round geometry, which was inspired by Native American Pottery, achieved with the cutting edge technology called gunite. We now know gunite as the predecessor to shotcrete, which is as it sounds – concrete shot out of a hose unto rebar, contained with form work to create non linear and expansive structures. Not all concrete can be used in this process. Generally, while concrete is extraordinarily damaging to the environment, shotcrete can be even worse because of the additional ingredients required to keep it liquid enough to go through a hose. Concrete is made up of cement, aggregate, sand, and water; the cement is like egg for cake batter – it holds the cake together. However, while there isn't much of it in the mix, it is disproportionately responsible for contributing to pollution. Much like egg alternatives such as flax seed, apple sauce, or egg replacement for those with allergies, aversions, or vegan diets, you can change up the mix itself, but you've got to work at perfecting that recipe to literally see what sticks, concretely.
Concrete is of the earth, but a product of more human processing than of mother nature. That processing results in pollution, global climate change, and global warming, which we in the industry quantify as embodied carbon (EC). EC refers to carbon dioxide arising from the manufacturing, transportation, installation, maintenance, and disposal of building materials.
EC is different from operational carbon, which are emissions that result from energy use during the lifetime of the building. And even though energy efficient appliances lessen energy use and our energy grid is getting cleaner through renewables, you can't go back to replace the carbon that results from the current grid. So, there has been this shift in the industry towards contemplating going back to basics – dimensional stone, which means large blocks of stone.
Recently, in New York, organized by the Architectural League, a panel discussion called From Field to Form:Stone, which highlighted tensioning and using stone structurally. Unfortunately, I couldn't attend. But, I spoke to my colleagues afterward, and we pondered the question together – why not dimensional stone? (Instead of crushing and processing stone to make concrete, just to reform into a cementitious form.)
After all, we are still enamored with stone. Look at Rex's Perelman Performing Arts Center or the American Museum of Natural History Gilder Center Expansion by StudioGang Architects. We're still hella into stone – there is romance in its unpredictability; we try to control which stone panel goes where to make sense of and to develop a pattern from stone's natural and innate qualities such as veining and coloration. That's the human in us, making sense of the earth, what it has to offer and beyond, much like how stargazing led to navigation.
While this variety in performance is the price to pay for this material's beauty, as stone is a naturally occurring material, that's part of the reason why traditional pre-industrial stone empirical construction had such wide stone walls – using extra material to account for the inconsistency of the material itself was an "easy" approach to take when there was so much left to the unknown. Science at its core is the identification and application of trends that result from doing the same thing over and over again, so that the results become predictable. (And, on the contrary, that adage of doing the same thing over and over again and expecting a different result is insanity. Maybe that is the joy and wisdom of mother nature – try as we might, there will always be some unknowns, and we should let that keep us humble.) And much like stargazing was the precursor to cosmology, advancements in mechanics of materials and materials science have enabled us to apply the scientific method to anticipate the strength of a stone, given ample specimens and repeated results from the same tests (breaking the stone repeatedly in specific and creative ways – think like Leonardo Da Vinci meets Mythbusters).
So, is there a future of using giant blocks of stone to build again? I'm not sure. But, for the sake of the earth, we have to confront our aesthetic leanings towards complex geometry and stone. Even the Guggenheim was originally conceived to have pink stone cladding over its now iconic concrete structure (that is blotchy due to issues in the finish consistency – Frank Lloyd Wright was livid that the stone was deleted due to cost and not pleased with the diagonals from the wood formwork, even ground down). Stay tuned for part two, when we take our critical looking glasses towards a new building. – KC