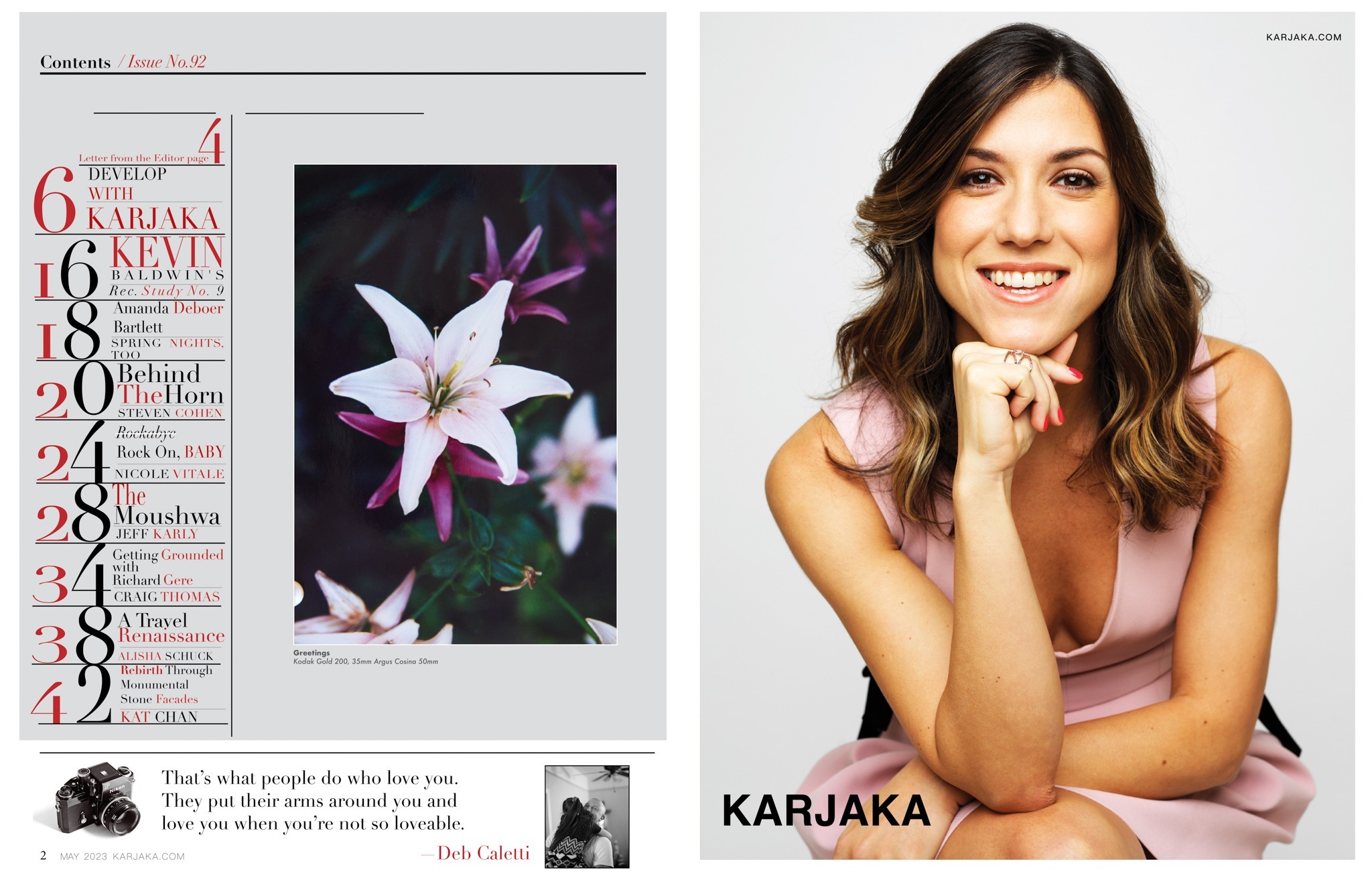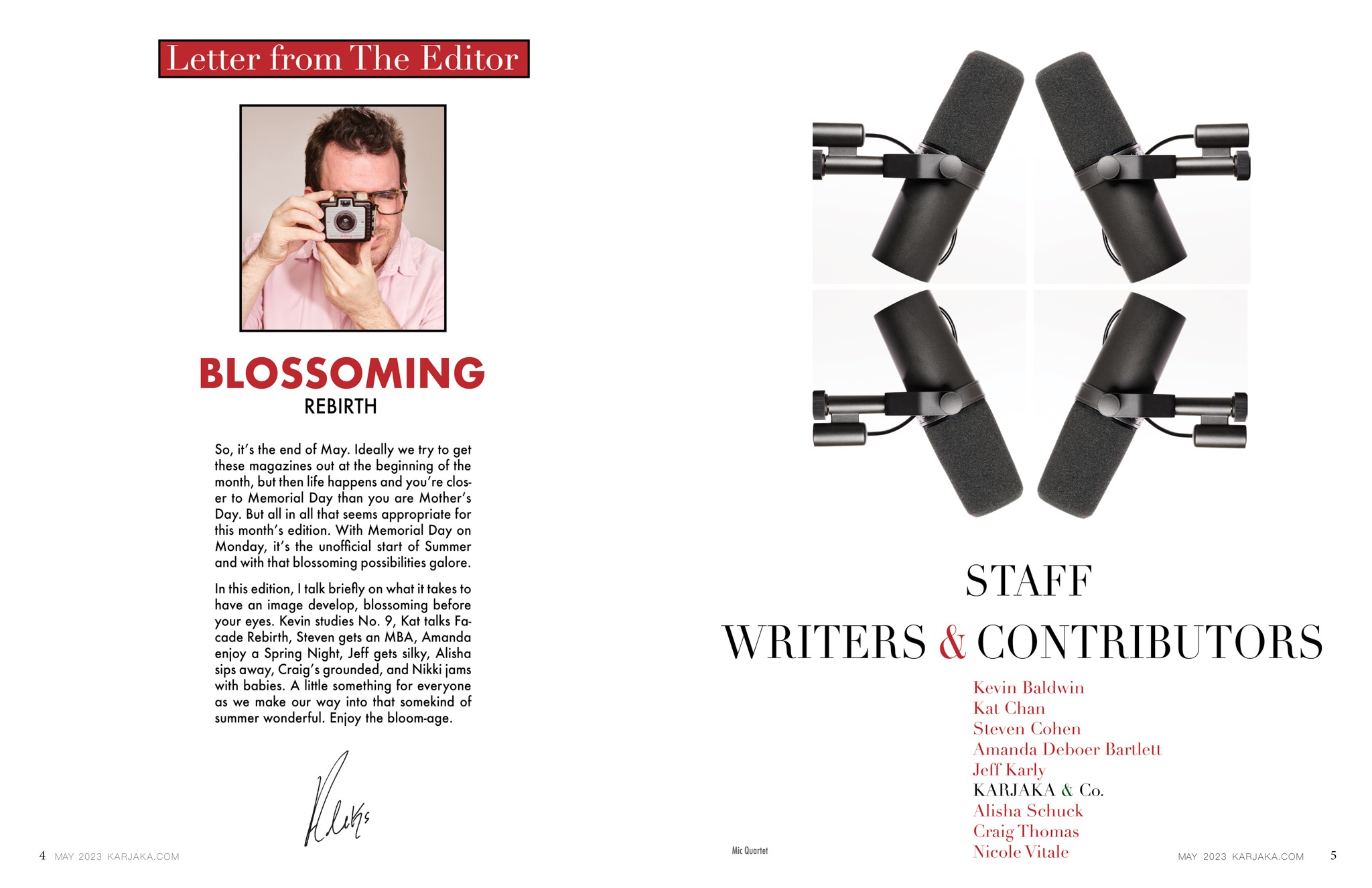 LETTER FROM THE EDITOR
So, it's the end of May. Ideally we try to get these magazines out at the beginning of the month, but then life happens and you're closer to Memorial Day than you are Mother's Day. But all in all that seems appropriate for this month's edition. With Memorial Day on Monday, it's the unofficial start of Summer and with that blossoming possibilities galore.
In this edition, I talk briefly on what it takes to have an image develop, blossoming before your eyes. Kevin studies No. 9, Kat talks Facade Rebirth, Steven gets an MBA, Amanda enjoy a Spring Night, Jeff gets silky, Alisha sips away, Craig's grounded, and Nikki jams with babies. A little something for everyone as we make our way into that some kind of summer wonderful. Enjoy the bloom-age.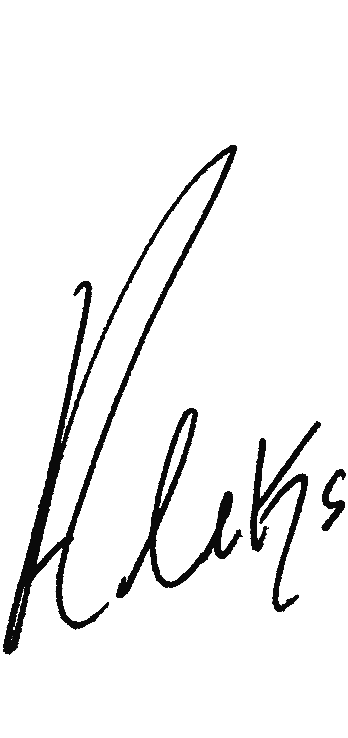 Develop With Me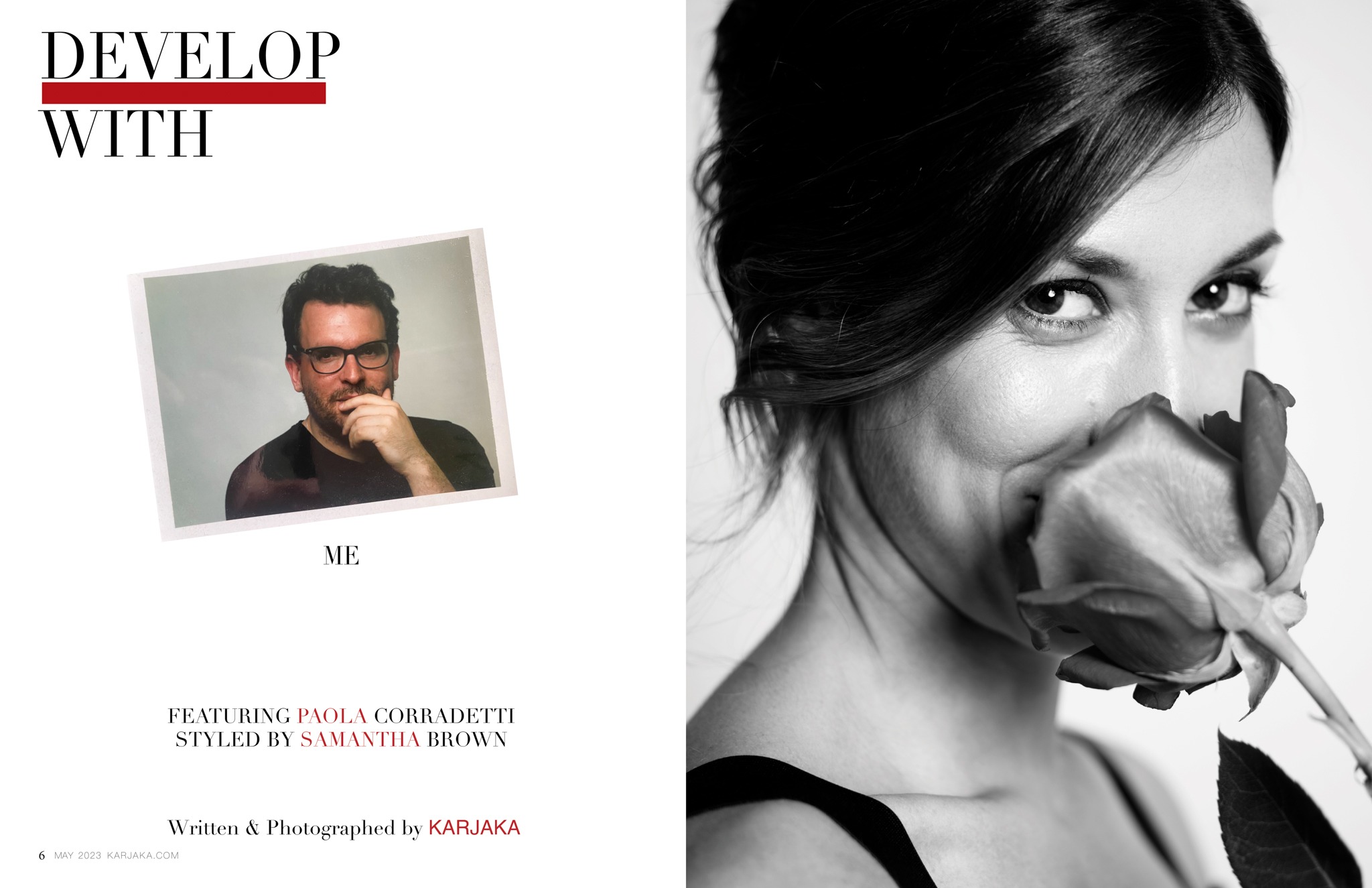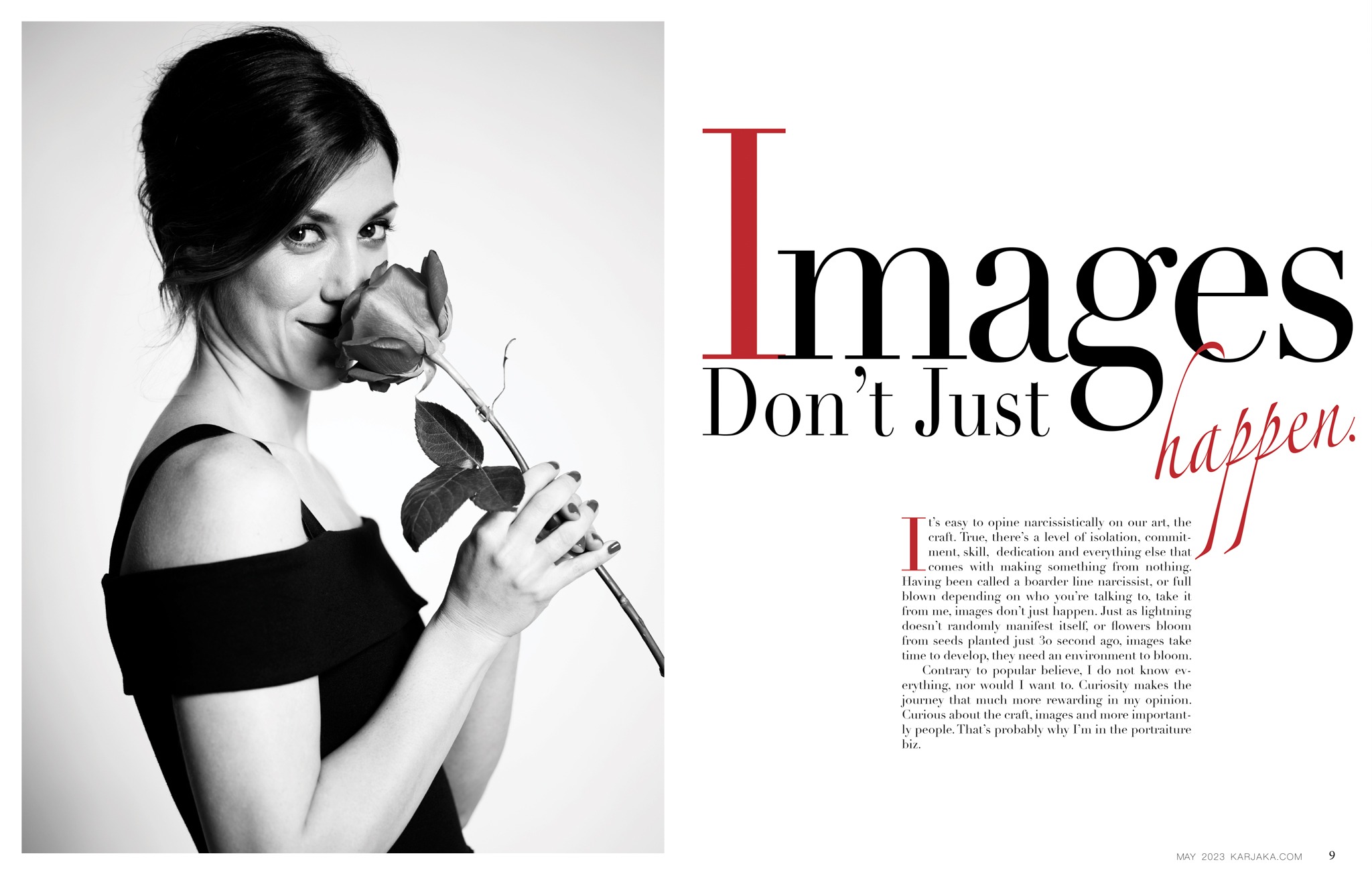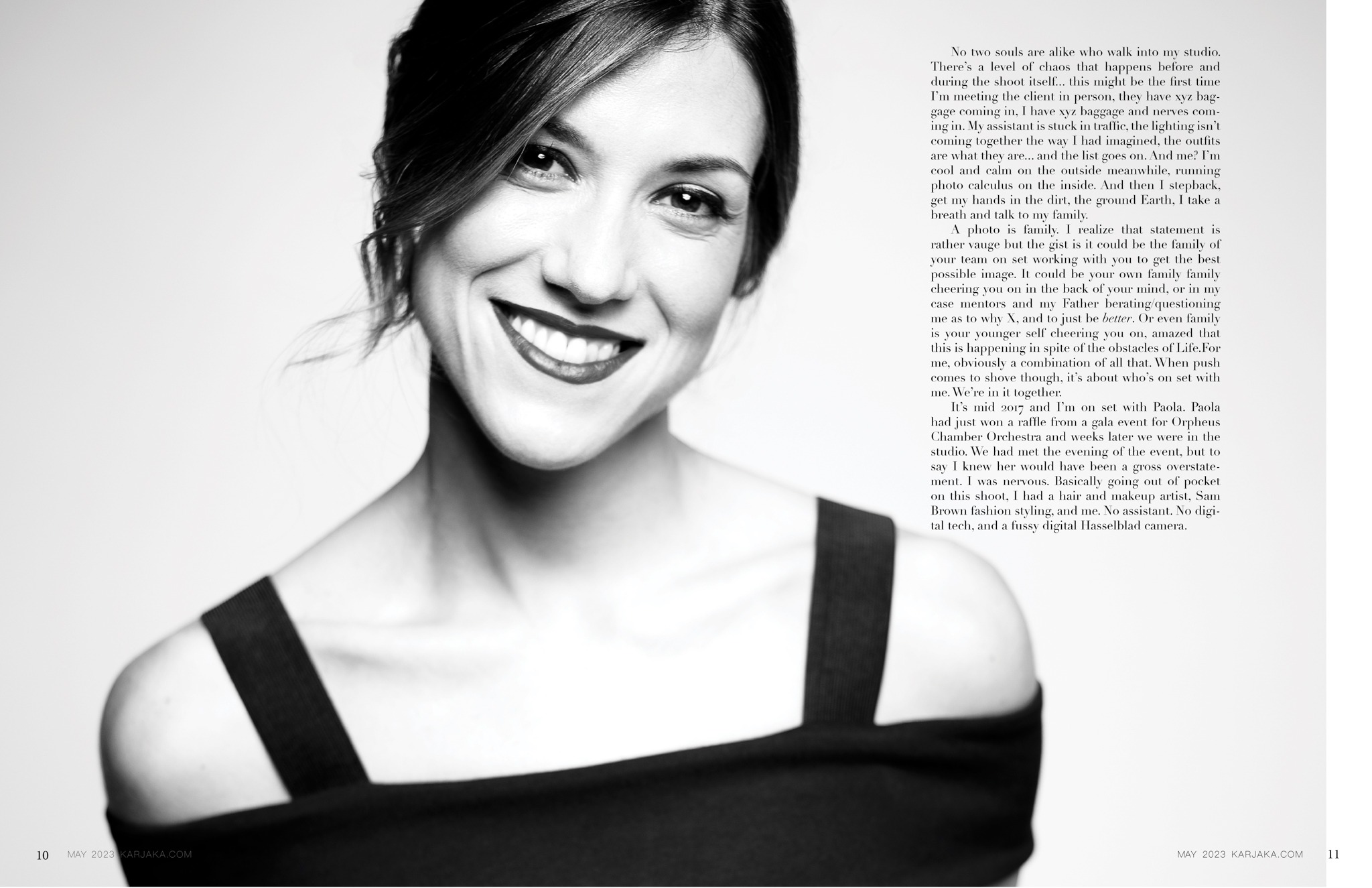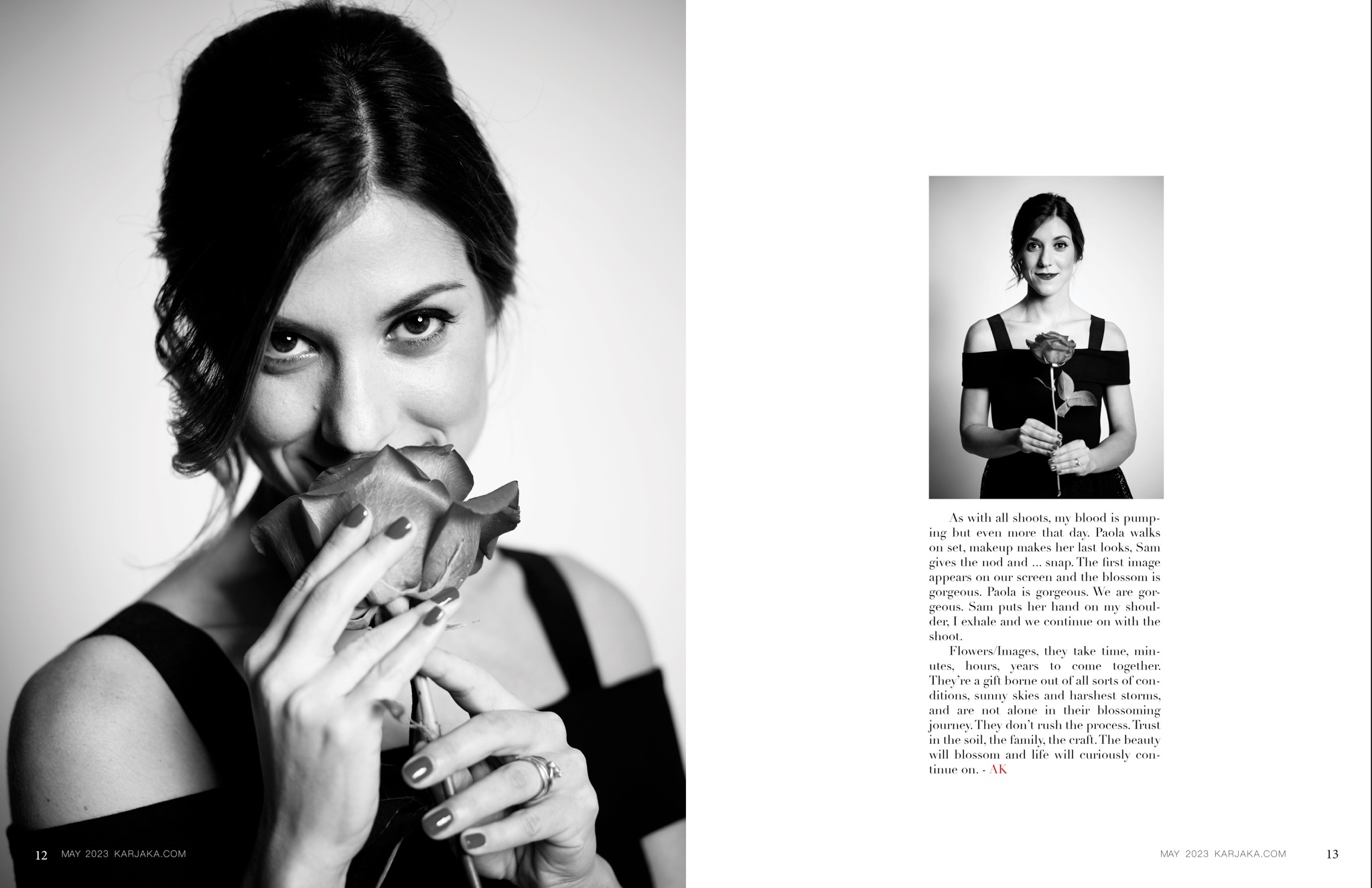 It's easy to opine narcissistically on our art, the craft. True, there's a level of isolation, commitment, skill, dedication and everything else that comes with making something from nothing. Having been called a boarder line narcissist, or full blown depending on who you're talking to, take it from me, images don't just happen. Just as lightning doesn't randomly manifest itself, or flowers bloom from seeds planted just 3o second ago, images take time to develop, they need an environment to bloom.
Contrary to popular believe, I do not know everything, nor would I want to. Curiosity makes the journey that much more rewarding in my opinion. Curious about the craft, images and more importantly people. That's probably why I'm in the portraiture biz.
No two souls are alike who walk into my studio. There's a level of chaos that happens before and during the shoot itself… this might be the first time I'm meeting the client in person, they have xyz baggage coming in, I have xyz baggage and nerves coming in. My assistant is stuck in traffic, the lighting isn't coming together the way I had imagined, the outfits are what they are… and the list goes on. And me? I'm cool and calm on the outside meanwhile, running photo calculus on the inside. And then I stepback, get my hands in the dirt, the ground Earth, I take a breath and talk to my family.
A photo is family. I realize that statement is rather vauge but the gist is it could be the family of your team on set working with you to get the best possible image. It could be your own family family cheering you on in the back of your mind, or in my case mentors and my Father berating/questioning me as to why X, and to just be better. Or even family is your younger self cheering you on, amazed that this is happening in spite of the obstacles of Life.For me, obviously a combination of all that. When push comes to shove though, it's about who's on set with me. We're in it together.
It's mid 2017 and I'm on set with Paola. Paola had just won a raffle from a gala event for Orpheus Chamber Orchestra and weeks later we were in the studio. We had met the evening of the event, but to say I knew her would have been a gross overstatement. I was nervous. Basically going out of pocket on this shoot, I had a hair and makeup artist, Sam Brown fashion styling, and me. No assistant. No digital tech, and a fussy digital Hasselblad camera.
As with all shoots, my blood is pumping but even more that day. Paola walks on set, makeup makes her last looks, Sam gives the nod and … snap. The first image appears on our screen and the blossom is gorgeous. Paola is gorgeous. We are gorgeous. Sam puts her hand on my shoulder, I exhale and we continue on with the shoot.
Flowers/Images, they take time, minutes, hours, years to come together. They're a gift borne out of all sorts of conditions, sunny skies and harshest storms, and are not alone in their blossoming journey. They don't rush the process. Trust in the soil, the family, the craft. The beauty will blossom and life will curiously continue on.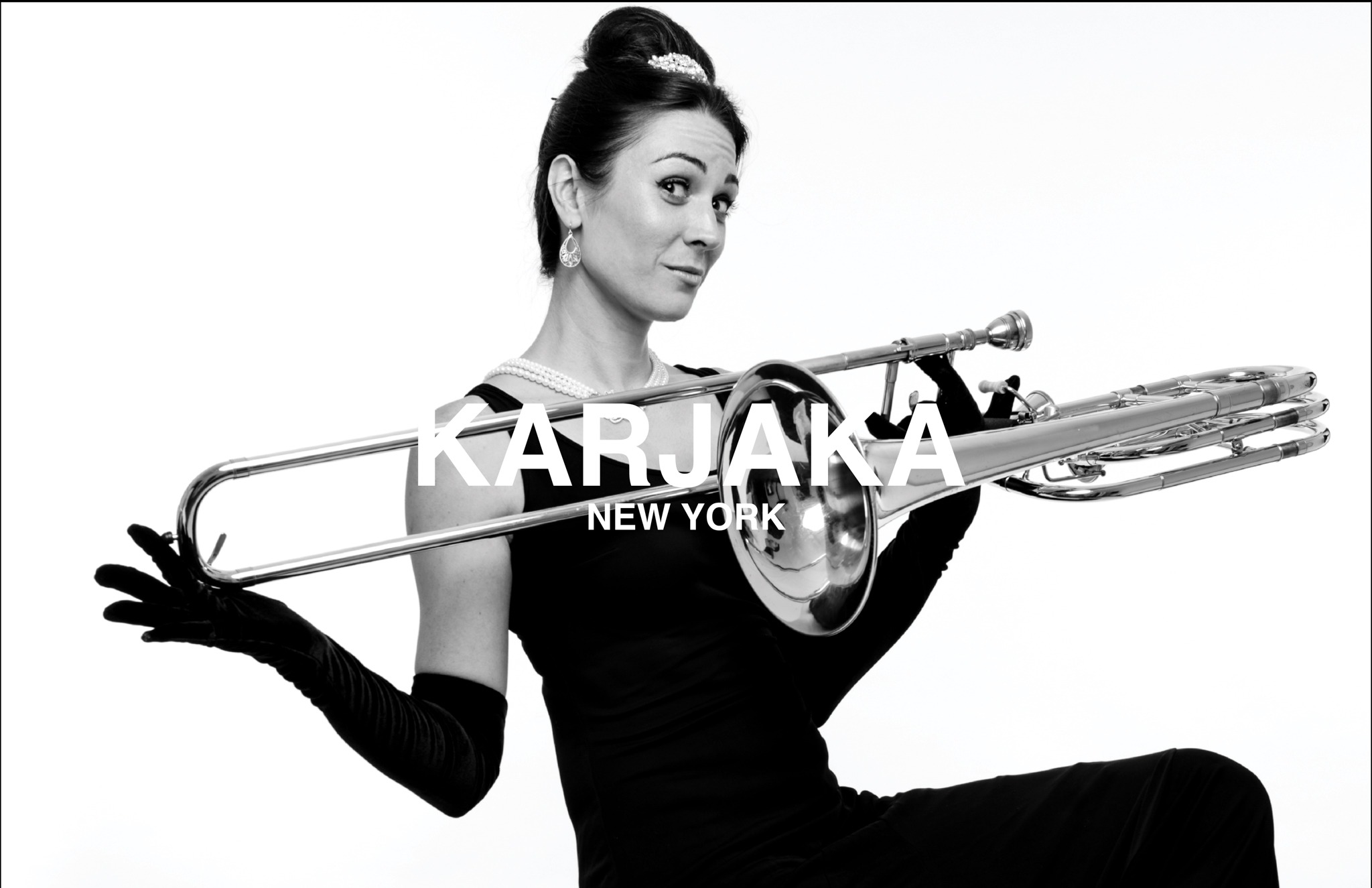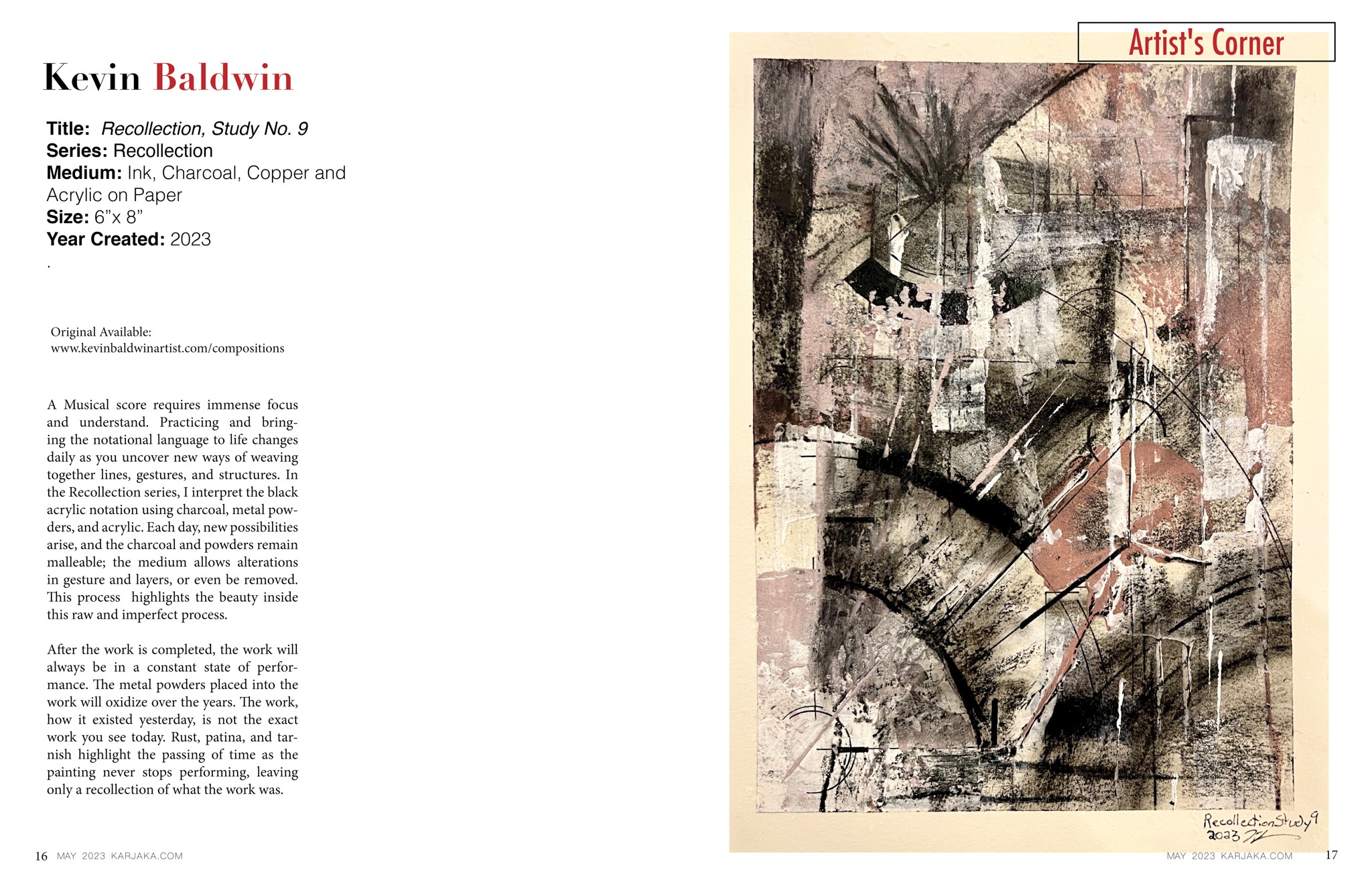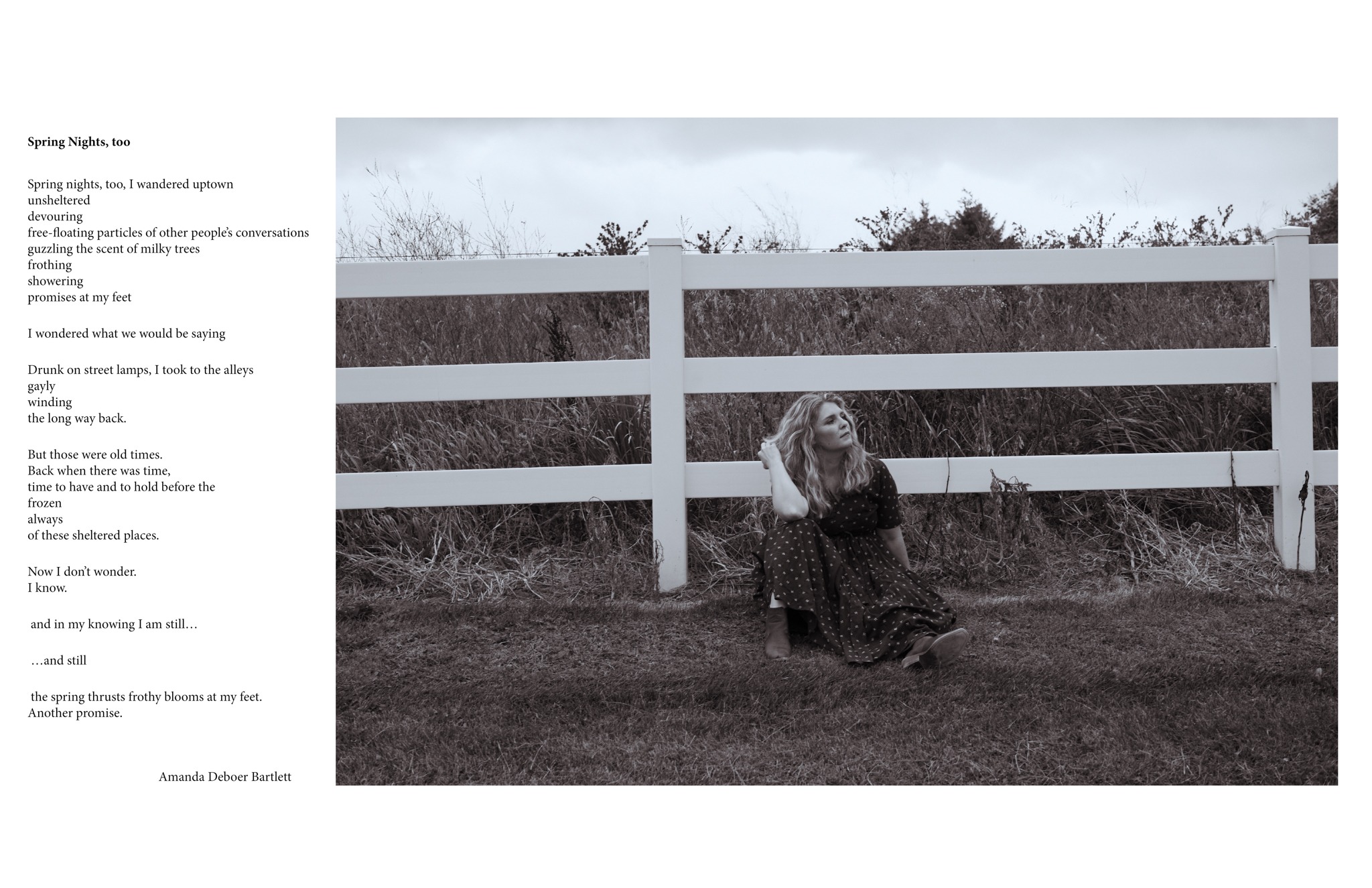 Spring nights, too, I wandered uptown
unsheltered
devouring
free-floating particles of other people's conversations
guzzling the scent of milky trees
frothing
showering
promises at my feet

I wondered what we would be saying

Drunk on street lamps, I took to the alleys
gayly
winding
the long way back.

But those were old times.
Back when there was time,
time to have and to hold before the
frozen
always
of these sheltered places.

Now I don't wonder.
I know.

and in my knowing I am still…

…and still

the spring thrusts frothy blooms at my feet.
Another promise.
Amanda Deboer Bartlett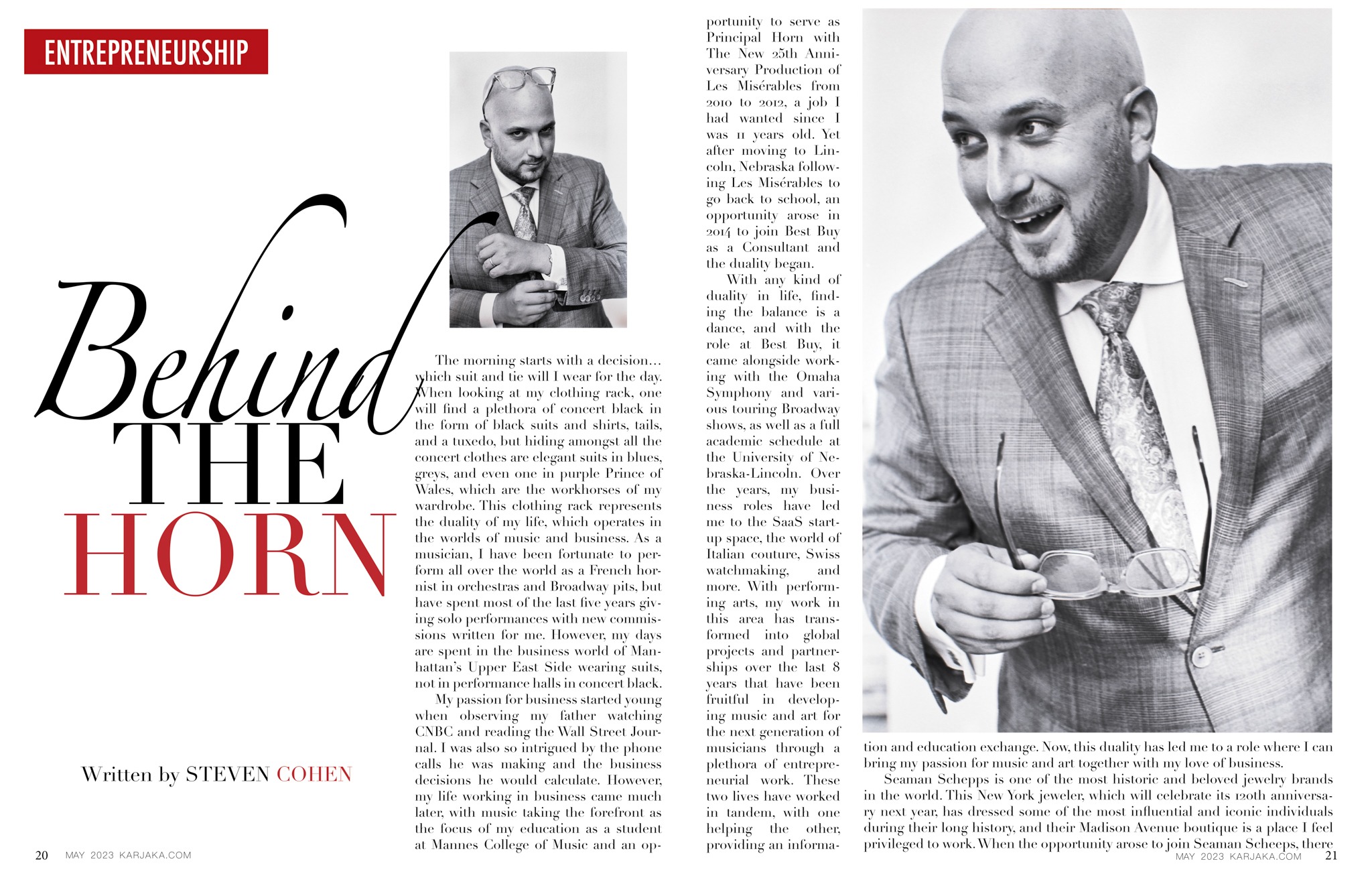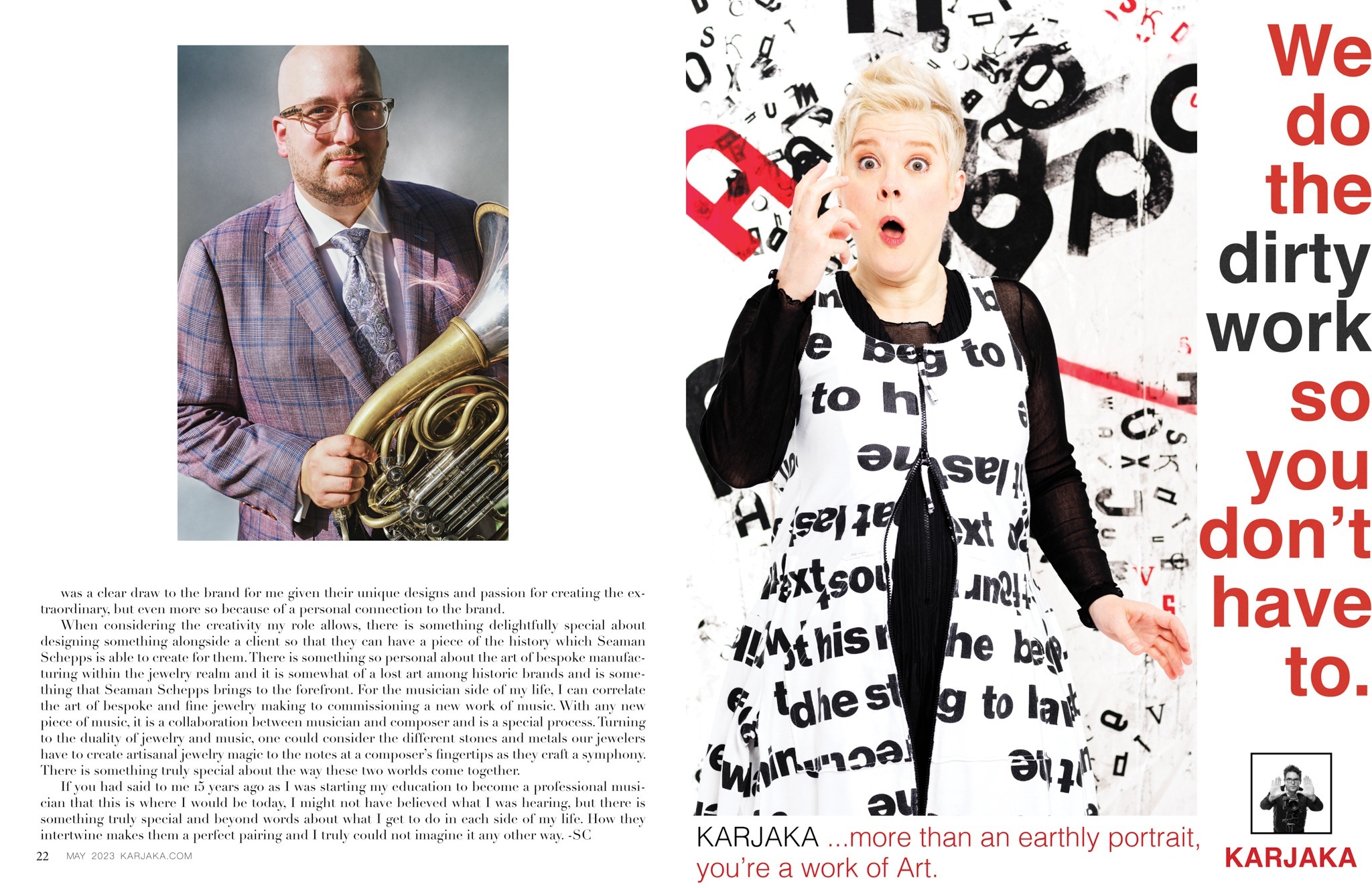 The morning starts with a decision…which suit and tie will I wear for the day. When looking at my clothing rack, one will find a plethora of concert black in the form of black suits and shirts, tails, and a tuxedo, but hiding amongst all the concert clothes are elegant suits in blues, greys, and even one in purple Prince of Wales, which are the workhorses of my wardrobe. This clothing rack represents the duality of my life, which operates in the worlds of music and business. As a musician, I have been fortunate to perform all over the world as a French hornist in orchestras and Broadway pits, but have spent most of the last five years giving solo performances with new commissions written for me. However, my days are spent in the business world of Manhattan's Upper East Side wearing suits, not in performance halls in concert black.
My passion for business started young when observing my father watching CNBC and reading the Wall Street Journal. I was also so intrigued by the phone calls he was making and the business decisions he would calculate. However, my life working in business came much later, with music taking the forefront as the focus of my education as a student at Mannes College of Music and an opportunity to serve as Principal Horn with The New 25th Anniversary Production of Les Misérables from 2010 to 2012, a job I had wanted since I was 11 years old. Yet after moving to Lincoln, Nebraska following Les Misérables to go back to school, an opportunity arose in 2014 to join Best Buy as a Consultant and the duality began.
With any kind of duality in life, finding the balance is a dance, and with the role at Best Buy, it came alongside working with the Omaha Symphony and various touring Broadway shows, as well as a full academic schedule at the University of Nebraska-Lincoln. Over the years, my business roles have led me to the SaaS start-up space, the world of Italian couture, Swiss watchmaking, and more. With performing arts, my work in this area has transformed into global projects and partnerships over the last 8 years that have been fruitful in developing music and art for the next generation of musicians through a plethora of entrepreneurial work. These two lives have worked in tandem, with one helping the other, providing an information and education exchange. Now, this duality has led me to a role where I can bring my passion for music and art together with my love of business.
Seaman Schepps is one of the most historic and beloved jewelry brands in the world. This New York jeweler, which will celebrate its 120th anniversary next year, has dressed some of the most influential and iconic individuals during their long history, and their Madison Avenue boutique is a place I feel privileged to work. When the opportunity arose to join Seaman Scheeps, there was a clear draw to the brand for me given their unique designs and passion for creating the extraordinary, but even more so because of a personal connection to the brand.
When considering the creativity my role allows, there is something delightfully special about designing something alongside a client so that they can have a piece of the history which Seaman Schepps is able to create for them. There is something so personal about the art of bespoke manufacturing within the jewelry realm and it is somewhat of a lost art among historic brands and is something that Seaman Schepps brings to the forefront. For the musician side of my life, I can correlate the art of bespoke and fine jewelry making to commissioning a new work of music. With any new piece of music, it is a collaboration between musician and composer and is a special process. Turning to the duality of jewelry and music, one could consider the different stones and metals our jewelers have to create artisanal jewelry magic to the notes at a composer's fingertips as they craft a symphony. There is something truly special about the way these two worlds come together.
If you had said to me 15 years ago as I was starting my education to become a professional musician that this is where I would be today, I might not have believed what I was hearing, but there is something truly special and beyond words about what I get to do in each side of my life. How they intertwine makes them a perfect pairing and I truly could not imagine it any other way. -SC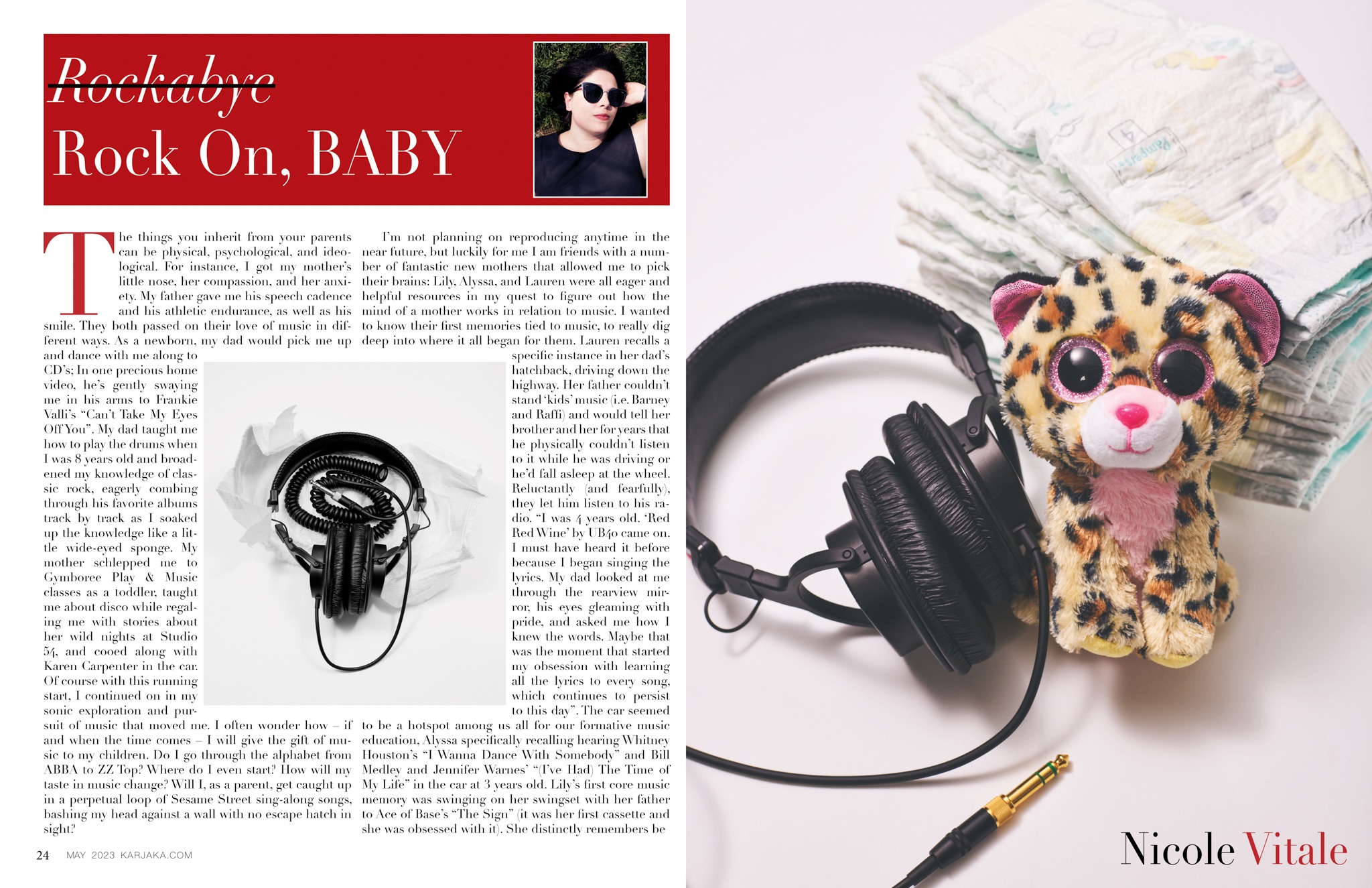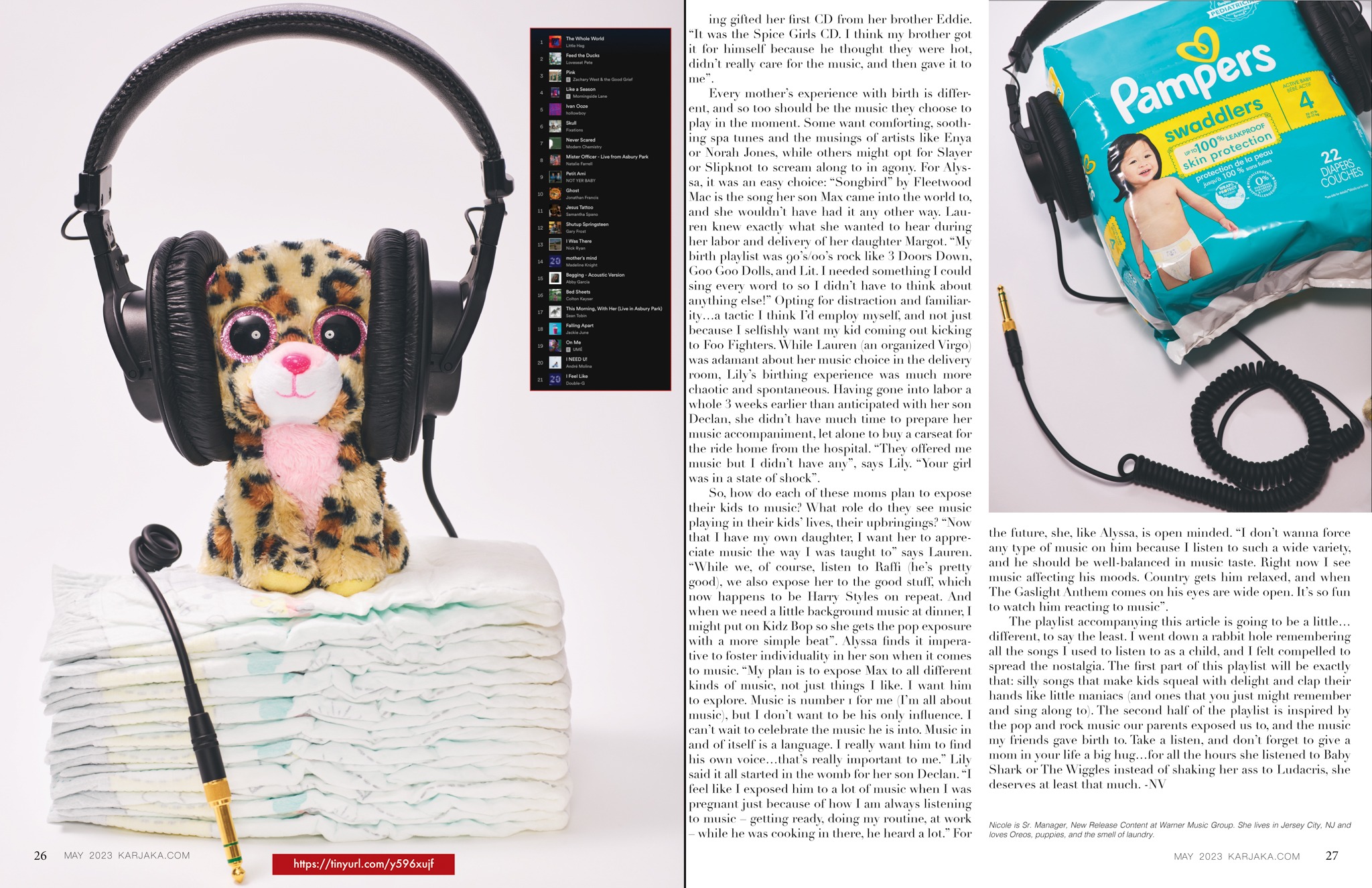 The things you inherit from your parents can be physical, psychological, and ideological. For instance, I got my mother's little nose, her compassion, and her anxiety. My father gave me his speech cadence and his athletic endurance, as well as his smile. They both passed on their love of music in different ways. As a newborn, my dad would pick me up and dance with me along to CD's; In one precious home video, he's gently swaying me in his arms to Frankie Valli's "Can't Take My Eyes Off You". My dad taught me how to play the drums when I was 8 years old and broadened my knowledge of classic rock, eagerly combing through his favorite albums track by track as I soaked up the knowledge like a little wide-eyed sponge. My mother schlepped me to Gymboree Play & Music classes as a toddler, taught me about disco while regaling me with stories about her wild nights at Studio 54, and cooed along with Karen Carpenter in the car. Of course with this running start, I continued on in my sonic exploration and pursuit of music that moved me. I often wonder how – if and when the time comes – I will give the gift of music to my children. Do I go through the alphabet from ABBA to ZZ Top? Where do I even start? How will my taste in music change? Will I, as a parent, get caught up in a perpetual loop of Sesame Street sing-along songs, bashing my head against a wall with no escape hatch in sight?
I'm not planning on reproducing anytime in the near future, but luckily for me I am friends with a number of fantastic new mothers that allowed me to pick their brains: Lily, Alyssa, and Lauren were all eager and helpful resources in my quest to figure out how the mind of a mother works in relation to music. I wanted to know their first memories tied to music, to really dig deep into where it all began for them. Lauren recalls a specific instance in her dad's hatchback, driving down the highway. Her father couldn't stand 'kids' music (i.e. Barney and Raffi) and would tell her brother and her for years that he physically couldn't listen to it while he was driving or he'd fall asleep at the wheel. Reluctantly (and fearfully), they let him listen to his radio. "I was 4 years old. 'Red Red Wine' by UB40 came on. I must have heard it before because I began singing the lyrics. My dad looked at me through the rearview mirror, his eyes gleaming with pride, and asked me how I knew the words. Maybe that was the moment that started my obsession with learning all the lyrics to every song, which continues to persist to this day". The car seemed to be a hotspot among us all for our formative music education, Alyssa specifically recalling hearing Whitney Houston's "I Wanna Dance With Somebody" and Bill Medley and Jennifer Warnes' "(I've Had) The Time of My Life" in the car at 3 years old. Lily's first core music memory was swinging on her swingset with her father to Ace of Base's "The Sign" (it was her first cassette and she was obsessed with it). She distinctly remembers being gifted her first CD from her brother Eddie. "It was the Spice Girls CD. I think my brother got it for himself because he thought they were hot, didn't really care for the music, and then gave it to me".
Every mother's experience with birth is different, and so too should be the music they choose to play in the moment. Some want comforting, soothing spa tunes and the musings of artists like Enya or Norah Jones, while others might opt for Slayer or Slipknot to scream along to in agony. For Alyssa, it was an easy choice: "Songbird" by Fleetwood Mac is the song her son Max came into the world to, and she wouldn't have had it any other way. Lauren knew exactly what she wanted to hear during her labor and delivery of her daughter Margot. "My birth playlist was 90's/00's rock like 3 Doors Down, Goo Goo Dolls, and Lit. I needed something I could sing every word to so I didn't have to think about anything else!" Opting for distraction and familiarity…a tactic I think I'd employ myself, and not just because I selfishly want my kid coming out kicking to Foo Fighters. While Lauren (an organized Virgo) was adamant about her music choice in the delivery room, Lily's birthing experience was much more chaotic and spontaneous. Having gone into labor a whole 3 weeks earlier than anticipated with her son Declan, she didn't have much time to prepare her music accompaniment, let alone to buy a carseat for the ride home from the hospital. "They offered me music but I didn't have any", says Lily. "Your girl was in a state of shock".
So, how do each of these moms plan to expose their kids to music? What role do they see music playing in their kids' lives, their upbringings? "Now that I have my own daughter, I want her to appreciate music the way I was taught to" says Lauren. "While we, of course, listen to Raffi (he's pretty good), we also expose her to the good stuff, which now happens to be Harry Styles on repeat. And when we need a little background music at dinner, I might put on Kidz Bop so she gets the pop exposure with a more simple beat". Alyssa finds it imperative to foster individuality in her son when it comes to music. "My plan is to expose Max to all different kinds of music, not just things I like. I want him to explore. Music is number 1 for me (I'm all about music), but I don't want to be his only influence. I can't wait to celebrate the music he is into. Music in and of itself is a language. I really want him to find his own voice…that's really important to me." Lily said it all started in the womb for her son Declan. "I feel like I exposed him to a lot of music when I was pregnant just because of how I am always listening to music – getting ready, doing my routine, at work – while he was cooking in there, he heard a lot." For the future, she, like Alyssa, is open minded. "I don't wanna force any type of music on him because I listen to such a wide variety, and he should be well-balanced in music taste. Right now I see music affecting his moods. Country gets him relaxed, and when The Gaslight Anthem comes on his eyes are wide open. It's so fun to watch him reacting to music".
The playlist accompanying this article is going to be a little…different, to say the least. I went down a rabbit hole remembering all the songs I used to listen to as a child, and I felt compelled to spread the nostalgia. The first part of this playlist will be exactly that: silly songs that make kids squeal with delight and clap their hands like little maniacs (and ones that you just might remember and sing along to). The second half of the playlist is inspired by the pop and rock music our parents exposed us to, and the music my friends gave birth to. Take a listen, and don't forget to give a mom in your life a big hug…for all the hours she listened to Baby Shark or The Wiggles instead of shaking her ass to Ludacris, she deserves at least that much. -NV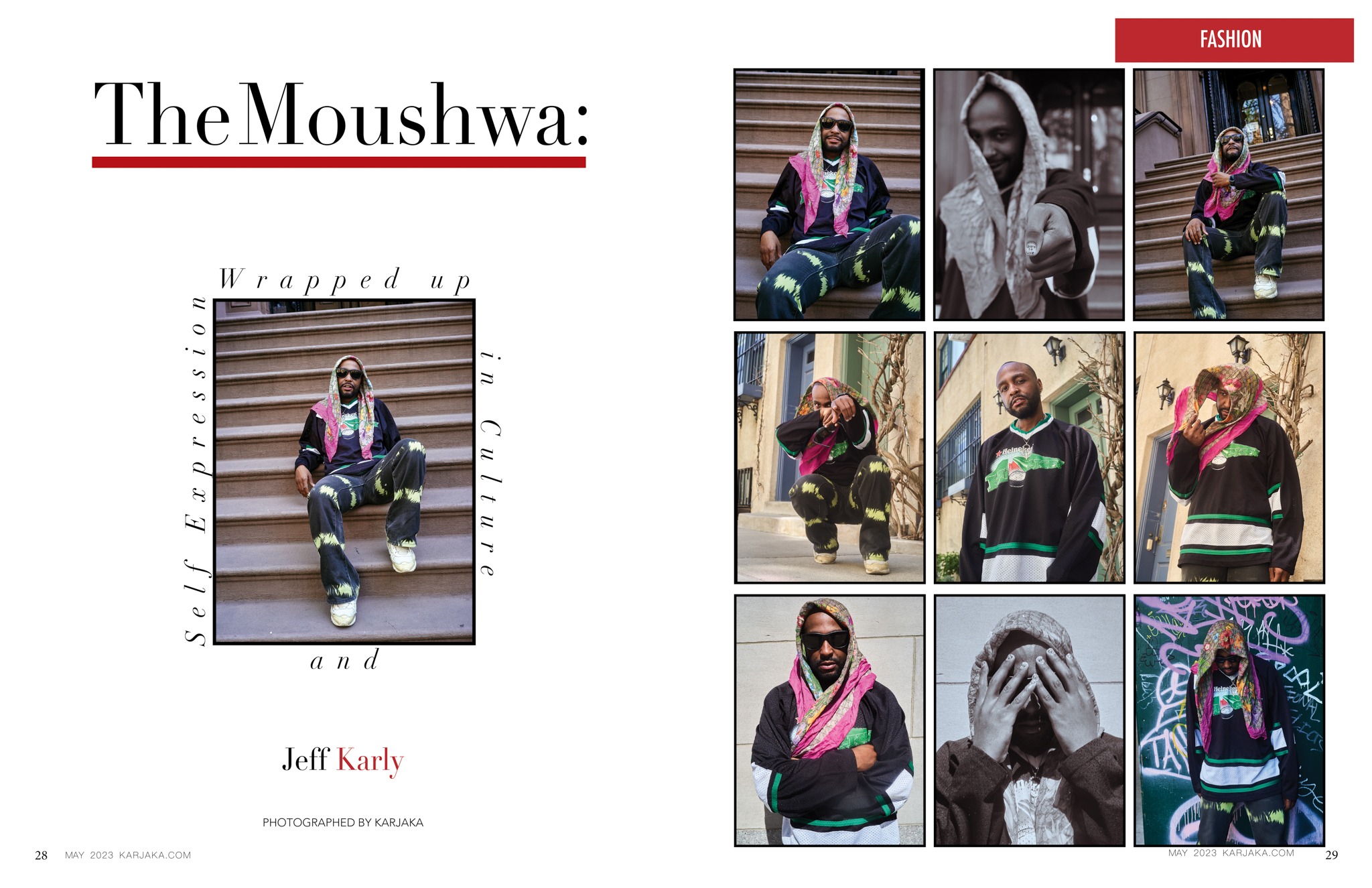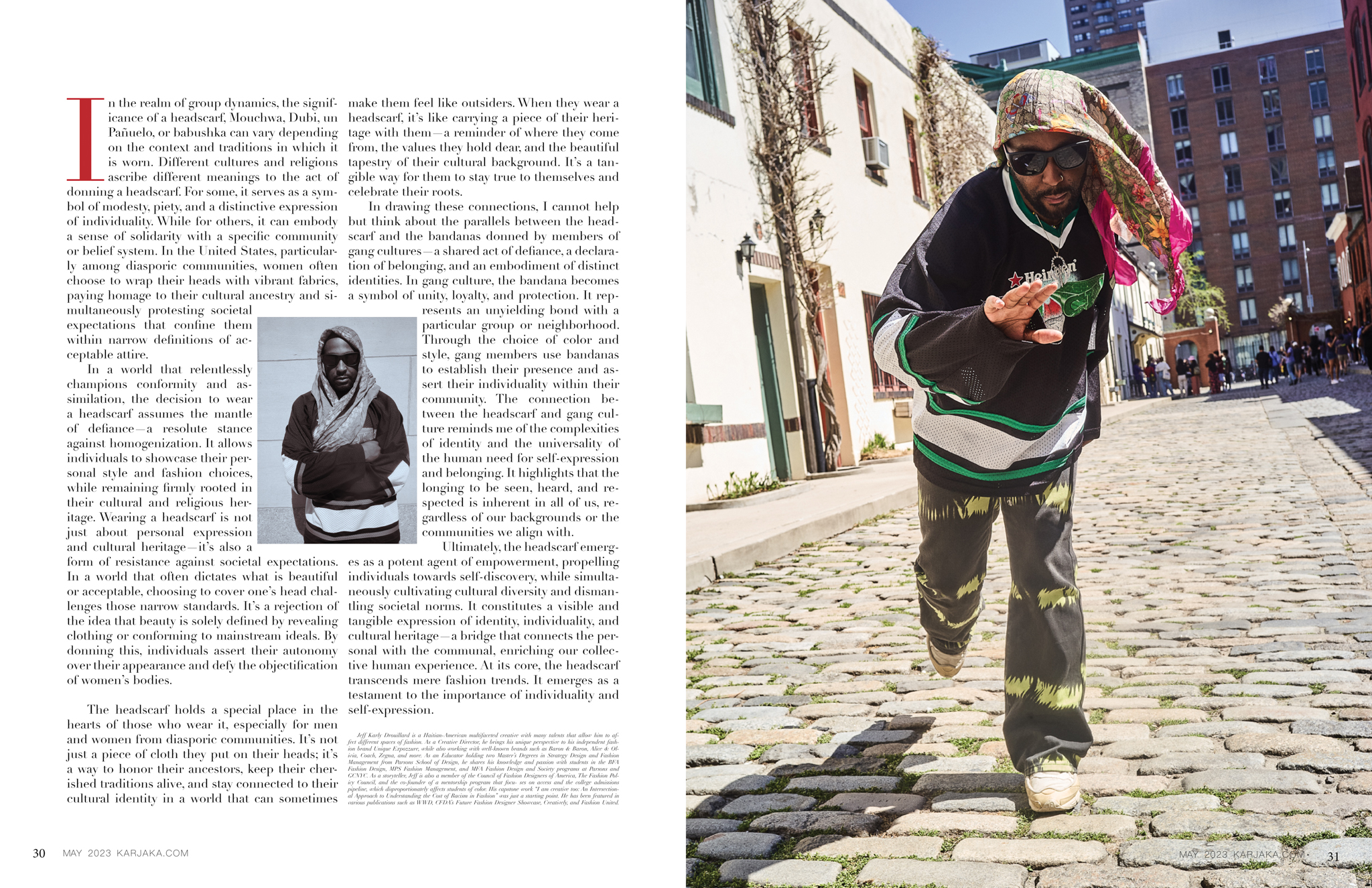 In the realm of group dynamics, the significance of a headscarf, Mouchwa, Dubi, un Pañuelo, or babushka can vary depending on the context and traditions in which it is worn. Different cultures and religions ascribe different meanings to the act of donning a headscarf. For some, it serves as a symbol of modesty, piety, and a distinctive expression of individuality. While for others, it can embody a sense of solidarity with a specific community or belief system. In the United States, particularly among diasporic communities, women often choose to wrap their heads with vibrant fabrics, paying homage to their cultural ancestry and simultaneously protesting societal expectations that confine them within narrow definitions of acceptable attire.
In a world that relentlessly champions conformity and assimilation, the decision to wear a headscarf assumes the mantle of defiance—a resolute stance against homogenization. It allows individuals to showcase their personal style and fashion choices, while remaining firmly rooted in their cultural and religious heritage. Wearing a headscarf is not just about personal expression and cultural heritage—it's also a form of resistance against societal expectations. In a world that often dictates what is beautiful or acceptable, choosing to cover one's head challenges those narrow standards. It's a rejection of the idea that beauty is solely defined by revealing clothing or conforming to mainstream ideals. By donning this, individuals assert their autonomy over their appearance and defy the objectification of women's bodies.
The headscarf holds a special place in the hearts of those who wear it, especially for men and women from diasporic communities. It's not just a piece of cloth they put on their heads; it's a way to honor their ancestors, keep their cherished traditions alive, and stay connected to their cultural identity in a world that can sometimes make them feel like outsiders. When they wear a headscarf, it's like carrying a piece of their heritage with them—a reminder of where they come from, the values they hold dear, and the beautiful tapestry of their cultural background. It's a tangible way for them to stay true to themselves and celebrate their roots.
In drawing these connections, I cannot help but think about the parallels between the headscarf and the bandanas donned by members of gang cultures—a shared act of defiance, a declaration of belonging, and an embodiment of distinct identities. In gang culture, the bandana becomes a symbol of unity, loyalty, and protection. It represents an unyielding bond with a particular group or neighborhood. Through the choice of color and style, gang members use bandanas to establish their presence and assert their individuality within their community. The connection between the headscarf and gang culture reminds me of the complexities of identity and the universality of the human need for self-expression and belonging. It highlights that the longing to be seen, heard, and respected is inherent in all of us, regardless of our backgrounds or the communities we align with.
Ultimately, the headscarf emerges as a potent agent of empowerment, propelling individuals towards self-discovery, while simultaneously cultivating cultural diversity and dismantling societal norms. It constitutes a visible and tangible expression of identity, individuality, and cultural heritage—a bridge that connects the personal with the communal, enriching our collective human experience. At its core, the headscarf transcends mere fashion trends. It emerges as a testament to the importance of individuality and self-expression.
Jeff Karly Drouillard is a Haitian-American multifaceted creative with many talents that allow him to affect different spaces of fashion. As a Creative Director, he brings his unique perspective to his independent fashion brand Unique Expozzure, while also working with well-known brands such as Baron & Baron, Alice & Olivia, Coach, Zegna, and more. As an Educator holding two Master's Degrees in Strategy Design and Fashion Management from Parsons School of Design, he shares his knowledge and passion with students in the BFA Fashion Design, MPS Fashion Management, and MFA Fashion Design and Society programs at Parsons and GCNYC. As a storyteller, Jeff is also a member of the Council of Fashion Designers of America, The Fashion Policy Council, and the co-founder of a mentorship program that focu- ses on access and the college admissions pipeline, which disproportionately affects students of color. His capstone work "I am creative too: An Intersectional Approach to Understanding the Cost of Racism in Fashion" was just a starting point. He has been featured in various publications such as WWD, CFDA's Future Fashion Designer Showcase, Creatively, and Fashion United.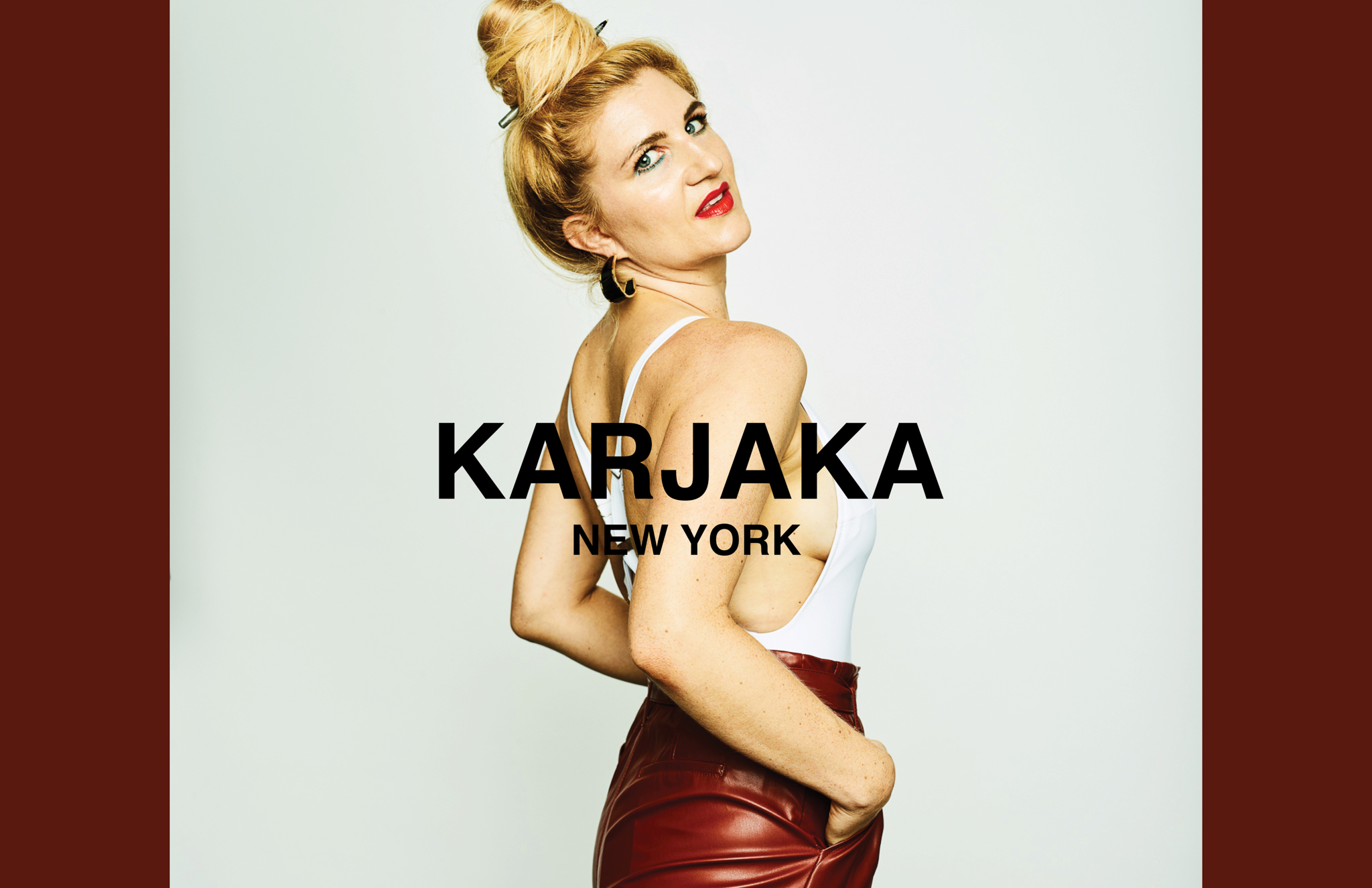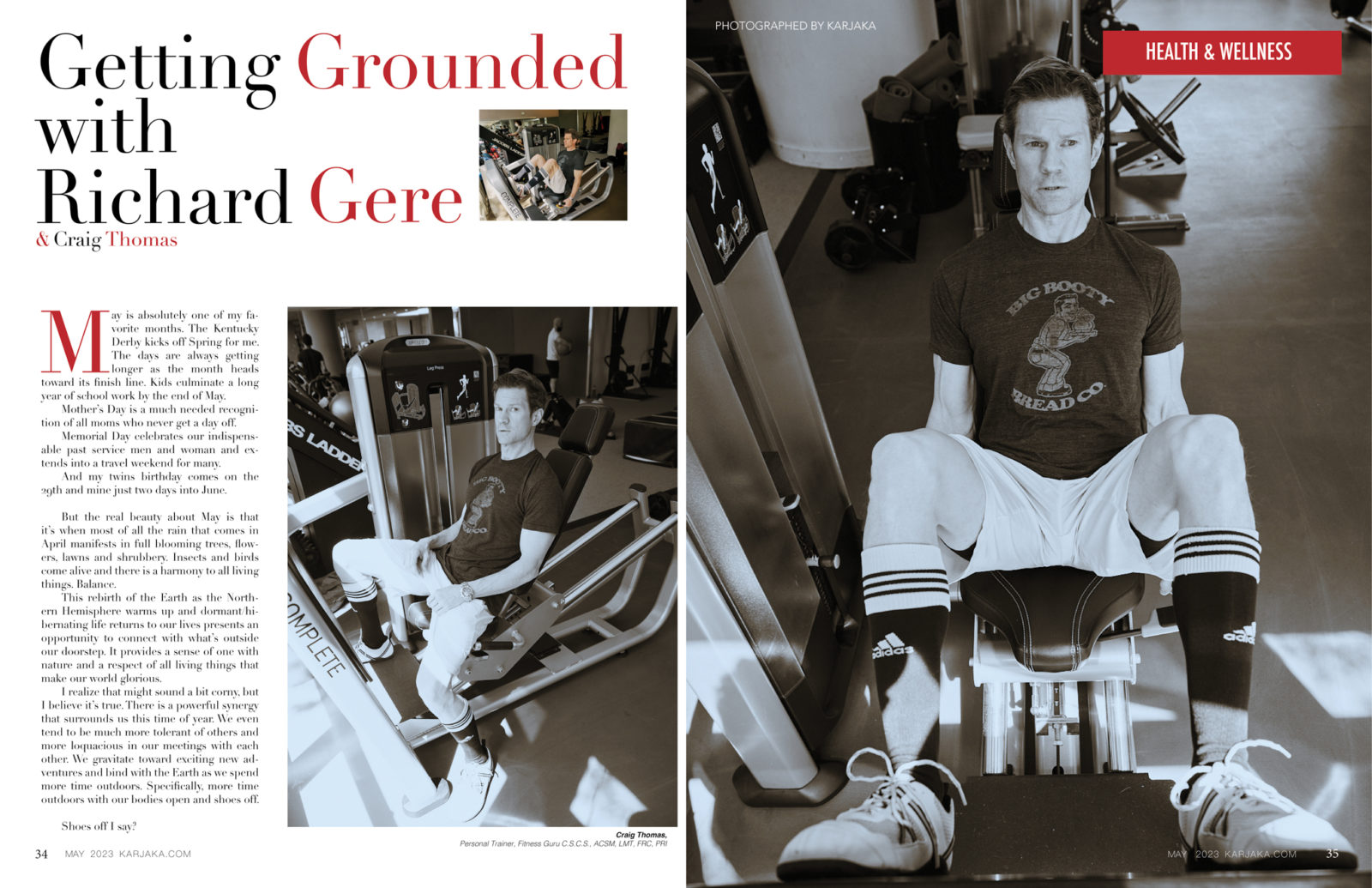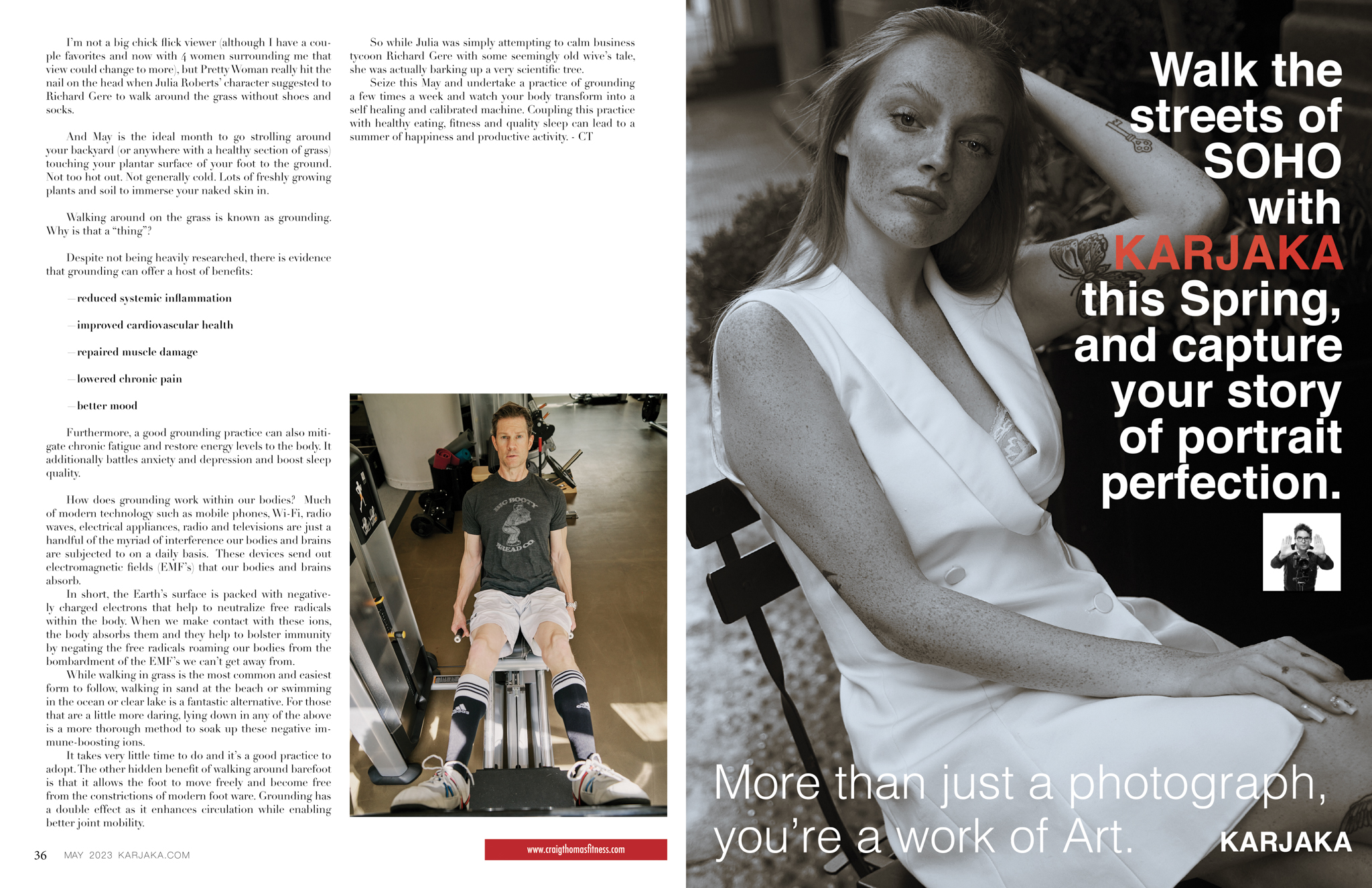 May is absolutely one of my favorite months. The Kentucky Derby kicks off Spring for me. The days are always getting longer as the month heads toward its finish line. Kids culminate a long year of school work by the end of May.
Mother's Day is a much needed recognition of all moms who never get a day off.
Memorial Day celebrates our indispensable past service men and woman and extends into a travel weekend for many.
And my twins birthday comes on the 29th and mine just two days into June.
But the real beauty about May is that it's when most of all the rain that comes in April manifests in full blooming trees, flowers, lawns and shrubbery. Insects and birds come alive and there is a harmony to all living things. Balance.
This rebirth of the Earth as the Northern Hemisphere warms up and dormant/hibernating life returns to our lives presents an opportunity to connect with what's outside our doorstep. It provides a sense of one with nature and a respect of all living things that make our world glorious.
I realize that might sound a bit corny, but I believe it's true. There is a powerful synergy that surrounds us this time of year. We even tend to be much more tolerant of others and more loquacious in our meetings with each other. We gravitate toward exciting new adventures and bind with the Earth as we spend more time outdoors. Specifically, more time outdoors with our bodies open and shoes off.
Shoes off I say?
I'm not a big chick flick viewer (although I have a couple favorites and now with 4 women surrounding me that view could change to more), but Pretty Woman really hit the nail on the head when Julia Roberts' character suggested to Richard Gere to walk around the grass without shoes and socks.
And May is the ideal month to go strolling around your backyard (or anywhere with a healthy section of grass) touching your plantar surface of your foot to the ground. Not too hot out. Not generally cold. Lots of freshly growing plants and soil to immerse your naked skin in.
Walking around on the grass is known as grounding. Why is that a "thing"?
Despite not being heavily researched, there is evidence that grounding can offer a host of benefits:
—reduced systemic inflammation
—improved cardiovascular health
—repaired muscle damage
—lowered chronic pain
—better mood
Furthermore, a good grounding practice can also mitigate chronic fatigue and restore energy levels to the body. It additionally battles anxiety and depression and boost sleep quality.
How does grounding work within our bodies? Much of modern technology such as mobile phones, Wi-Fi, radio waves, electrical appliances, radio and televisions are just a handful of the myriad of interference our bodies and brains are subjected to on a daily basis. These devices send out electromagnetic fields (EMF's) that our bodies and brains absorb.
In short, the Earth's surface is packed with negatively charged electrons that help to neutralize free radicals within the body. When we make contact with these ions, the body absorbs them and they help to bolster immunity by negating the free radicals roaming our bodies from the bombardment of the EMF's we can't get away from.
While walking in grass is the most common and easiest form to follow, walking in sand at the beach or swimming in the ocean or clear lake is a fantastic alternative. For those that are a little more daring, lying down in any of the above is a more thorough method to soak up these negative immune-boosting ions.
It takes very little time to do and it's a good practice to adopt. The other hidden benefit of walking around barefoot is that it allows the foot to move freely and become free from the constrictions of modern foot ware. Grounding has a double effect as it enhances circulation while enabling better joint mobility.
So while Julia was simply attempting to calm business tycoon Richard Gere with some seemingly old wive's tale, she was actually barking up a very scientific tree.
Seize this May and undertake a practice of grounding a few times a week and watch your body transform into a self healing and calibrated machine. Coupling this practice with healthy eating, fitness and quality sleep can lead to a summer of happiness and productive activity. – CT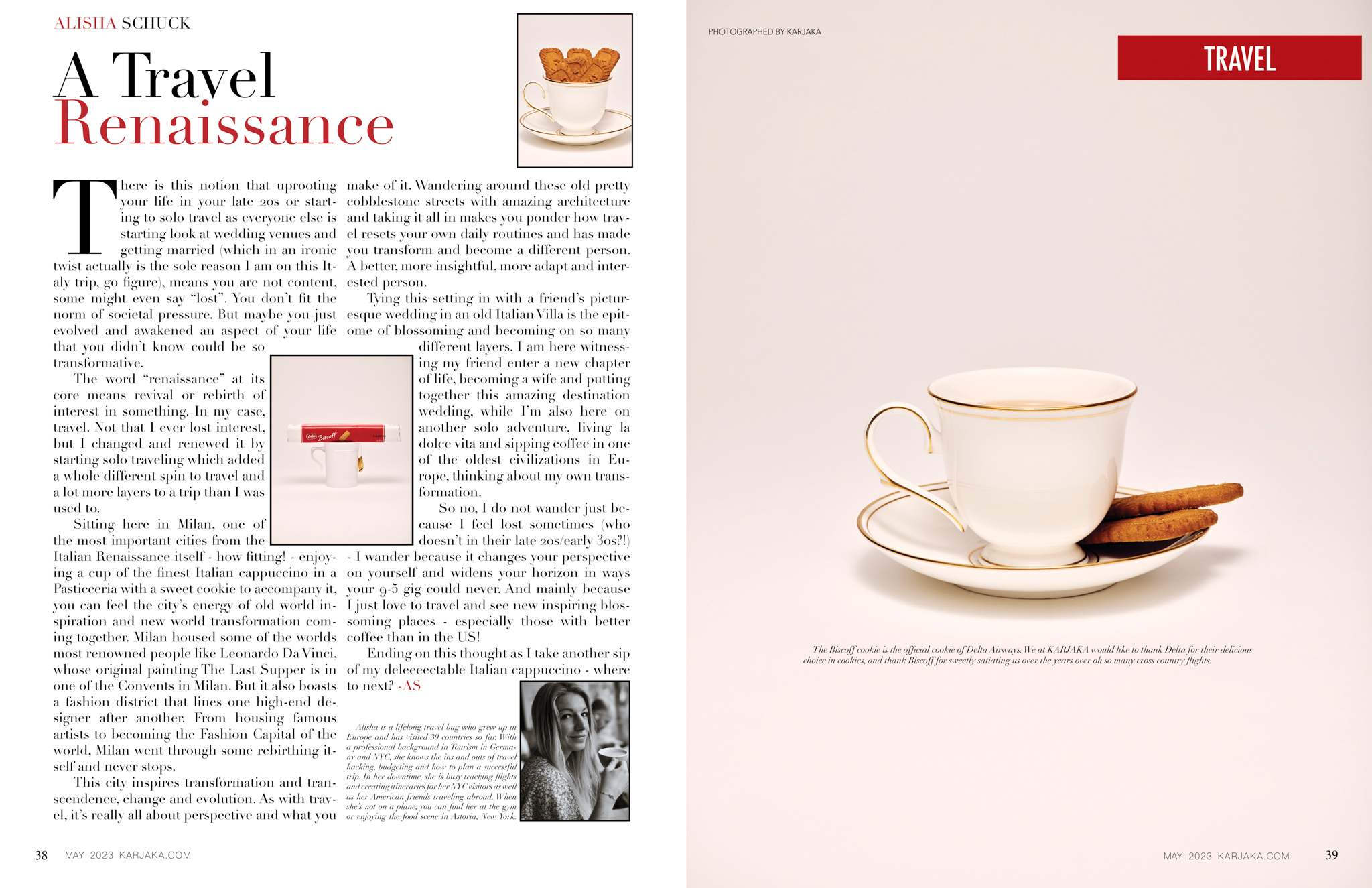 There is this notion that uprooting your life in your late 20s or starting to solo travel as everyone else is starting look at wedding venues and getting married (which in an ironic twist actually is the sole reason I am on this Italy trip, go figure), means you are not content, some might even say "lost". You don't fit the norm of societal pressure. But maybe you just evolved and awakened an aspect of your life that you didn't know could be so transformative.
The word "renaissance" at its core means revival or rebirth of interest in something. In my case, travel. Not that I ever lost interest, but I changed and renewed it by starting solo traveling which added a whole different spin to travel and a lot more layers to a trip than I was used to.
Sitting here in Milan, one of the most important cities from the Italian Renaissance itself – how fitting! – enjoying a cup of the finest Italian cappuccino in a Pasticceria with a sweet cookie to accompany it, you can feel the city's energy of old world inspiration and new world transformation coming together. Milan housed some of the worlds most renowned people like Leonardo Da Vinci, whose original painting The Last Supper is in one of the Convents in Milan. But it also boasts a fashion district that lines one high-end designer after another. From housing famous artists to becoming the Fashion Capital of the world, Milan went through some rebirthing itself and never stops.
This city inspires transformation and transcendence, change and evolution. As with travel, it's really all about perspective and what you make of it. Wandering around these old pretty cobblestone streets with amazing architecture and taking it all in makes you ponder how travel resets your own daily routines and has made you transform and become a different person. A better, more insightful, more adapt and interested person.
Tying this setting in with a friend's picturesque wedding in an old Italian Villa is the epitome of blossoming and becoming on so many different layers. I am here witnessing my friend enter a new chapter of life, becoming a wife and putting together this amazing destination wedding, while I'm also here on another solo adventure, living la dolce vita and sipping coffee in one of the oldest civilizations in Europe, thinking about my own transformation.
So no, I do not wander just because I feel lost sometimes (who doesn't in their late 20s/early 30s?!) – I wander because it changes your perspective on yourself and widens your horizon in ways your 9-5 gig could never. And mainly because I just love to travel and see new inspiring blossoming places – especially those with better coffee than in the US!
Ending on this thought as I take another sip of my deleeeectable Italian cappuccino – where to next? -AS
Alisha is a lifelong travel bug who grew up in Europe and has visited 39 countries so far. With a professional background in Tourism in Germany and NYC, she knows the ins and outs of travel hacking, budgeting and how to plan a successful trip. In her downtime, she is busy tracking flights and creating itineraries for her NYC visitors as well as her American friends traveling abroad. When she's not on a plane, you can find her at the gym or enjoying the food scene in Astoria, New York.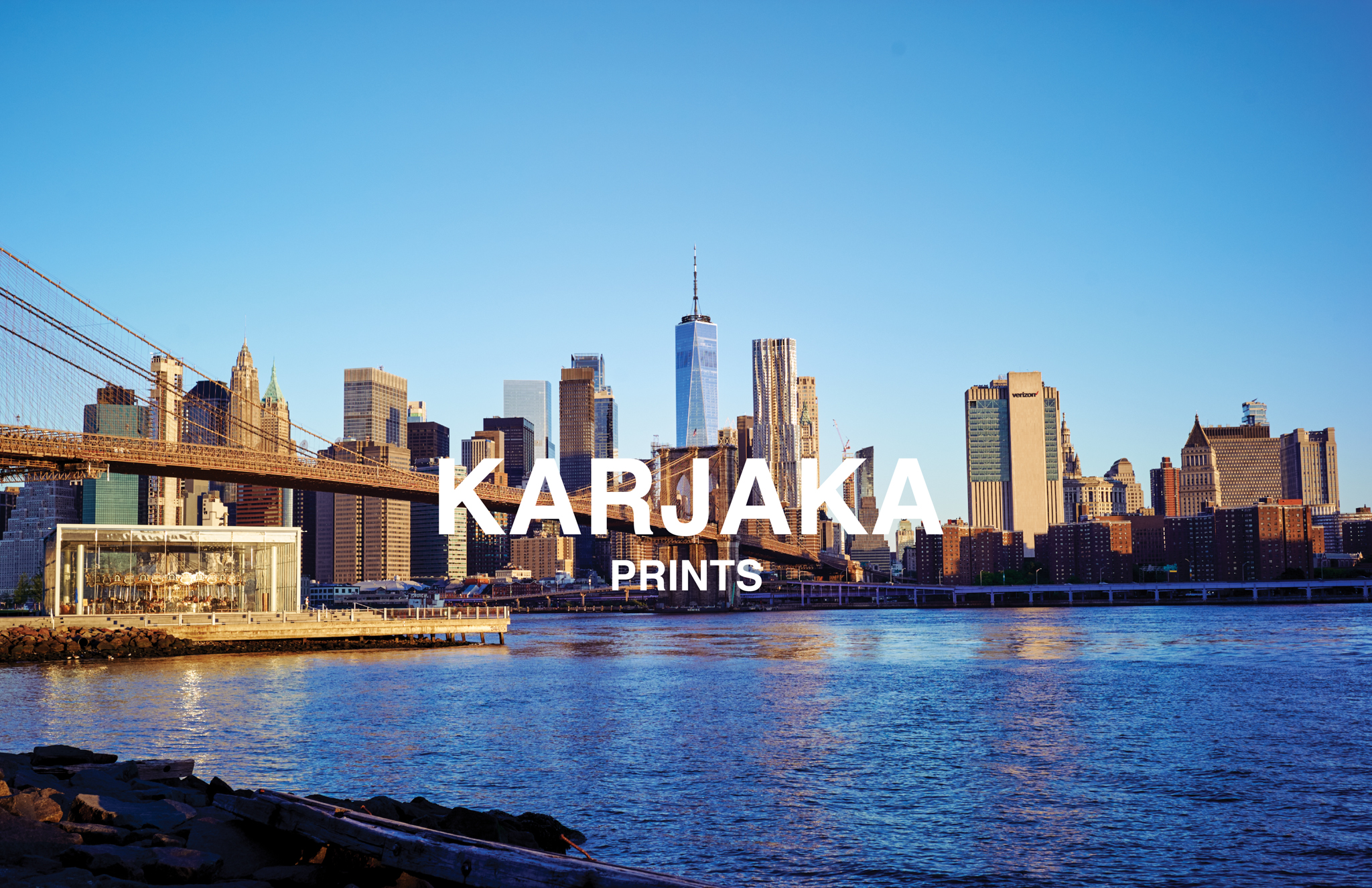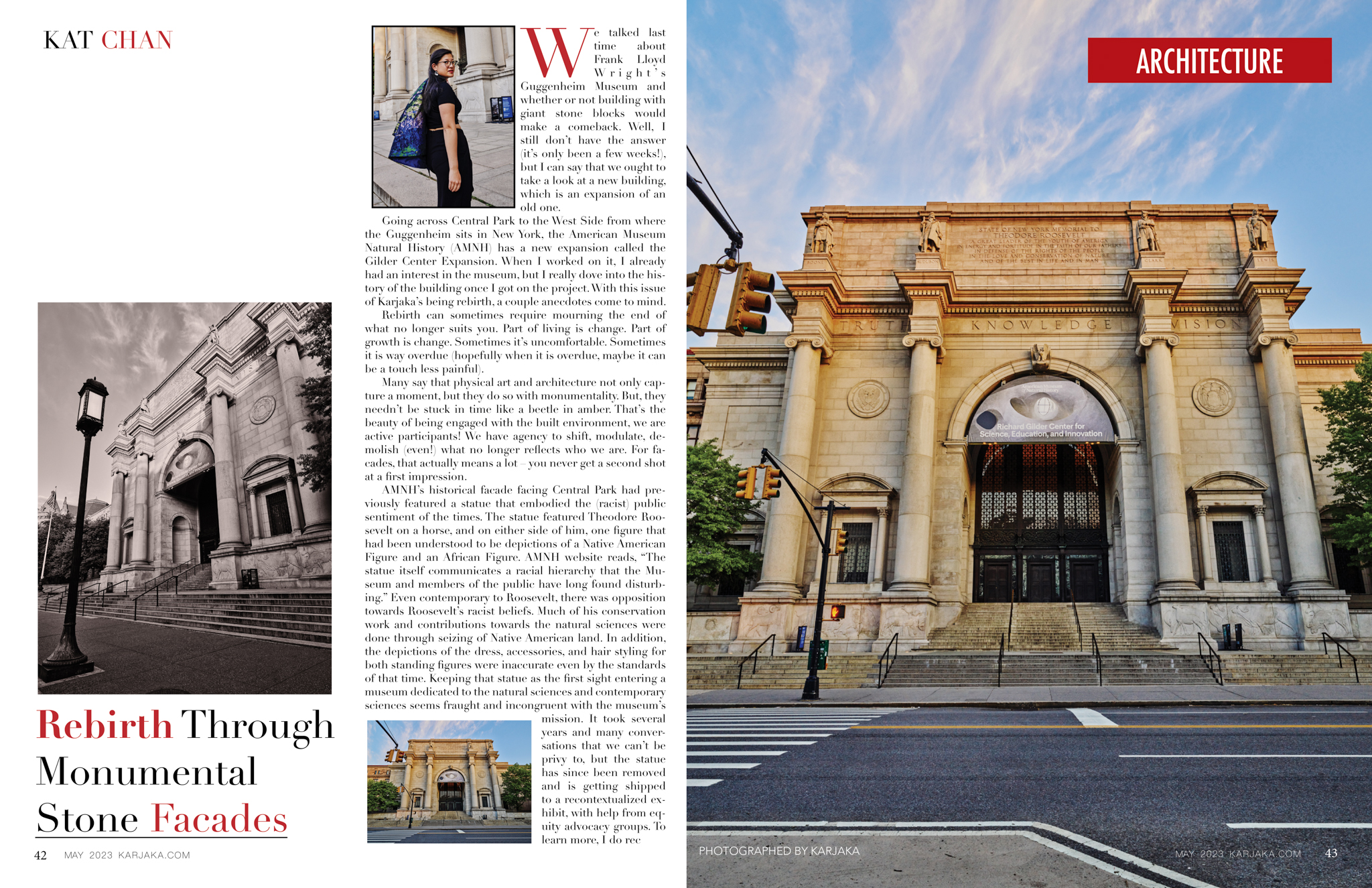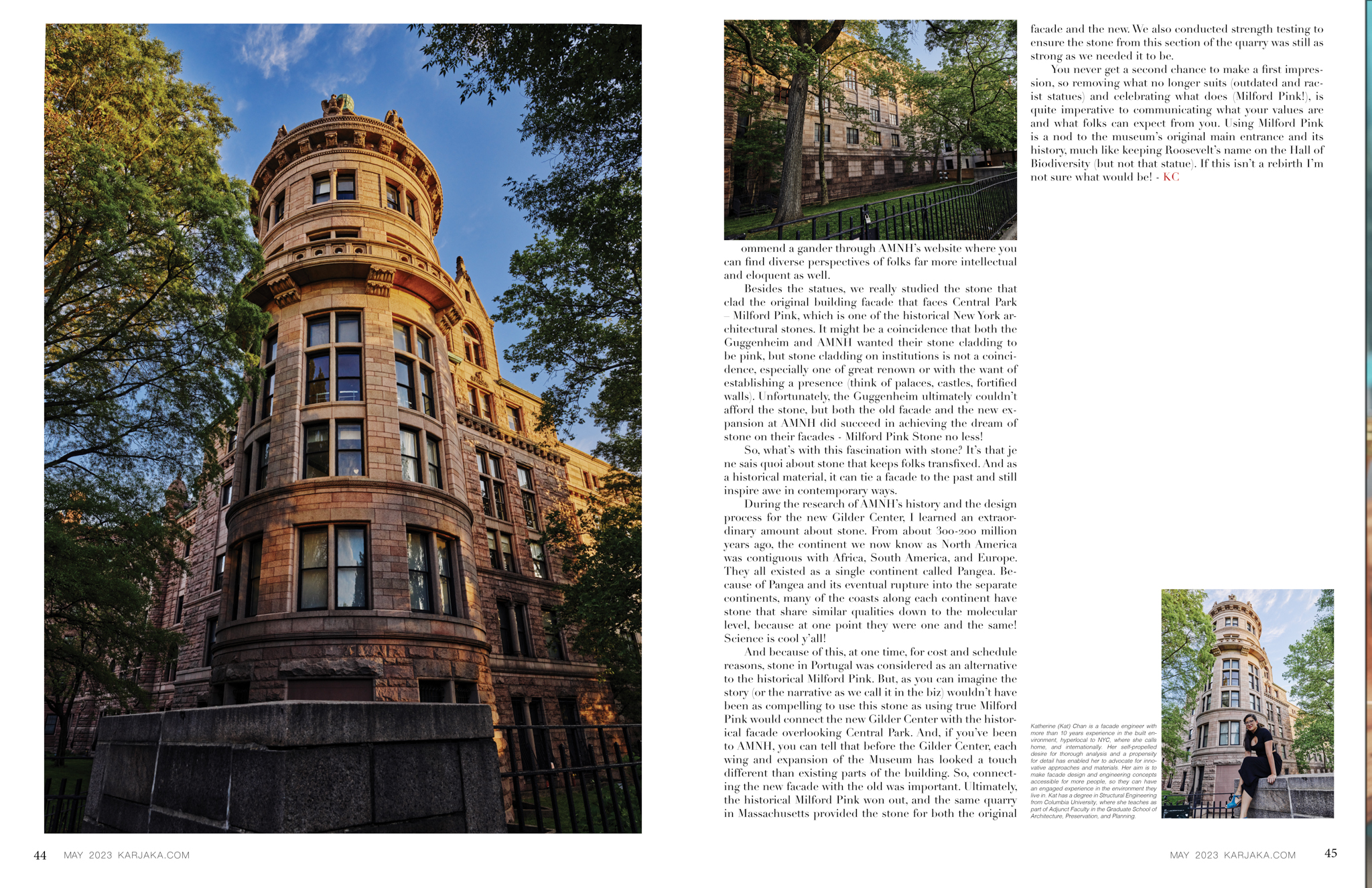 We talked last time about Frank Lloyd Wright's Guggenheim Museum and whether or not building with giant stone blocks would make a comeback. Well, I still don't have the answer (it's only been a few weeks!), but I can say that we ought to take a look at a new building, which is an expansion of an old one.
Going across Central Park to the West Side from where the Guggenheim sits in New York, the American Museum Natural History (AMNH) has a new expansion called the Gilder Center Expansion. When I worked on it, I already had an interest in the museum, but I really dove into the history of the building once I got on the project. With this issue of Karjaka's being rebirth, a couple anecdotes come to mind.
Rebirth can sometimes require mourning the end of what no longer suits you. Part of living is change. Part of growth is change. Sometimes it's uncomfortable. Sometimes it is way overdue (hopefully when it is overdue, maybe it can be a touch less painful).
Many say that physical art and architecture not only capture a moment, but they do so with monumentality. But, they needn't be stuck in time like a beetle in amber. That's the beauty of being engaged with the built environment, we are active participants! We have agency to shift, modulate, demolish (even!) what no longer reflects who we are. For facades, that actually means a lot – you never get a second shot at a first impression.
AMNH's historical facade facing Central Park had previously featured a statue that embodied the (racist) public sentiment of the times. The statue featured Theodore Roosevelt on a horse, and on either side of him, one figure that had been understood to be depictions of a Native American Figure and an African Figure. AMNH website reads, "The statue itself communicates a racial hierarchy that the Museum and members of the public have long found disturbing." Even contemporary to Roosevelt, there was opposition towards Roosevelt's racist beliefs. Much of his conservation work and contributions towards the natural sciences were done through seizing of Native American land. In addition, the depictions of the dress, accessories, and hair styling for both standing figures were inaccurate even by the standards of that time. Keeping that statue as the first sight entering a museum dedicated to the natural sciences and contemporary sciences seems fraught and incongruent with the museum's mission. It took several years and many conversations that we can't be privy to, but the statue has since been removed and is getting shipped to a recontextualized exhibit, with help from equity advocacy groups. To learn more, I do recommend a gander through AMNH's website where you can find diverse perspectives of folks far more intellectual and eloquent as well.
Besides the statues, we really studied the stone that clad the original building facade that faces Central Park – Milford Pink, which is one of the historical New York architectural stones. It might be a coincidence that both the Guggenheim and AMNH wanted their stone cladding to be pink, but stone cladding on institutions is not a coincidence, especially one of great renown or with the want of establishing a presence (think of palaces, castles, fortified walls). Unfortunately, the Guggenheim ultimately couldn't afford the stone, but both the old facade and the new expansion at AMNH did succeed in achieving the dream of stone on their facades – Milford Pink Stone no less!
So, what's with this fascination with stone? It's that je ne sais quoi about stone that keeps folks transfixed. And as a historical material, it can tie a facade to the past and still inspire awe in contemporary ways.
During the research of AMNH's history and the design process for the new Gilder Center, I learned an extraordinary amount about stone. From about 300-200 million years ago, the continent we now know as North America was contiguous with Africa, South America, and Europe. They all existed as a single continent called Pangea. Because of Pangea and its eventual rupture into the separate continents, many of the coasts along each continent have stone that share similar qualities down to the molecular level, because at one point they were one and the same! Science is cool y'all!
And because of this, at one time, for cost and schedule reasons, stone in Portugal was considered as an alternative to the historical Milford Pink. But, as you can imagine the story (or the narrative as we call it in the biz) wouldn't have been as compelling to use this stone as using true Milford Pink would connect the new Gilder Center with the historical facade overlooking Central Park. And, if you've been to AMNH, you can tell that before the Gilder Center, each wing and expansion of the Museum has looked a touch different than existing parts of the building. So, connecting the new facade with the old was important. Ultimately, the historical Milford Pink won out, and the same quarry in Massachusetts provided the stone for both the original facade and the new. We also conducted strength testing to ensure the stone from this section of the quarry was still as strong as we needed it to be.
You never get a second chance to make a first impression, so removing what no longer suits (outdated and racist statues) and celebrating what does (Milford Pink!), is quite imperative to communicating what your values are and what folks can expect from you. Using Milford Pink is a nod to the museum's original main entrance and its history, much like keeping Roosevelt's name on the Hall of Biodiversity (but not that statue). If this isn't a rebirth I'm not sure what would be! – KC