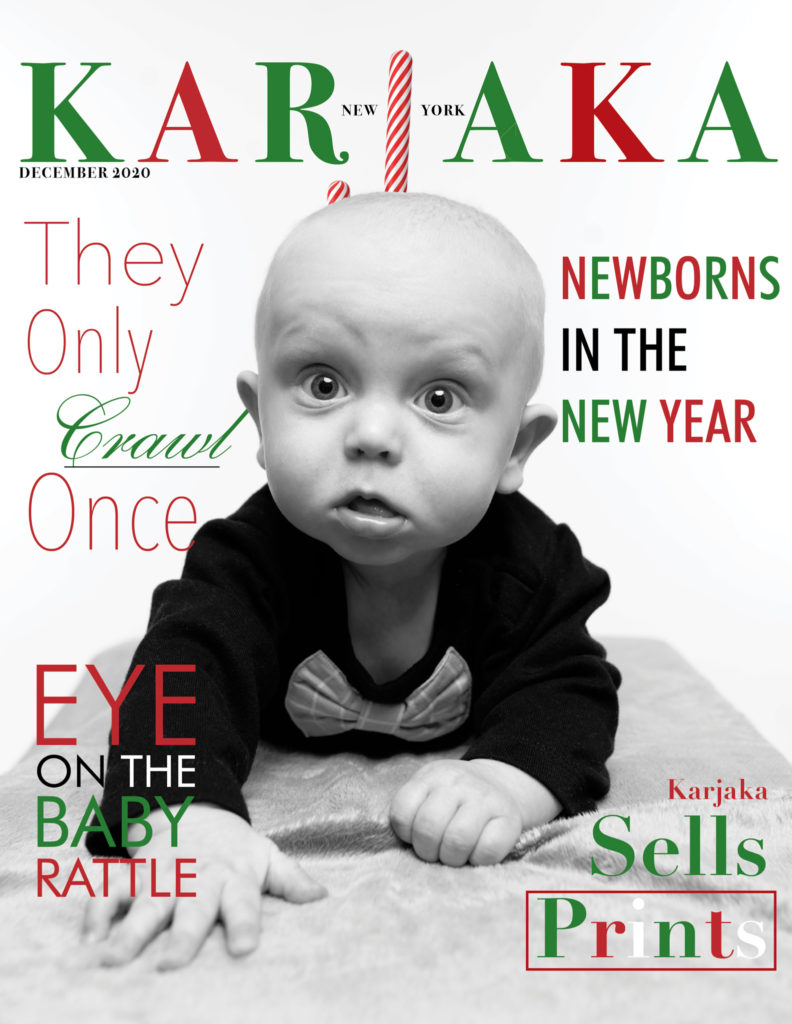 Letter from the Editor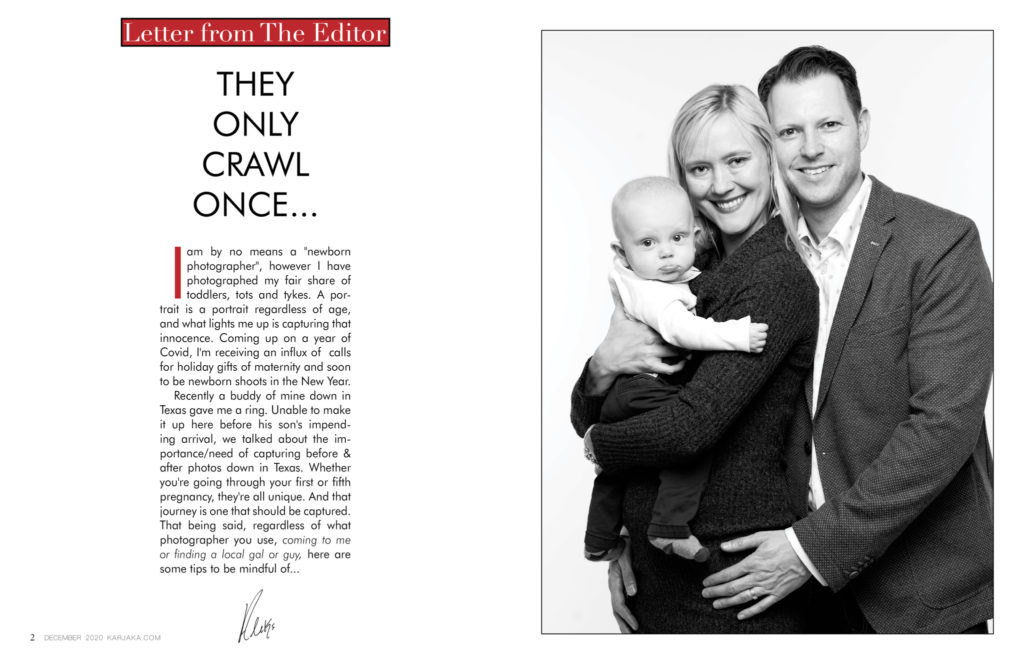 They Only Crawl Once…
I am by no means a "newborn photographer", however I have photographed my fair share of toddlers, tots and tykes. A portrait is a portrait regardless of age, and what lights me up is capturing that innocence. Coming up on a year of Covid, I'm receiving an influx of calls for holiday gifts of maternity and soon to be newborn shoots in the New Year.
Recently a buddy of mine down in Texas gave me a ring. Unable to make it up here before his son's impending arrival, we talked about the importance/need of capturing before & after photos down in Texas. Whether you're going through your first or fifth pregnancy, they're all unique. And that journey is one that should be captured. That being said, regardless of what photographer you use, coming to me or finding a local gal or guy, here are some tips to be mindful of…
Eye on the Baby Rattle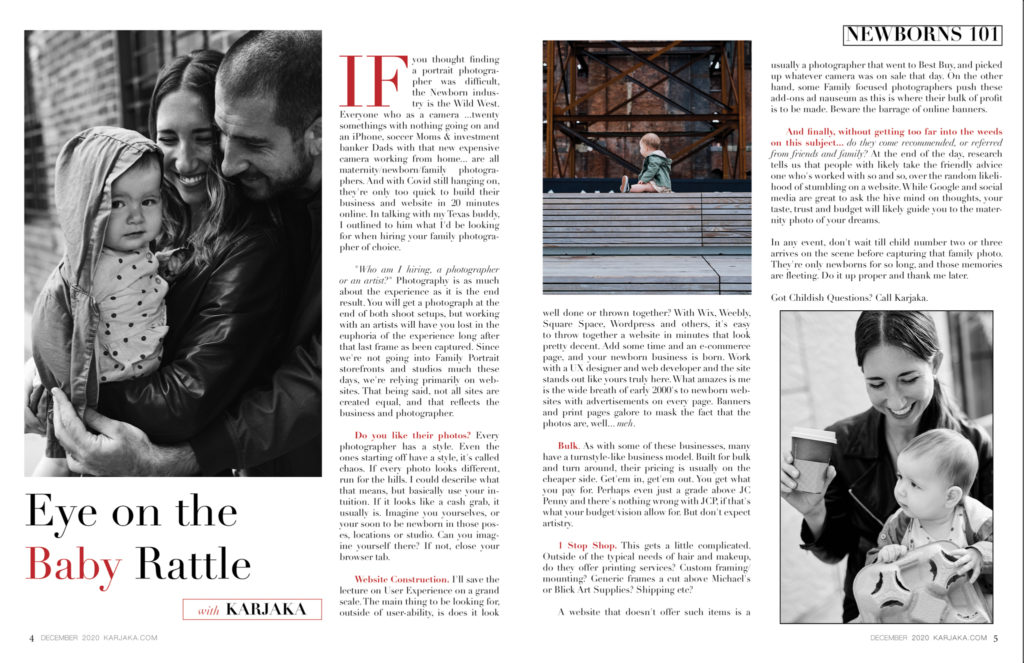 If you thought finding a portrait photographer was difficult, the Newborn industry is the Wild West. Everyone who as a camera …twenty somethings with nothing going on and an iPhone, soccer Moms & investment banker Dads with that new expensive camera working from home… are all maternity/newborn/family photographers. And with Covid still hanging on, they're only too quick to build their business and website in 20 minutes online. In talking with my Texas buddy, I outlined to him what I'd be looking for when hiring your family photographer of choice.
---
"Who am I hiring, a photographer or an artist?" Photography is as much about the experience as it is the end result. You will get a photograph at the end of both shoot setups, but working with an artists will have you lost in the euphoria of the experience long after that last frame as been captured. Since we're not going into Family Portrait storefronts and studios much these days, we're relying primarily on websites. That being said, not all sites are created equal, and that reflects the business and photographer.
Do you like their photos? Every photographer has a style. Even the ones starting off have a style, it's called chaos. If every photo looks different, run for the hills. I could describe what that means, but basically use your intuition. If it looks like a cash grab, it usually is. Imagine you yourselves, or your soon to be newborn in those poses, location or studio. Can you imagine yourself there? If not, close your browser tab.
---
Website Construction. I'll save the lecture on User Experience on a grand scale. The main thing to be looking for, outside of user-ability, is does it look well done or thrown together? With Wix, Weebly, Square Space, WordPress and others, it's easy to throw together a website in minutes that look pretty decent. Add some time and an e-commerce page, and your newborn business is born. Work with a UX designer and web developer and the site stands out like yours truly here. What amazes is me is the wide breath of early 2000's to newborn websites with advertisements on every page. Banners and print pages galore to mask the fact that the photos are, well… meh.
---
Bulk. As with some of these businesses, many have a turnstyle-like business model. Built for bulk and turn around, their pricing is usually on the cheaper side. Get'em in, get'em out. You get what you pay for. Perhaps even just a grade above JC Penny and there's nothing wrong with JCP, if that's what your budget/vision allow for. But don't expect artistry.
---
1 Stop Shop. This gets a little complicated. Outside of the typical needs of hair and makeup, do they offer printing services? Custom framing/mounting? Generic frames a cut above Michael's or Blick Art Supplies? Shipping etc?
A website that doesn't offer such items is a usually a photographer that went to Best Buy, and picked up whatever camera was on sale that day. On the other hand, some Family focused photographers push these add-ons ad nauseum as this is where their bulk of profit is to be made. Beware the barrage of online banners.
---
And finally, without getting too far into the weeds on this subject, do they come recommended, or referred from friends and family? At the end of the day, research tells us that people with likely take the friendly advice one who's worked with so and so, over the random likelihood of stumbling on a website. While Google and social media are great to ask the hive mind on thoughts, your taste, trust and budget will likely guide you to the maternity photo of your dreams.
In any event, don't wait till child number two or three arrives on the scene before capturing that family photo. They're only newborns for so long, and those memories are fleeting. Do it up proper and thank me later.
Got Childish Questions? Call Karjaka.