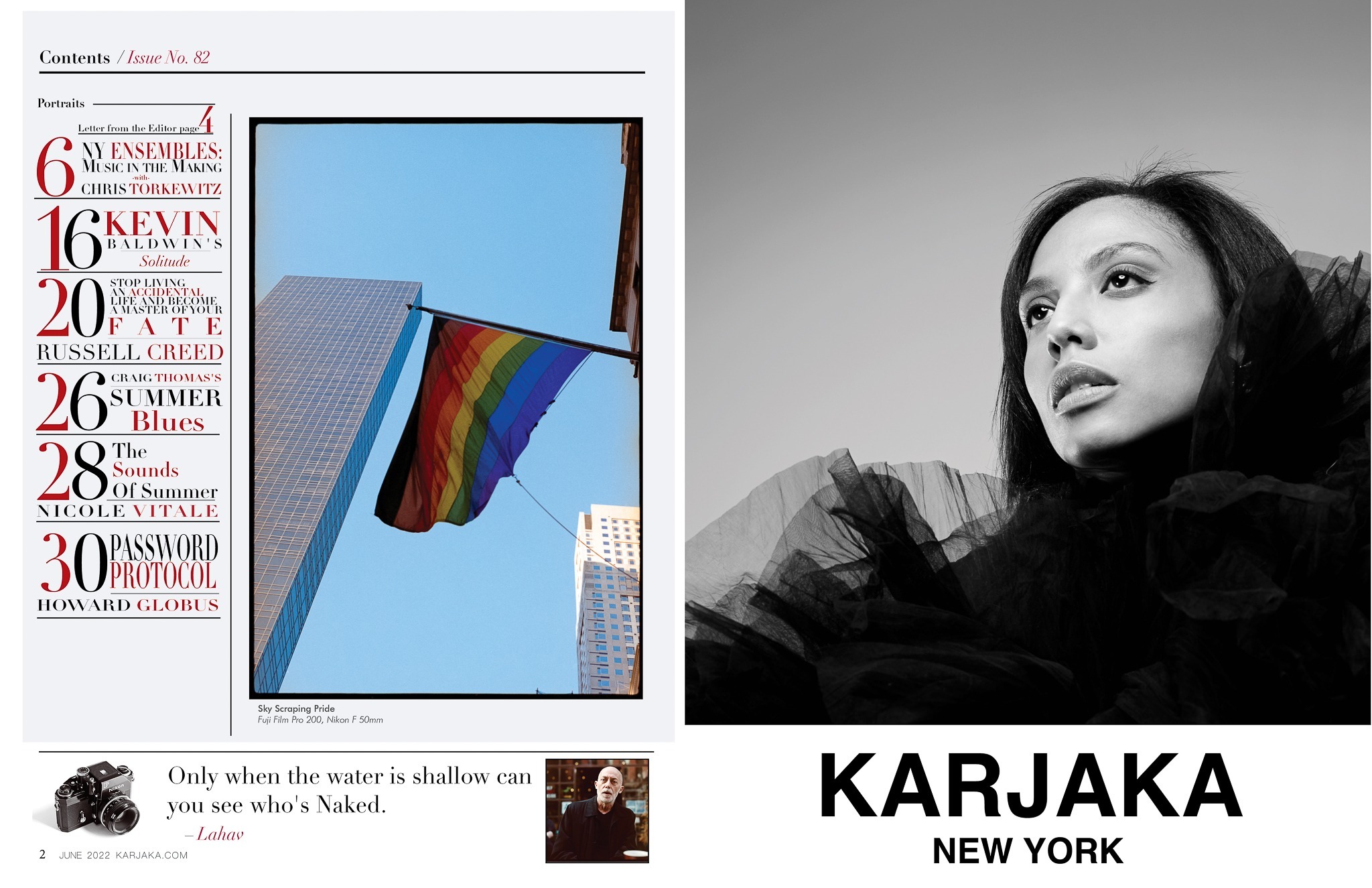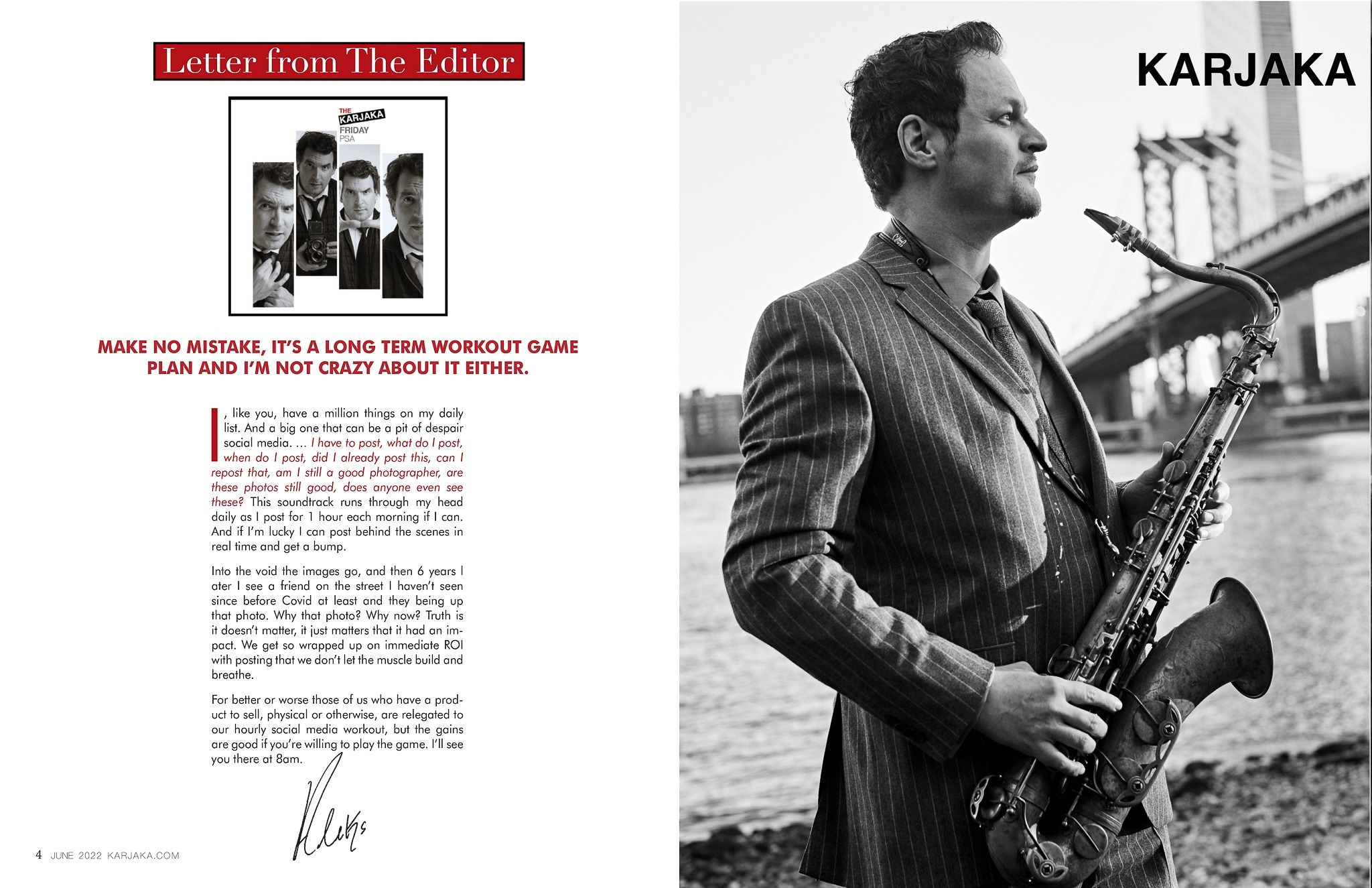 LETTER FROM THE EDITOR
I, like you, have a million things on my daily list. And a big one that can be a pit of despair social media. … I have to post, what do I post, when do I post, did I already post this, can I repost that, am I still a good photographer, are these photos still good, does anyone even see these? This soundtrack runs through my head daily as I post for 1 hour each morning if I can. And if I'm lucky I can post behind the scenes in real time and get a bump.
Into the void the images go, and then 6 years later I see a friend on the street I haven't seen since before Covid at least and they being up that photo. Why that photo? Why now? Truth is it doesn't matter, it just matters that it had an impact. We get so wrapped up on immediate ROI with posting that we don't let the muscle build and breathe.
For better or worse those of us who have a product to sell, physical or otherwise, are relegated to our hourly social media workout, but the gains are good if you're willing to play the game. I'll see you there at 8am.
NY Ensembles:
Music in the Making with Multi-Instrumentalist & Composer Chris Torkewitz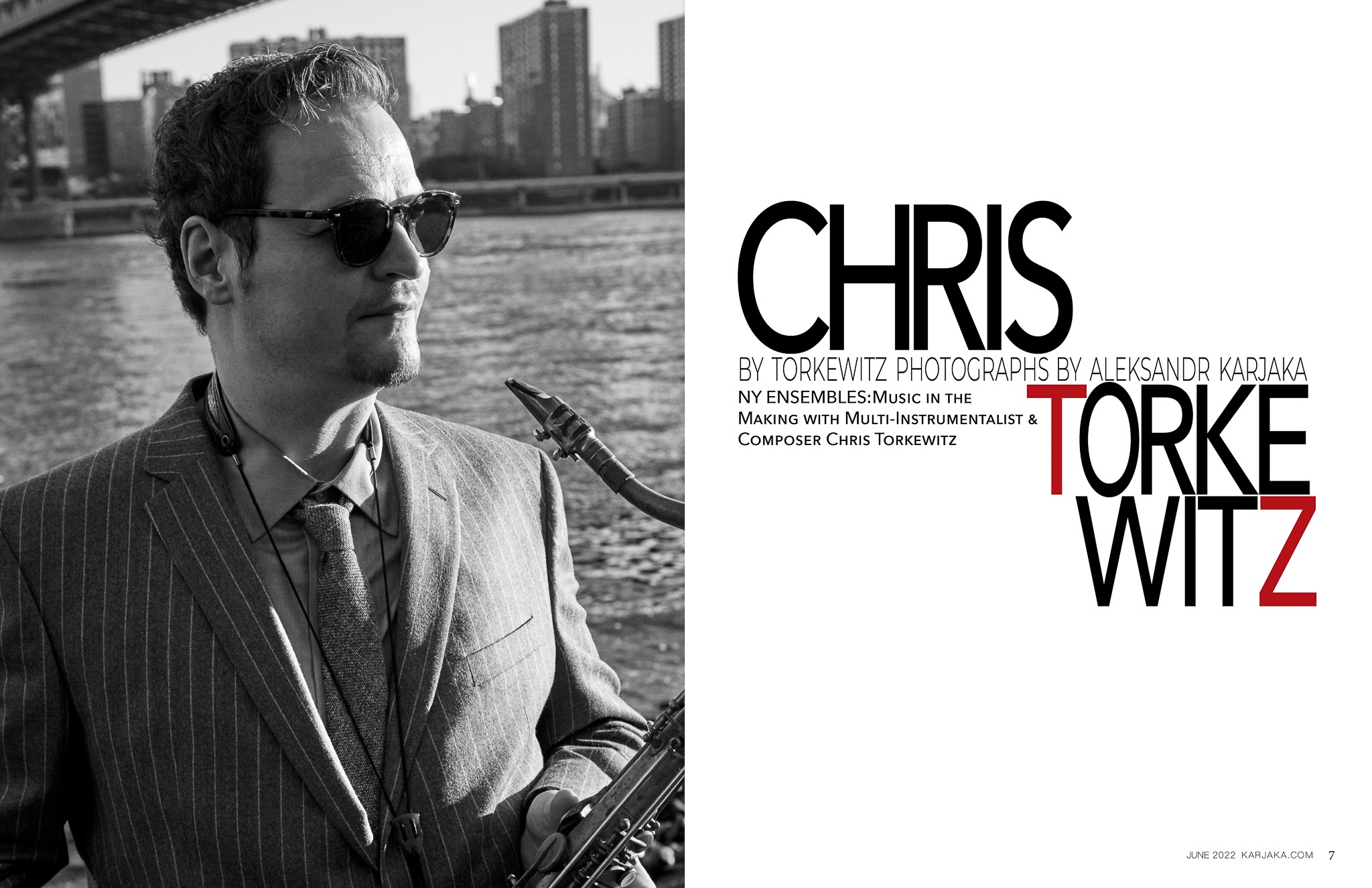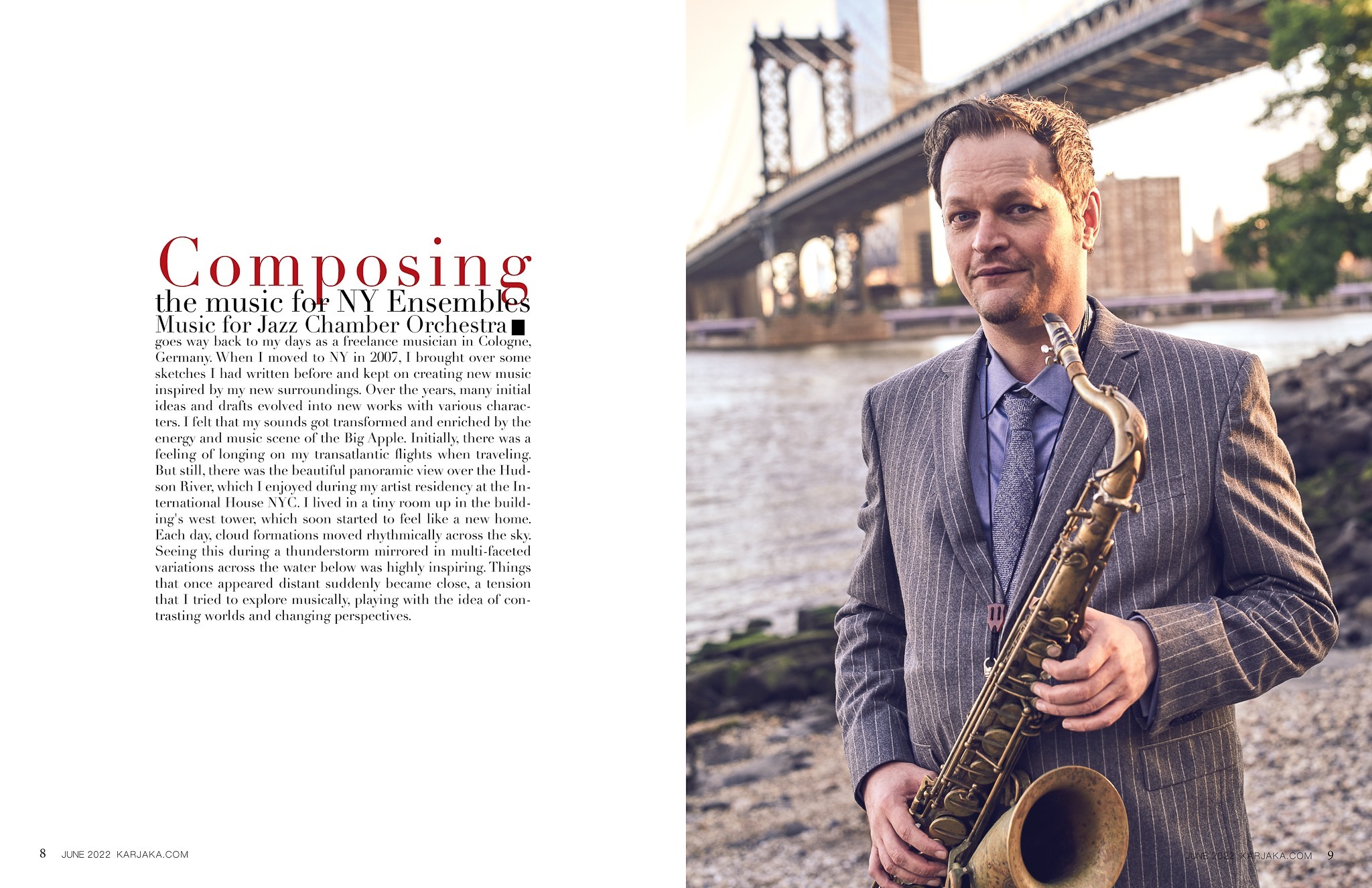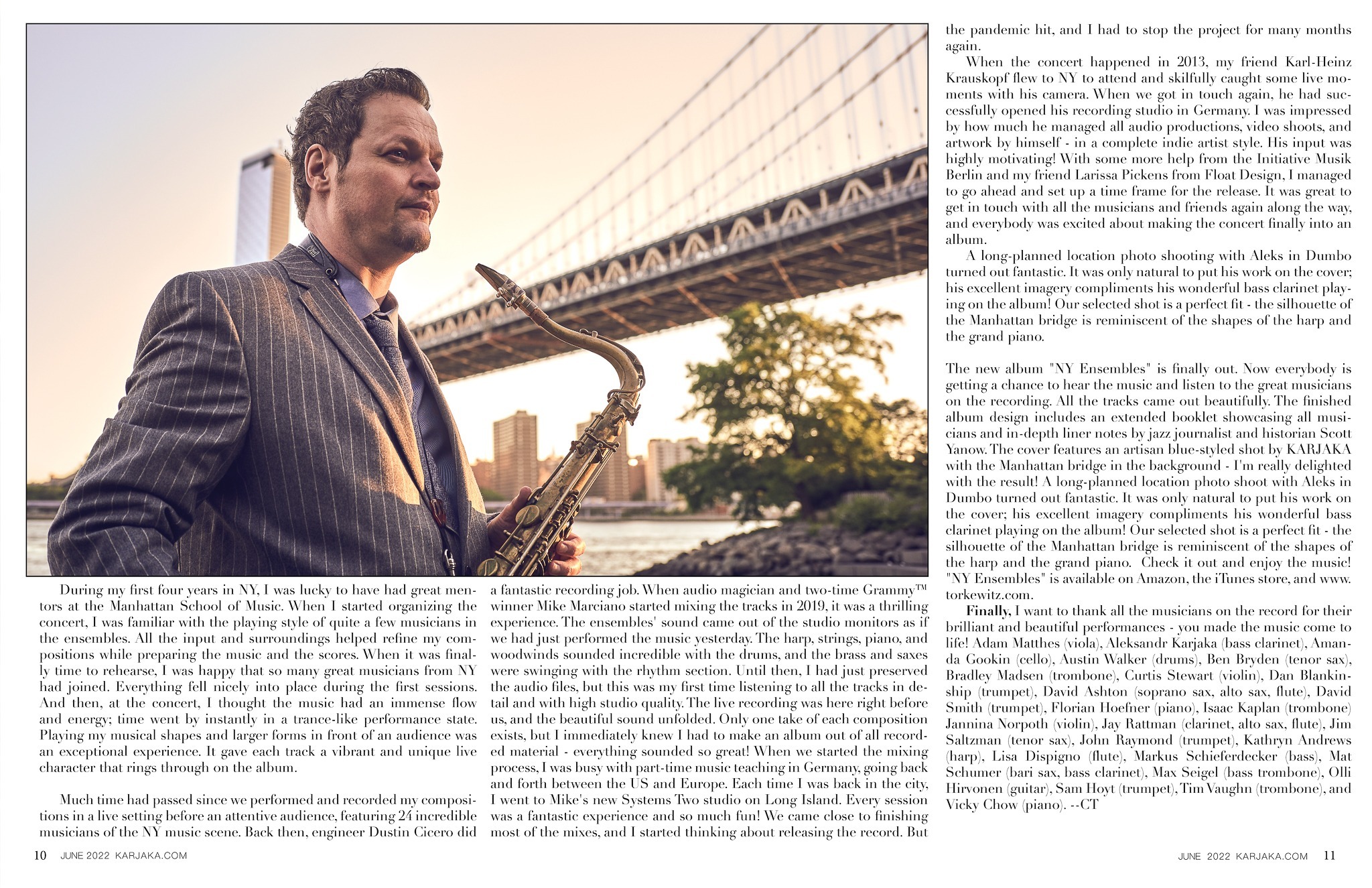 Composing the music for NY Ensembles – Music for Jazz Chamber Orchestra and Jazz Orchestra goes way back to my days as a freelance musician in Cologne, Germany. When I moved to NY in 2007, I brought over some sketches I had written before and kept on creating new music inspired by my new surroundings. Over the years, many initial ideas and drafts evolved into new works with various characters. I felt that my sounds got transformed and enriched by the energy and music scene of the Big Apple. Initially, there was a feeling of longing on my transatlantic flights when traveling. But still, there was the beautiful panoramic view over the Hudson River, which I enjoyed during my artist residency at the International House NYC. I lived in a tiny room up in the building's west tower, which soon started to feel like a new home. Each day, cloud formations moved rhythmically across the sky. Seeing this during a thunderstorm mirrored in multi-faceted variations across the water below was highly inspiring. Things that once appeared distant suddenly became close, a tension that I tried to explore musically, playing with the idea of contrasting worlds and changing perspectives.
During my first four years in NY, I was lucky to have had great mentors at the Manhattan School of Music. When I started organizing the concert, I was familiar with the playing style of quite a few musicians in the ensembles. All the input and surroundings helped refine my compositions while preparing the music and the scores. When it was finally time to rehearse, I was happy that so many great musicians from NY had joined. Everything fell nicely into place during the first sessions. And then, at the concert, I thought the music had an immense flow and energy; time went by instantly in a trance-like performance state.
Playing my musical shapes and larger forms in front of an audience was an exceptional experience. It gave each track a vibrant and unique live character that rings through on the album.
—-
Much time had passed since we performed and recorded my compositions in a live setting before an attentive audience, featuring 24 incredible musicians of the NY music scene. Back then, engineer Dustin Cicero did a fantastic recording job. When audio magician and two-time Grammy™ winner Mike Marciano started mixing the tracks in 2019, it was a thrilling experience. The ensembles' sound came out of the studio monitors as if we had just performed the music yesterday. The harp, strings, piano, and woodwinds sounded incredible with the drums, and the brass and saxes were swinging with the rhythm section. Until then, I had just preserved the audio files, but this was my first time listening to all the tracks in detail and with high studio quality. The live recording was here right before us, and the beautiful sound unfolded. Only one take of each composition exists, but I immediately knew I had to make an album out of all recorded material – everything sounded so great!
When we started the mixing process, I was busy with part-time music teaching in Germany, going back and forth between the US and Europe. Each time I was back in the city, I went to Mike's new Systems Two studio on Long Island. Every session was a fantastic experience and so much fun! We came close to finishing most of the mixes, and I started thinking about releasing the record. But the pandemic hit, and I had to stop the project for many months again.
When the concert happened in 2013, my friend Karl-Heinz Krauskopf flew to NY to attend and skilfully caught some live moments with his camera. When we got in touch again, he had successfully opened his recording studio in Germany. I was impressed by how much he managed all audio productions, video shoots, and artwork by himself – in a complete indie artist style. His input was highly motivating! With some more help from the Initiative Musik Berlin and my friend Larissa Pickens from Float Design, I managed to go ahead and set up a time frame for the release. It was great to get in touch with all the musicians and friends again along the way, and everybody was excited about making the concert finally into an album.
A long-planned location photo shooting with Aleks in Dumbo turned out fantastic. It was only natural to put his work on the cover; his excellent imagery compliments his wonderful bass clarinet playing on the album! Our selected shot is a perfect fit – the silhouette of the Manhattan bridge is reminiscent of the shapes of the harp and the grand piano.
—
The new album "NY Ensembles" is finally out. Now everybody is getting a chance to hear the music and listen to the great musicians on the recording.
All the tracks came out beautifully. The finished album design includes an extended booklet showcasing all musicians and in-depth liner notes by jazz journalist and historian Scott Yanow. The cover features an artisan blue-styled shot by KARJAKA with the Manhattan bridge in the background – I'm really delighted with the result! A long-planned location photo shoot with Aleks in Dumbo turned out fantastic. It was only natural to put his work on the cover; his excellent imagery compliments his wonderful bass clarinet playing on the album! Our selected shot is a perfect fit – the silhouette of the Manhattan bridge is reminiscent of the shapes of the harp and the grand piano. Check it out and enjoy the music! "NY Ensembles" is available on Amazon, the iTunes store, and www.torkewitz.com.
Finally, I want to thank all the musicians on the record for their brilliant and beautiful performances – you made the music come to life!
Adam Matthes (viola), Aleksandr Karjaka (bass clarinet), Amanda Gookin (cello), Austin Walker (drums), Ben Bryden (tenor sax), Bradley Madsen (trombone), Curtis Stewart (violin), Dan Blankinship (trumpet), David Ashton (soprano sax, alto sax, flute), David Smith (trumpet), Florian Hoefner (piano), Isaac Kaplan (trombone) Jannina Norpoth (violin), Jay Rattman (clarinet, alto sax, flute), Jim Saltzman (tenor sax), John Raymond (trumpet), Kathryn Andrews (harp), Lisa Dispigno (flute), Markus Schieferdecker (bass), Mat Schumer (bari sax, bass clarinet), Max Seigel (bass trombone), Olli Hirvonen (guitar), Sam Hoyt (trumpet), Tim Vaughn (trombone), and Vicky Chow (piano). –CT
"Multi-instrumentalist Chris has released an album of the most adventurous colorful ensembles you will ever hear…" (Dick Metcalf — Contemporary Fusion Reviews)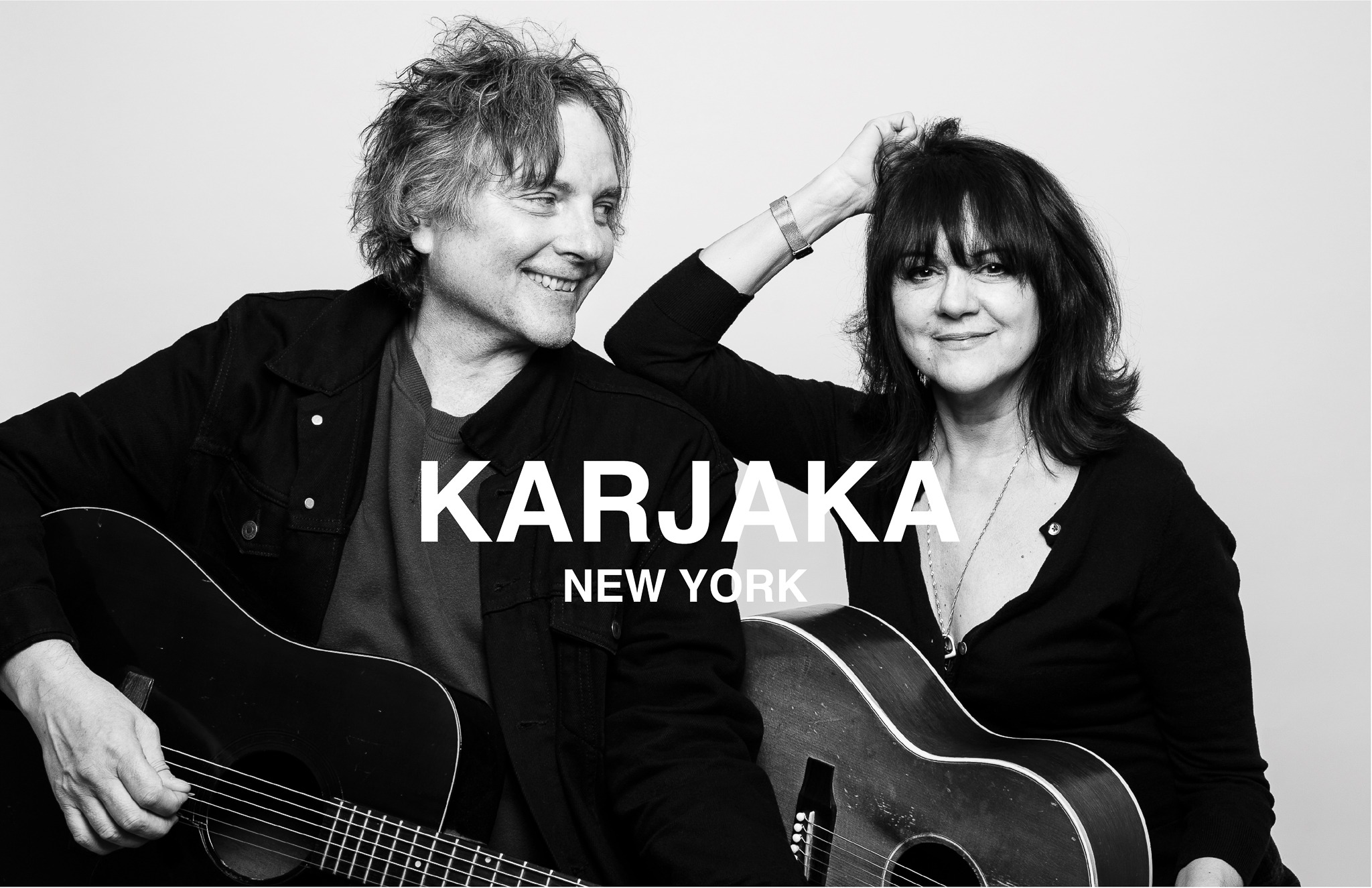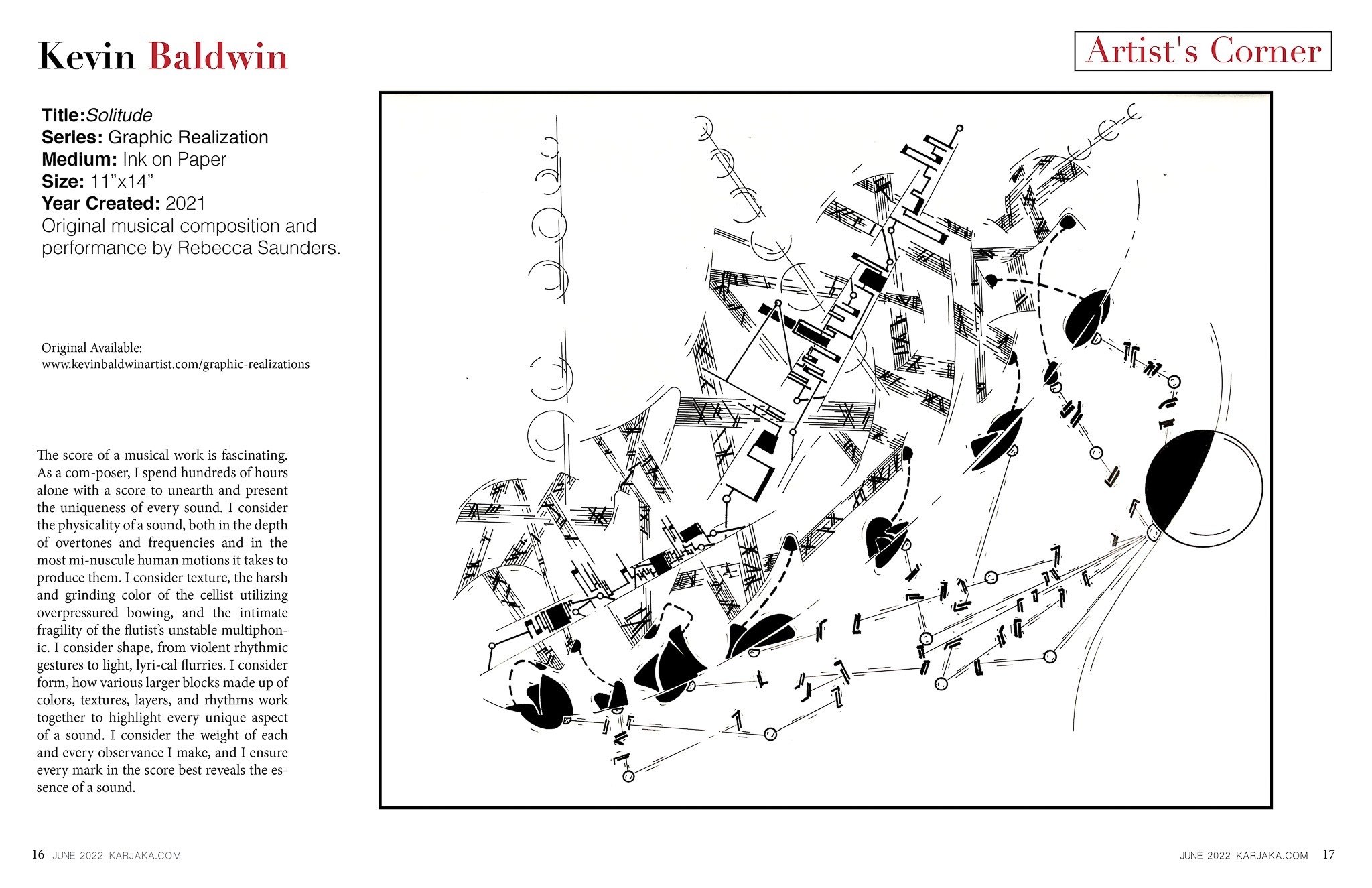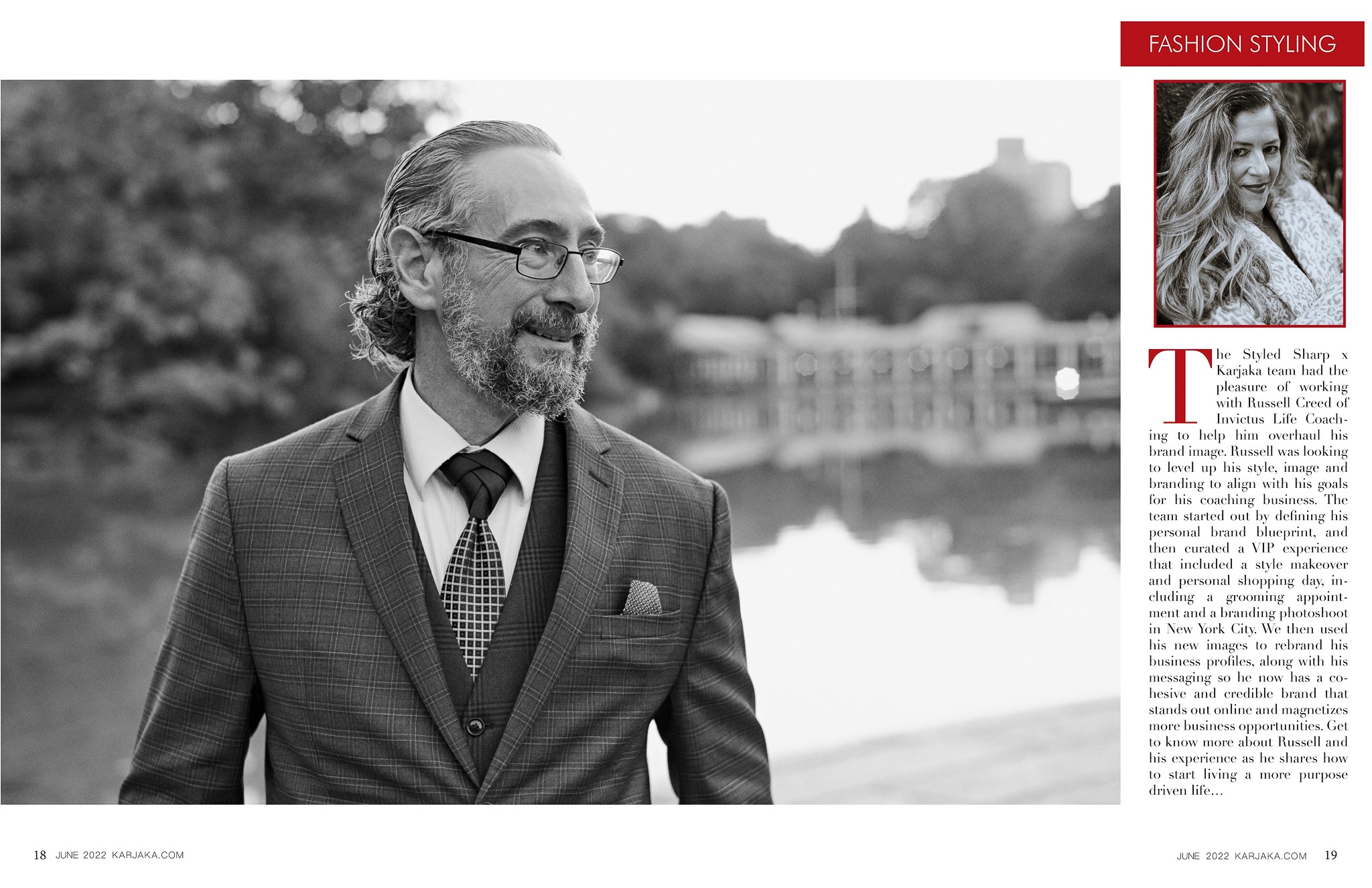 Stop Living an Accidental Life and Become a Master of Your Fate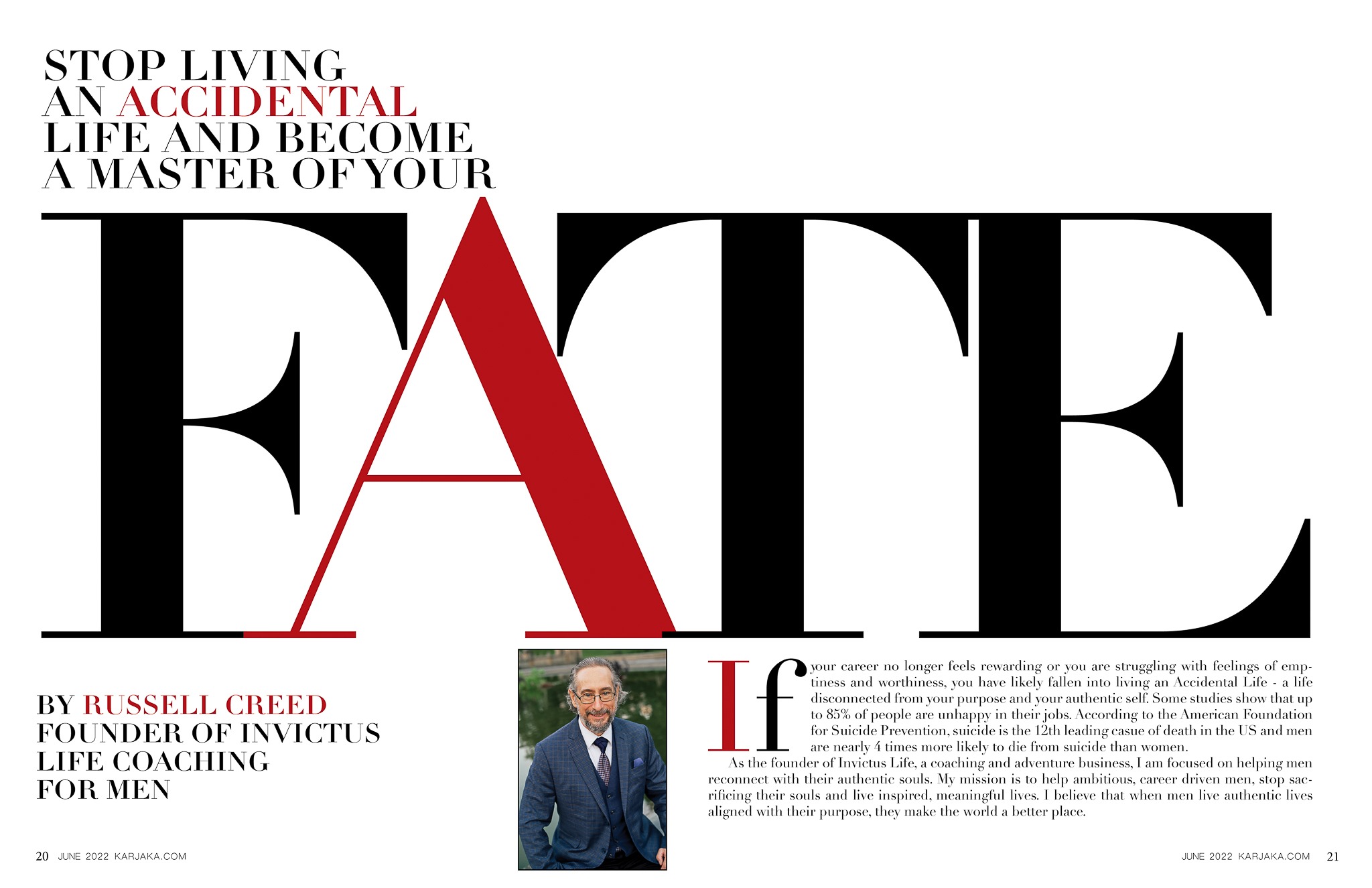 If your career no longer feels rewarding or you are struggling with feelings of emptiness and worthiness, you have likely fallen into living an Accidental Life – a life disconnected from your purpose and your authentic self. Some studies show that up to 85% of people are unhappy in their jobs. According to the American Foundation for Suicide Prevention, suicide is the 12th leading cause of death in the US and men are nearly 4 times more likely to die from suicide than women.
As the founder of Invictus Life, a coaching and adventure business, I am focused on helping men reconnect with their authentic souls. My mission is to help ambitious, career driven men, stop sacrificing their souls and live inspired, meaningful lives. I believe that when men live authentic lives aligned with their purpose, they make the world a better place.
In my experience, what I saw happening was many men simply followed the path that was laid out for them. They went to college, got a good job, got married, had kids, all in pursuit of the American Dream. On paper, everything looked like they were successful. However, deep down they either realized that the job they had was not really fulfilling, or maybe their relationships felt empty, or possibly life had simply become too comfortable and they no longer felt challenged and alive. When they took time to look around, they realized they weren't living the life they imagined. They were living Accidental Lives, wondering if that was all there was to life. What they really wanted was to have a sense of meaning and purpose and feel deeply connected to the people in their lives.
And that was my journey, too. I was doing all the things that society tells us leads to success – high paying corporate career, beautiful family, leader in my community. After a life-threatening disease nearly claimed my life, I found myself wondering "Is this what life is all about?" I spent so much time running around being busy and thinking that it was my duty as a husband and father to sacrifice my desires to provide for my family. Finally, my body shut down and forced me to stop and re-examine my life. During the time of personal reflection, and under the guidance of great mentors, I finally CRACKED THE CODE to having a life full of purpose and connection.
And that's why I created the Master Your Fate Formula to help other professional men that are feeling stuck go from bored and lonely to living a life of meaning and purpose surrounded by people they feel deeply connected to without needing to start over or run away.
As part of my own personal journey in growth and becoming more connected with my authentic self and living an integrated life, I worked with Tavia Sharp and the team at Styled Sharp to align my image and personal appearance with my inner being. One of the things I appreciate most about Tavia is that her focus is not on just creating an image that sells, but one that is an outward expression of your core values and aligned with your energy and essence. I enjoyed the 1:1 VIP experience Tavia and her team created from defining my personal brand blueprint to the custom style makeover to match my brand image to a full branding photoshoot in NYC with the talented Karjaka. I now feel more confident in who I am, show up more powerfully as myself, and get noticed more in the boardroom and in the backwoods as my magnetic self comes through. As a result, I am having even more powerful conversations with those that are aligned with my mission and making a bigger impact in the world.
___________________
You can learn more about the Master your Fate Formula program and Invictus Life's life changing Adventure Weekend Retreats for men by visiting www.TheInvictusLife.com. Be sure to connect with Russell on LinkedIn (https://www.linkedin.com/in/russell-creed/) or Facebook ( https://www.facebook.com/russell.cr33d ). Read about Russell's inspiring story of overcoming Primary Sclerosing Cholangitis in "Becoming the Big Me: The Great Conquest: A collection of empowering stories." available on Amazon.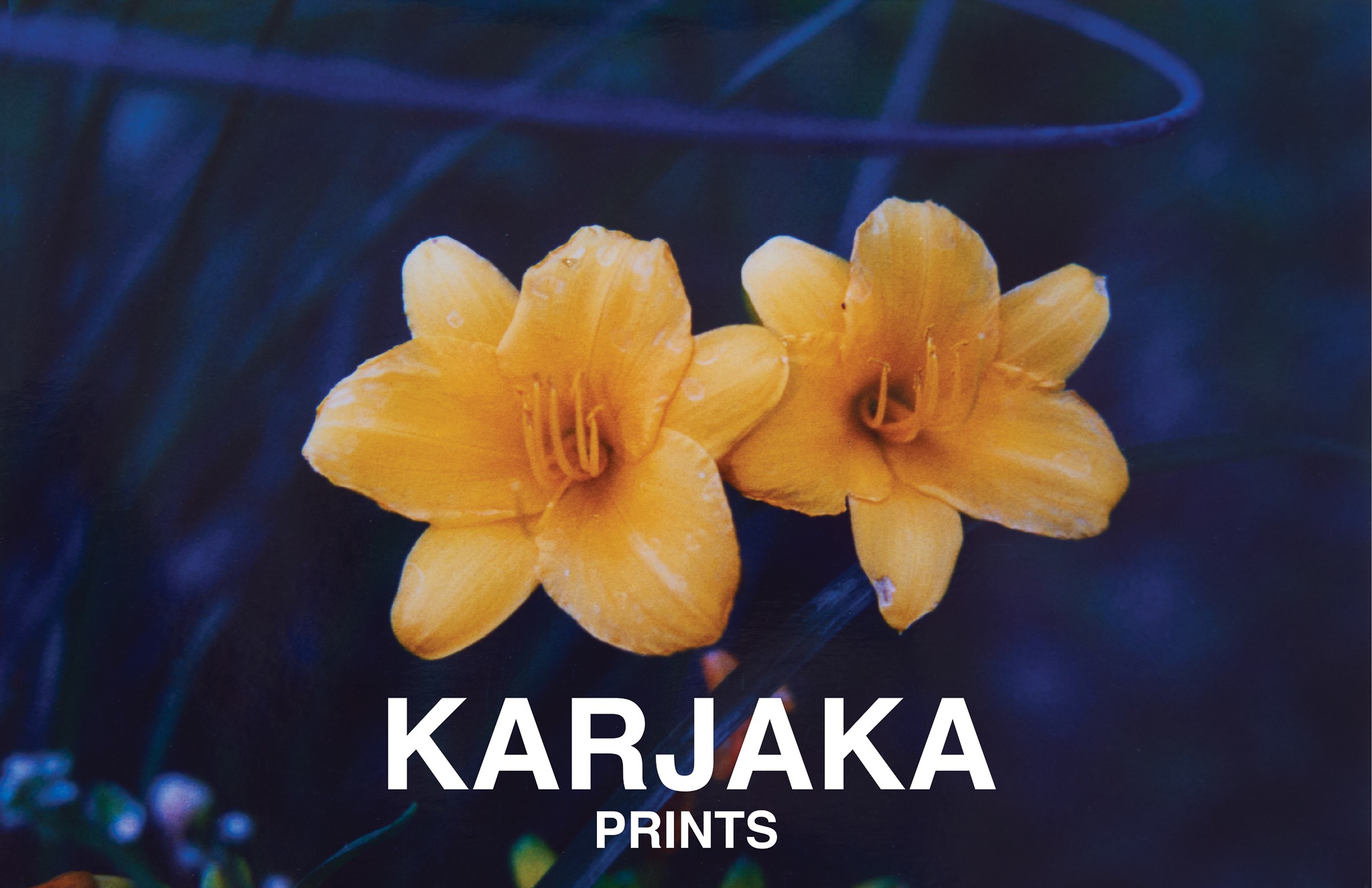 Summer Blues
Summer is a polarizing time of the year. I love summer. The long days. The less clothing. Swimming. Playing ball outside. Lots of vitamin D. Throwing open your windows with the early sunrise in the morning over coffee and a good book.
Summer is a time we visit friends and family. It's often a time of going on vacation and interrupting daily habits and patterns. Going down the shore (or the beach for the non New Jerseyans), heading to the country for holiday weekends and quick jaunts to local summer getaways.
But summer can also be a lonely time as well. It tends to be a time that we reminisce and reflect. When we aren't traveling for a vacation rendezvous and we are home, it can be a case of FOMO. And when we are at home, things tend to slow down with our regular schedules and life can feel stagnant and overly quiet.
And since we are thrown off our routines, we can get lazy and unproductive. We can feel like we are missing social interactions that we would get when school is in session and the support in our daily lives is regular. Social interaction is a huge key for most people when activities and energy levels are not optimal. Having a strong support system can provide a huge mental boost that fortifies work output on all types of levels.
I find that keeping some sort of social engagement as often as we can feeds our serotonin levels and evens out the interruptions in our regular work weeks and busy weekends. Even when it's challenging to find a common time with a friend it's beneficial to go do things that have a crowd: movies, museums and sporting events. Higher levels of positive hormone output will result in better sleep, good recovery from physical exertion and lower stress levels.
Another option is to learn something that is new and has been pushed back for a while. Learning to surf—or other water sports—or play an instrument is always a wonderful and challenging endeavor to undertake during the summer. The body's ability to learn new neuro pathways helps to keep the brain active and young and builds new neurons.
Going on local hikes is another good way to absorb some good Vitamin D and perhaps meditate in nature. Hiking on uneven terrain is an excellent way to build multi-planar (think moving in unpredictable ways) strength and connect with nature. For those in urban settings, it's a nice respite from the concrete jungle. Bike rides can fall under this same umbrella.
For those parents out there, a beach day of playing in the sand with your kids can get your body moving like an animal all over the ground while breathing in some ultra purifying sea minerals. Sand creates a very unfamiliar terrain for the feet and ankles when standing and also the wrists and shoulders if you're on your hands and knees. The unevenness of the surface of sand is fantastic at improving joint stability and mobility and can create new muscle tissue that flat surfaces fail to provide.
Call to mind that while the summer can be a very mercurial season for many with the highs and lows, there are a cadre of options that don't have to be more than an hour or two away. Day trips around one's city or neighborhood that can take them on a simple but memorable adventure can be efficient for the body and cleansing for the mind and improve overall mood.
Beating the summer blues is not always easy, but there are many simple formulas and recipes to create good vibes that are closer than we think. All the cumulative gym work and home exercises have prepped the body to take on new activities and have equipped the mind with the confidence it needs. Ultimately taking action with physical challenges feeds our brain and improves our outlook on life.
So when gym work gets to be a little claustrophobic in the height of the summer and you're looking for a deviation from the norm, take a risk and try something that might not get the time during the life's craziness. After all, what's the all the work in the gym for?
The Sounds of Summer: An Asbury Love Letter
I grew up by the Atlantic Ocean — 2.8 miles away, to be exact, sharing a zip code with the now extremely hip beach town of Asbury Park, NJ. I'm convinced that there is a certain unspeakable magic embedded into the wooden boardwalk that stretches the length of the shoreline, seemingly unending. I mean, there's definitely a reason why Springsteen named an album after the place. I've spent countless hours frizzle-frying my skin on the beach, allowing my brain to auto-pilot while simultaneously realizing the enormity of the world surrounding me, coming to the realization that my mere existence on this planet is akin to a singular grain of sand on which I rest. Evenings were reserved for sunset strolls accompanied by Wawa-acquired snacks and the company of good friends, which served as a primitive form of therapy for me in my teen years. Some of my fondest memories exist in tandem with sticky, beer-soaked floors of The Saint, The Stone Pony, and Asbury Lanes, the smell of stale cigarette smoke accompanying the musical stylings of that evening's local band-du-jour. The juxtaposition between the now skeletal structure of the Asbury Casino with the patinaed roof of its Beaux Arts style carousel, and the freshly minted (and 1/3 occupied) luxury condominiums just a stone's throw from the sand evokes feelings associated with a poignant romance; The gentrification of this shore town draws in the tourists (and the much-needed funds associated with them), but tends to overshadow the historical significance tied to it.
Developed in the 1870's by brush manufacturer James Bradley, Asbury Park grew into one of the most renowned of the shore towns, with amusements, rides, public changing rooms, and the iconic Convention Hall. As the Garden State Parkway was built and provided access to this summer hotspot at the tail end of the 1940's, so, too, came the infiltration and development of the surrounding farmlands, which became the suburban residences in which I grew up. With popularity rising throughout the decades, the 1970's cast a much darker shadow upon the city. Both weekend tourism and residential populations grew along with the increased need for employees across the local businesses and storefronts, resorts, and restaurants. These jobs were often outsourced to white youth in the surrounding towns as opposed to the local African-American youth. This caused an immense amount of friction in an already racially divided time in America's fractured history. Thus began a series of race riots on July 4th, 1970 which spanned 7 days and left a permanent, resounding blemish on the surface of Asbury Park. During the last decade or so (and with generous state and private funding), Asbury Park has been revitalized and established itself as the crown jewel and cultural hub of Monmouth County; It is known now more for its diversity and political liberalism, and is considered a designated safe space for the LGBTQIA+ community and people of all races and ethnicities. It is a meeting place and point of inspiration for artists of all disciplines, and boasts one of the most incredible music scenes in the tri-state area.
I'm convinced that it is because I spent my formative years living in a Summer-centric town that it is perpetually Summer whenever I visit my parents from my current, more urban residence of Jersey City, NJ, no matter the season. As such, the significance of summer has consistently overshadowed all other seasons in my mind; There is no denying the glory of Spring and the majestic revitalization it brings to all living things (including New Yorkers, providing a renewed sense of purpose). The bittersweet, multi-tonal transitional decay from Autumn into Winter is a visual feast to behold. Pangs of nostalgia for thick, soupy, humid air always hit the hardest during bone-chilling Winter winds. Summer just…HITS different, as the kids say. It's really the little things about Summer that I find great pleasure in the most; The smell of petrichor after a fleeting Summer downpour that causes the streets to produce an almost mythical steam, the raindrops percussive and steady. The whoosh of the trees, peppered with birdsong as a brisk wind provides temporary relief from the swelter. The creeping bead of condensation that travels along the side of a can or glass of [insert cold beverage here], while ice cubes clink and pop. The orchestral crescendo of a cicada chorus, humming and buzzing by day, while the crickets take over for the night shift.
Are we sensing a theme here? Finding the music and magic in all things has been my consistent state of being. As a professional working in the Music Industry for the last decade plus, music serves as a constant theme in my life…one that extends beyond the boundaries of what is merely recorded, and instead encompasses the feelings and emotions associated with sound. Now, I present to you my definitive playlist to enjoy your favorite Summer beverage to. I raise my glass to you, to perpetual Summer, and to Asbury Park. Cheers to love, to music, to appreciating your roots, and to romanticizing the little things.
Password Protocol
There has been a good of talk about Passkeys and how this tool will replace passwords in the Apple environment.
What are Passkeys and how will they be used?
The FIDO Alliance was launched in 2013 by PayPal, Lenovo, Nok Nok Labs, Validity Sensors, Infineon, and Agnitio came together to work on a passwordless authentication protocol. Today there are hundreds of members of the alliance from large multi-national businesses such as Amazon and Facebook, Wells Fargo and American Express. Governments from Australia to Germany to the UK to the US are all participating as well.
Microsoft, Google and Apple have a vested interest in using FIDO considering the online services and devices being used. Credential compromise is a major concern for online platforms and with mail and documents and businesses running their operations through these three services, there are major points of exposure.
Passwords are the source of over 80% of data breaches. With hundreds of millions of online accounts active today and over 50% of passwords being resused, a new way to secure business, personal and private data was needed. The FIDO Alliance came together to address passwordless tools and multi factor authentication.
FIDO has brought tools like security keys, facial recognition, fingerprints, voice and Yubico keys into the marketplace.
Apple announced in early June 2022 that they were going to be moving to use Passkeys, which were announced by Google and Microsoft at their major developer conferences around the same time.
The idea behind a Passkey is that instead of using a password, users will unlock their smart phones and provide a verification of a code to sign on to a website or online services. With a physical device (the cell phone) and a biometric unlocking mechanism to the device and matching a unique signature key on each application or website, security will be greatly increased.
This concept what developed several years prior. However, one of the greatest issues with the protocol was what happens if the cell phone is lost, misplaced, stolen or compromised. If the security was tied to the cell phone and it was gone, then all access to sites and applications would be lost with no way to recover the access.
The FIDO Alliance released an update in March where credentials will be stored using a public and private key pair. The details on how this works are little bit more technical than we want to go into right now. The important point is that in the event a device needs to be replaced, by enrolling the new device onto Apple, Google or Microsoft's systems, the Passkey information will be transferred to the new device. This resolves a major issue with the technology.
It is important to note that if not using a biometric lock and instead using a digital code to lock the cell phone, the code needs to be strong as well. If the code is easy to crack it will be easy to access that device and the Passkeys will be available.
Throughout the cybersecurity industry the advance put forth by the FIDO Alliance is seen as a very positive step forward in solving a major problem plaguing businesses large and small and individuals in an ever more connected world.
Research shows that far too many passwords are still reused on multiple websites and over 70% of credentials are believed to be compromised from all the breaches known to date. Every step that brings us closer to a more secure environment is a welcome one.
There are two challenges that we need to be aware of. The first is end user adoption, having users enroll their credentials, their devices and then using their credentials and devices on the platforms that support the service. The second issue is websites will need to update and recode their authentication process to meet the FIDO Alliance standard. Considering the number of websites with a login component, this is not expected to happen overnight.
Stay tuned for more information on how to make use of the Passkeys.