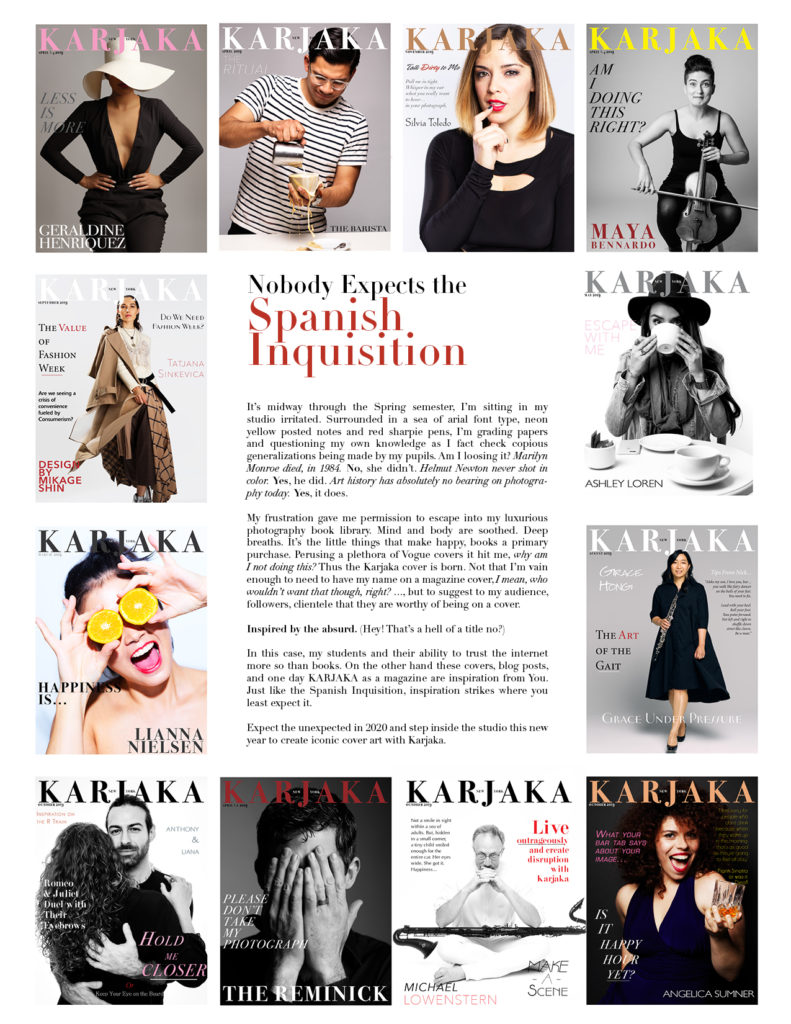 It's midway through the Spring semester, I'm sitting in my studio irritated. Surrounded in a sea of arial font type, neon yellow posted notes and red sharpie pens, I'm grading papers and questioning my own knowledge as I fact check copious generalizations being made by my pupils. Am I loosing it? Marilyn Monroe died, in 1984. No, she didn't. Helmut Newton never shot in color. Yes, he did. Art history has absolutely no bearing on photography today. Yes, it does.
My frustration gave me permission to escape into my luxurious photography book library. Mind and body are soothed. Deep breaths. It's the little things that make happy, books a primary purchase. Perusing a plethora of Vogue covers it hit me, why am I not doing this? Thus the Karjaka cover is born. Not that I'm vain enough to need to have my name on a magazine cover, I mean, who wouldn't want that though, right? …, but to suggest to my audience, followers, clientele that they are worthy of being on a cover.
Inspired by the absurd. (Hey! That's a hell of a title no?)
In this case, my students and their ability to trust the internet more so than books. On the other hand these covers, blog posts, and one day KARJAKA as a magazine are inspiration from You. Just like the Spanish Inquisition, inspiration strikes where you least expect it.
Expect the unexpected in 2020 and step inside the studio this new year to create iconic cover art with Karjaka.