Letter From the Editor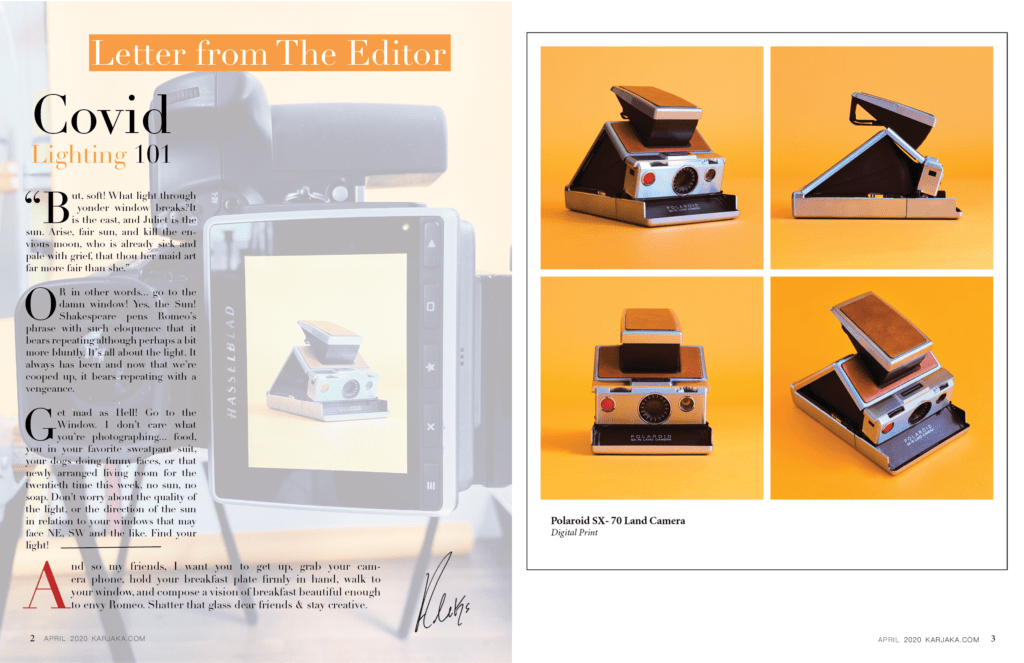 "But, soft! What light through yonder window breaks?It is the east, and Juliet is the sun. Arise, fair sun, and kill the envious moon, who is already sick and pale with grief, that thou her maid art far more fair than she."
Or in other words… go to the damn window! Yes, the Sun! Shakespeare pens Romeo's phrase with such eloquence that it bears repeating although perhaps a bit more bluntly. It's all about the light. It always has been and now that we're cooped up, it bears repeating with a vengeance.
Get mad as Hell! Go to the Window. I don't care what you're photographing… food, you in your favorite sweatpant suit, your dogs doing funny faces, or that newly arranged living room for the twentieth time this week, no sun, no soap. Don't worry about the quality of the light, or the direction of the sun in relation to your windows that may face NE, SW and the like. Find your light!
And so my friends, I want you to get up, grab your camera phone, hold your breakfast plate firmly in hand, walk to your window, and compose a vision of breakfast beautiful enough to envy Romeo. Shatter that glass dear friends & stay creative.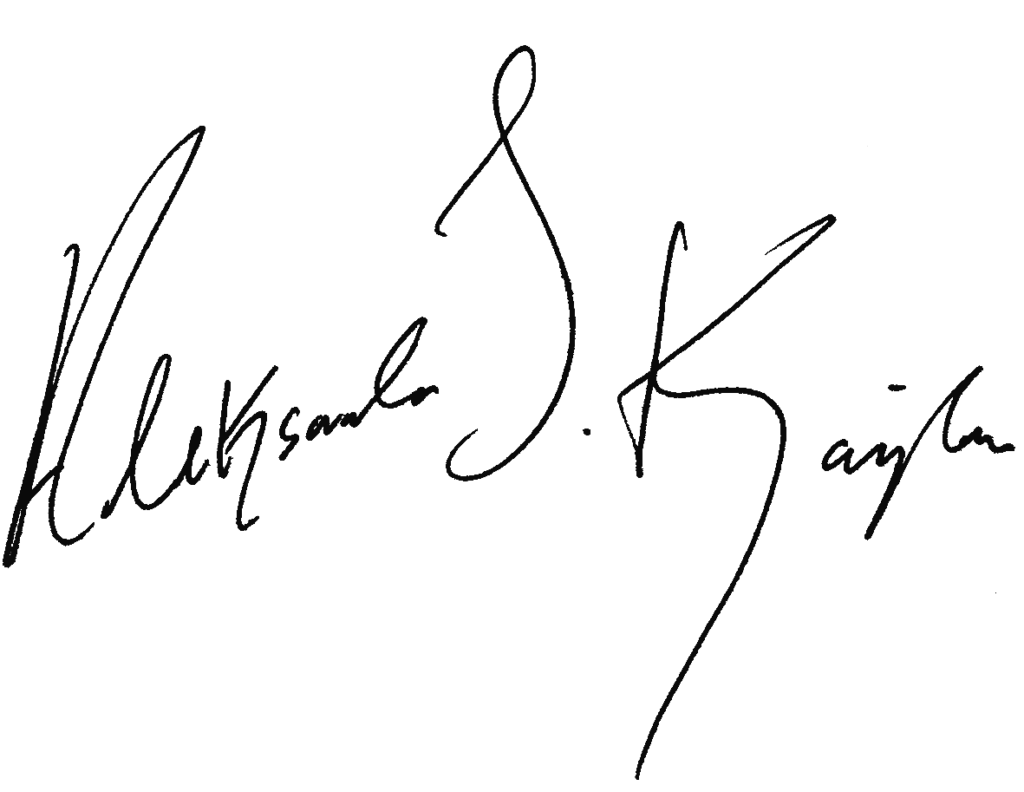 ---
The Digital Producer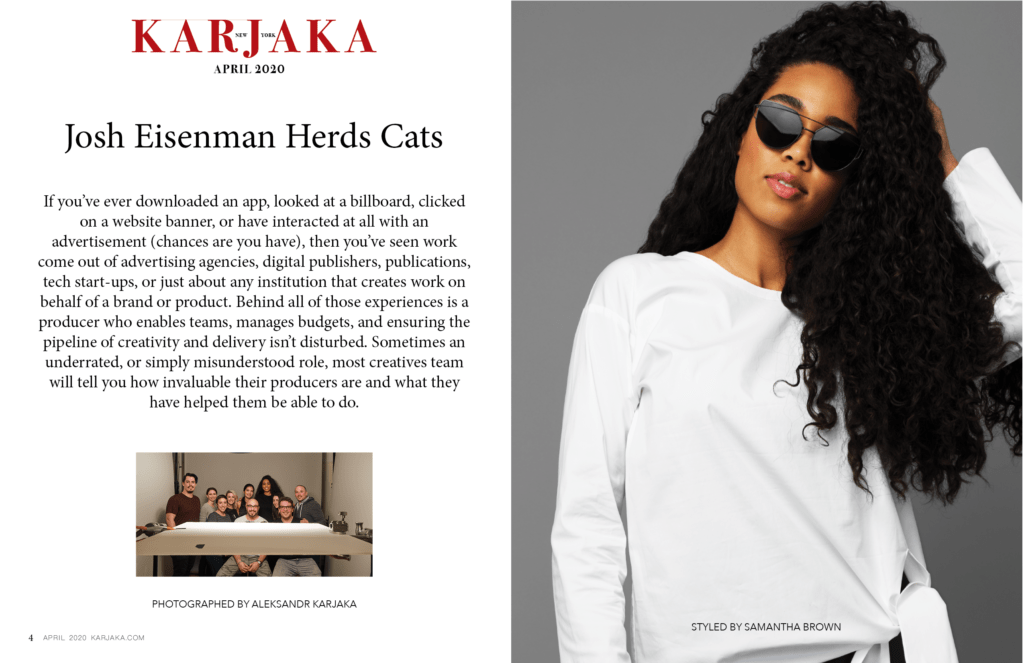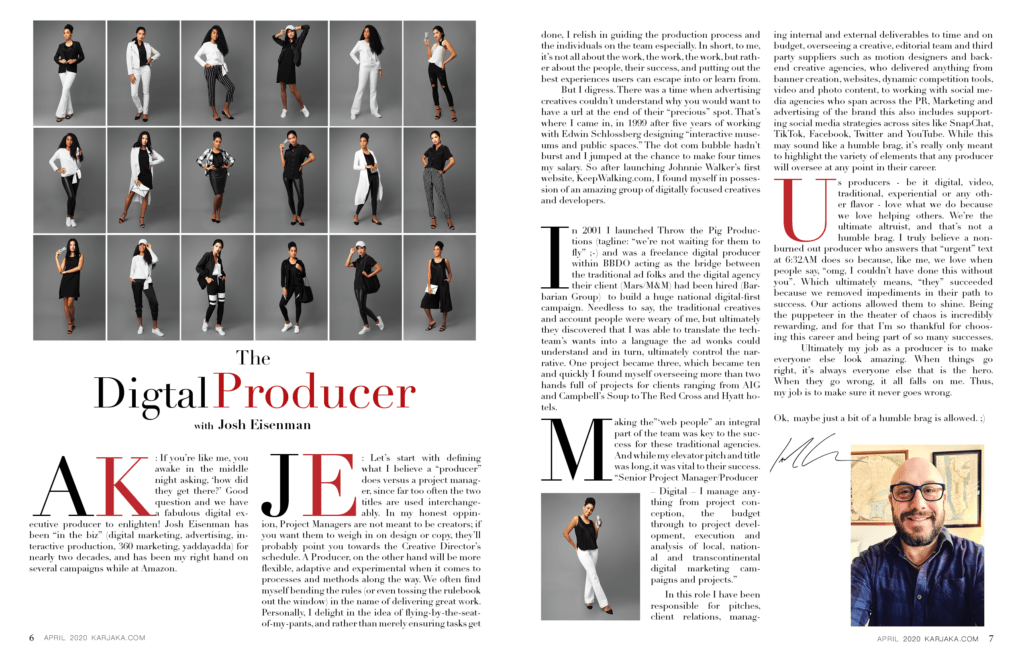 AK: If you're like me, you awake in the middle night asking, 'how did they get there?' Good question and we have a fabulous digital executive producer to enlighten! Josh Eisenman has been "in the biz" (digital marketing, advertising, interactive production, 360 marketing, yaddayadda) for nearly two decades, and has been my right hand on several campaigns while at Amazon.
JE: Let's start with defining what I believe a "producer" does versus a project manager, since far too often the two titles are used interchangeably. In my honest opinion, Project Managers are not meant to be creators; if you want them to weigh in on design or copy, they'll probably point you towards the Creative Director's schedule. A Producer, on the other hand will be more flexible, adaptive and experimental when it comes to processes and methods along the way. We often find ourselves bending the rules (or even tossing the rulebook out the window) in the name of delivering great work. Personally, I delight in the idea of flying-by-the-seat-of-my-pants, and rather than merely ensuring tasks get done, I relish in guiding the production process and the individuals on the team especially. In short, to me, it's not all about the work, the work, the work, but rather about the people, their success, and putting out the best experiences users can escape into or learn from.
But I digress. There was a time when advertising creatives couldn't understand why you would want to have a url at the end of their "precious" spot. That's where I came in, in 1999 after five years of working with Edwin Schlossberg designing "interactive museums and public spaces." The dot com bubble hadn't burst and I jumped at the chance to make four times my salary. So after launching Johnnie Walker's first website, KeepWalking.com, I found myself in possession of an amazing group of digitally focused creatives and developers.
In 2001 I launched Throw the Pig Productions (tagline: "we're not waiting for them to fly" 😉 and was a freelance digital producer within BBDO acting as the bridge between the traditional ad folks and the digital agency their client (Mars/M&M) had been hired (Barbarian Group) to build a huge national digital-first campaign. Needless to say, the traditional creatives and account people were weary of me, but ultimately they discovered that I was able to translate the tech-team's wants into a language the ad wonks could understand and in turn, ultimately control the narrative. One project became three, which became ten and quickly I found myself overseeing more than two hands full of projects for clients ranging from AIG and Campbell's Soup to The Red Cross and Hyatt hotels.
Making the"'web people" an integral part of the team was key to the success for these traditional agencies. And while my elevator pitch and title was long, it was vital to their success. "Senior Project Manager/Producer – Digital – I manage anything from project conception, the budget through to project development, execution and analysis of local, national and transcontinental digital marketing campaigns and projects."
In this role I have been responsible for pitches, client relations, managing internal and external deliverables to time and on budget, overseeing a creative, editorial team and third party suppliers such as motion designers and backend creative agencies, who delivered anything from banner creation, websites, dynamic competition tools, video and photo content, to working with social media agencies who span across the PR, Marketing and advertising of the brand this also includes supporting social media strategies across sites like SnapChat, TikTok, Facebook, Twitter and YouTube. While this may sound like a humble brag, it's really only meant to highlight the variety of elements that any producer will oversee at any point in their career.
Us producers – be it digital, video, traditional, experiential or any other flavor – love what we do because we love helping others. We're the ultimate altruist, and that's not a humble brag. I truly believe a non-burned out producer who answers that "urgent" text at 6:32AM does so because, like me, we love when people say, "omg, I couldn't have done this without you". Which ultimately means, "they" succeeded because we removed impediments in their path to success. Our actions allowed them to shine. Being the puppeteer in the theater of chaos is incredibly rewarding, and for that I'm so thankful for choosing this career and being part of so many successes.
Ultimately my job as a producer is to make everyone else look amazing. When things go right, it's always everyone else that is the hero. When they go wrong, it all falls on me. Thus, my job is to make sure it never goes wrong.
Ok, maybe just a bit of a humble brag is allowed. 😉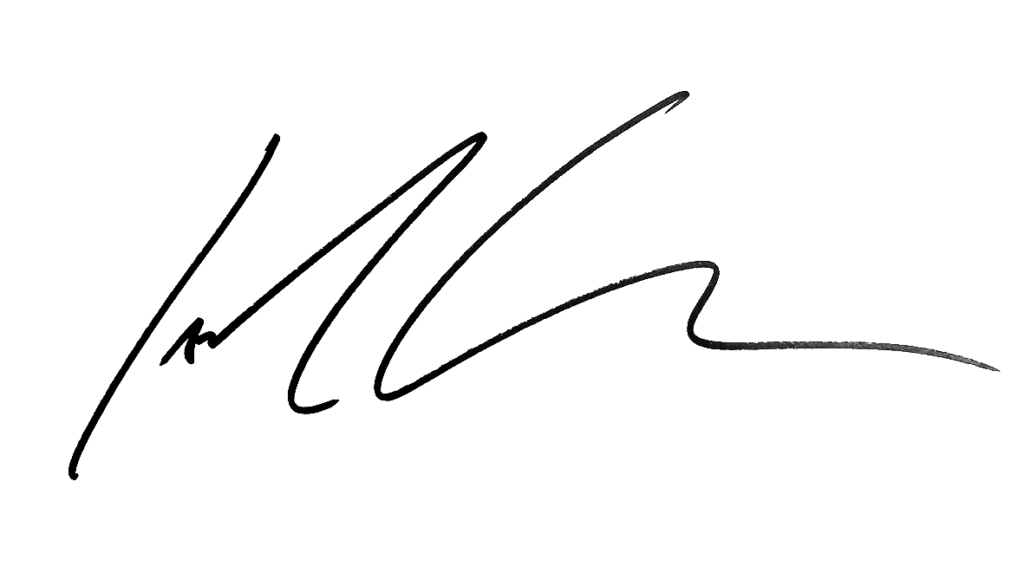 ---
Cutting It Close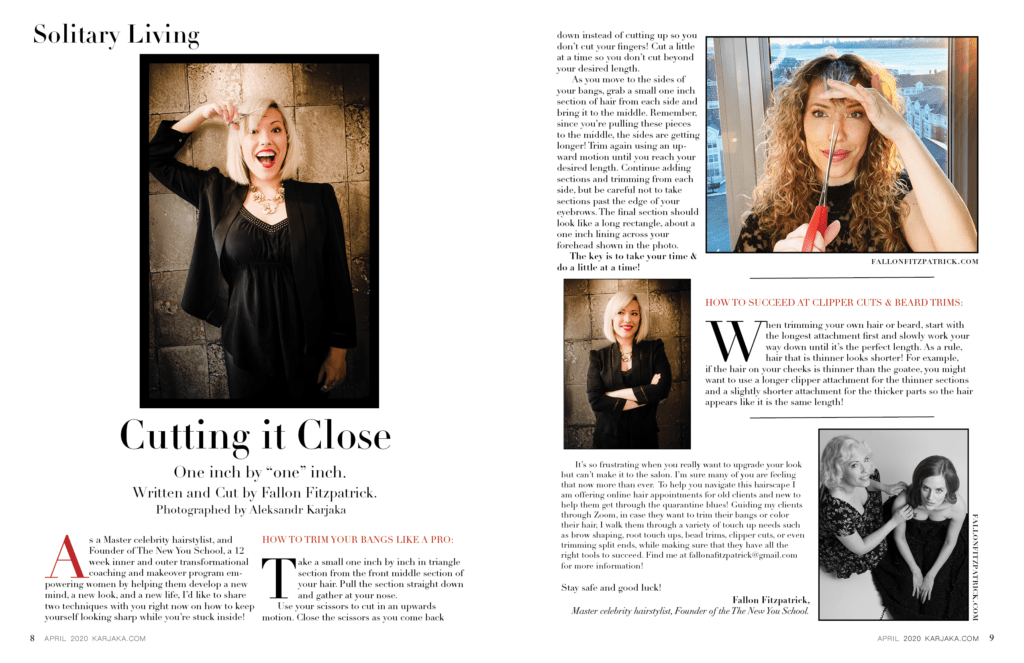 As a Master celebrity hairstylist, and Founder of The New You School, a 12 week inner and outer transformational coaching and makeover program empowering women by helping them develop a new mind, a new look, and a new life, I'd like to share two techniques with you right now on how to keep yourself looking sharp while you're stuck inside!
How to trim your bangs like a pro:
Take a small one inch by inch in triangle section from the front middle section of your hair. Pull the section straight down and gather at your nose.
Use your scissors to cut in an upwards motion. Close the scissors as you come back down instead of cutting up so you don't cut your fingers! Cut a little at a time so you don't cut beyond your desired length.
As you move to the sides of your bangs, grab a small one inch section of hair from each side and bring it to the middle. Remember, since you're pulling these pieces to the middle, the sides are getting longer! Trim again using an upward motion until you reach your desired length. Continue adding sections and trimming from each side, but be careful not to take sections past the edge of your eyebrows. The final section should look like a long rectangle, about a one inch lining across your forehead shown in the photo. The key is to take your time & do a little at a time!
How to succeed at clipper cuts & beard trims:
When trimming your own hair or beard, start with the longest attachment first and slowly work your way down until it's the perfect length. As a rule, hair that is thinner looks shorter! For example, if the hair on your cheeks is thinner than the goatee, you might want to use a longer clipper attachment for the thinner sections and a slightly shorter attachment for the thicker parts so the hair appears like it is the same length!
It's so frustrating when you really want to upgrade your look but can't make it to the salon. I'm sure many of you are feeling that now more than ever. To help you navigate this hairscape I am offering online hair appointments for old clients and new to help them get through the quarantine blues! Guiding my clients through Zoom, in case they want to trim their bangs or color their hair, I walk them through a variety of touch up needs such as brow shaping, root touch ups, bead trims, clipper cuts, or even trimming split ends, while making sure that they have all the right tools to succeed. Find me at fallonafitzpatr[email protected] & Fallonfitzpatrick.com for more information!

Stay safe and good luck!