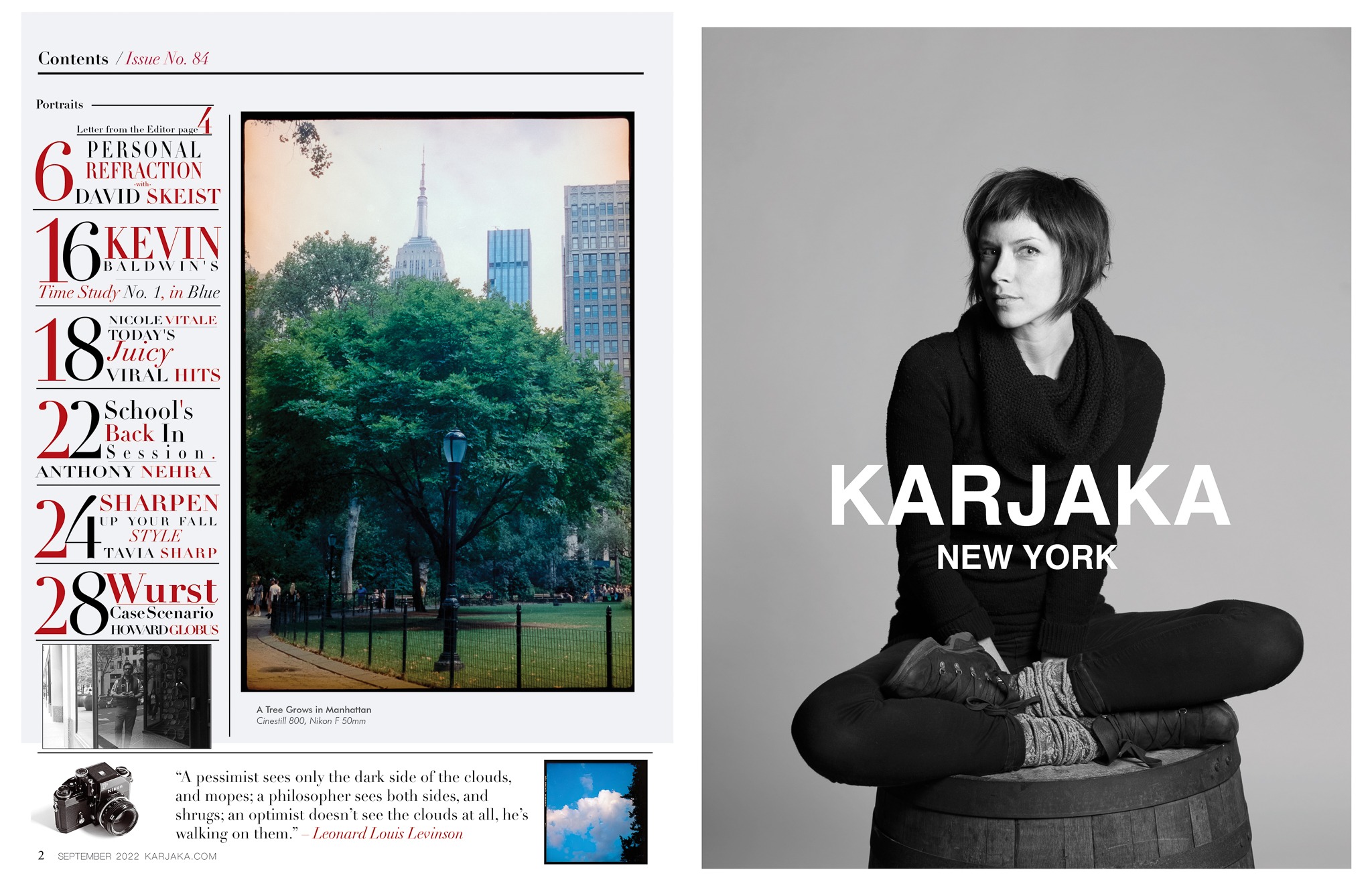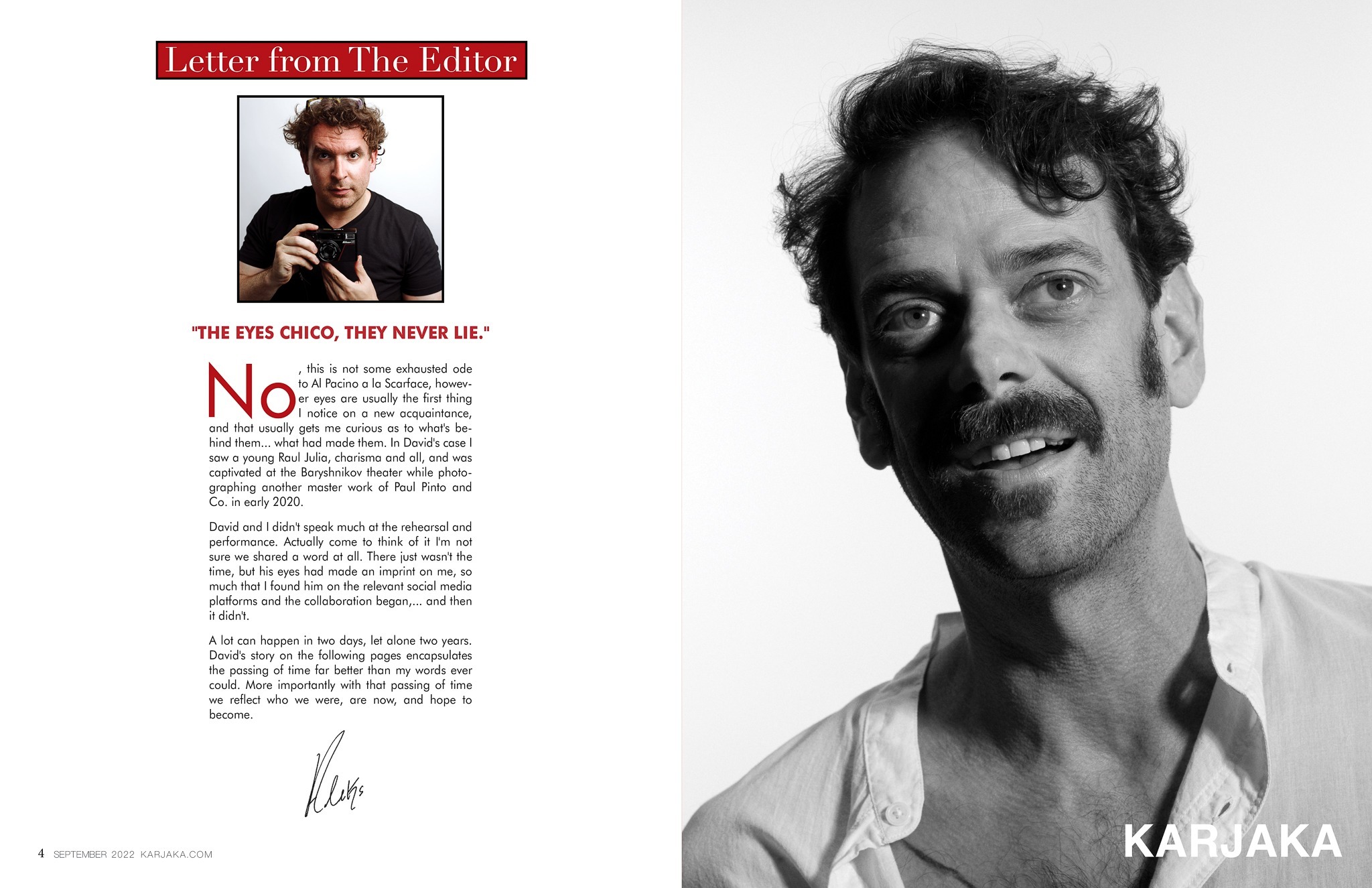 LETTER FROM THE EDITOR
No, this is not some exhausted ode to Al Pacino a la Scarface, however eyes are usually the first thing I notice on a new acquaintance, and that usually gets me curious as to what's behind them… what had made them. In David's case I saw a young Raul Julia, charisma and all, and was captivated at the Baryshnikov theater while photographing another master work of Paul Pinto and Co. in early 2020.
David and I didn't speak much at the rehearsal and performance. Actually come to think of it I'm not sure we shared a word at all. There just wasn't the time, but his eyes had made an imprint on me, so much that I found him on the relevant social media platforms and the collaboration began,… and then it didn't.
A lot can happen in two days, let alone two years. David's story on the following pages encapsulates the passing of time far better than my words ever could. More importantly with that passing of time we reflect who we were, are now, and hope to become.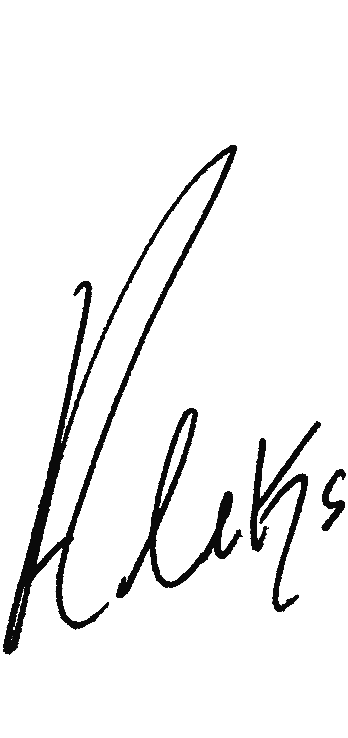 Personal Refraction with David Skeist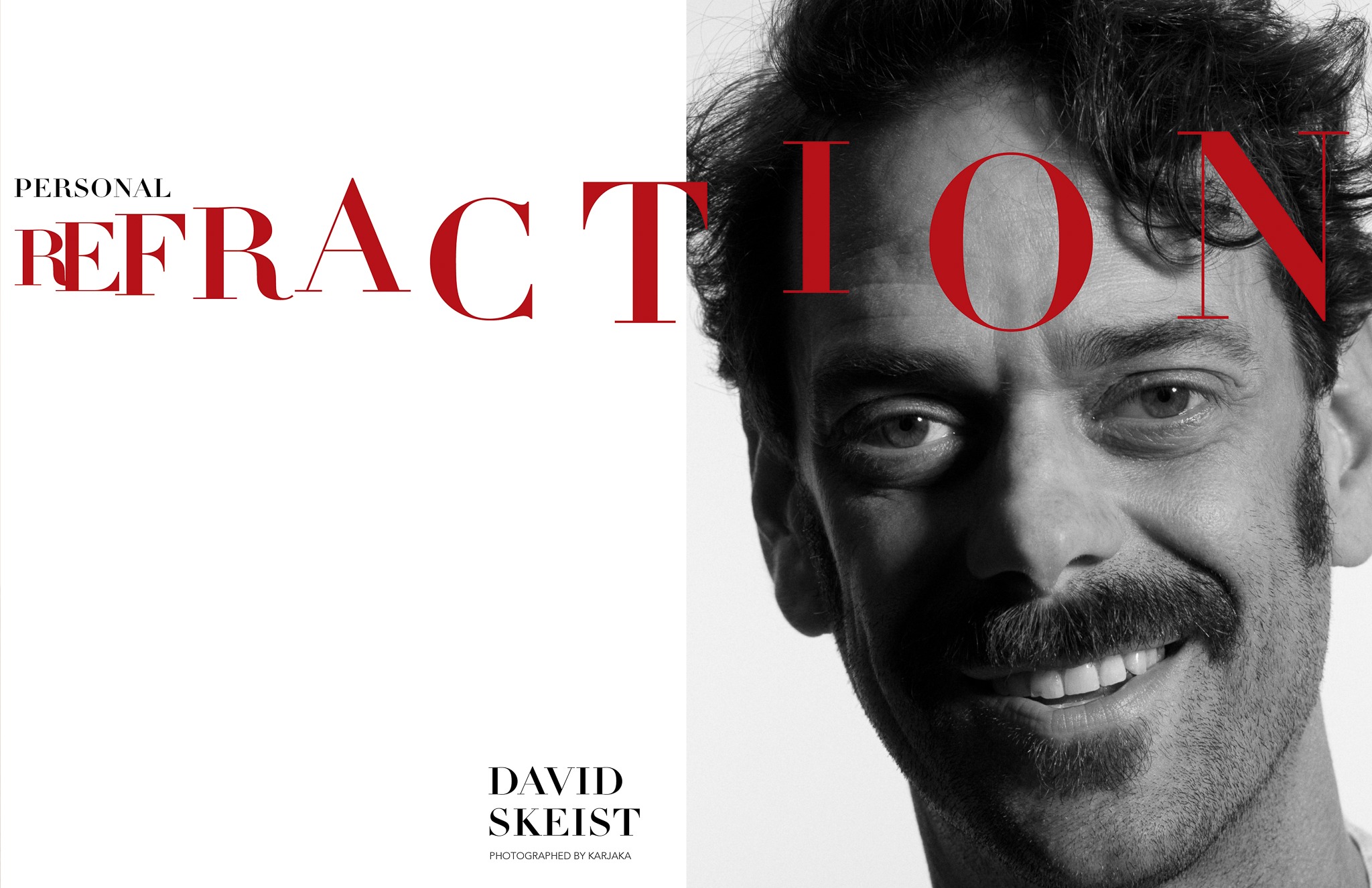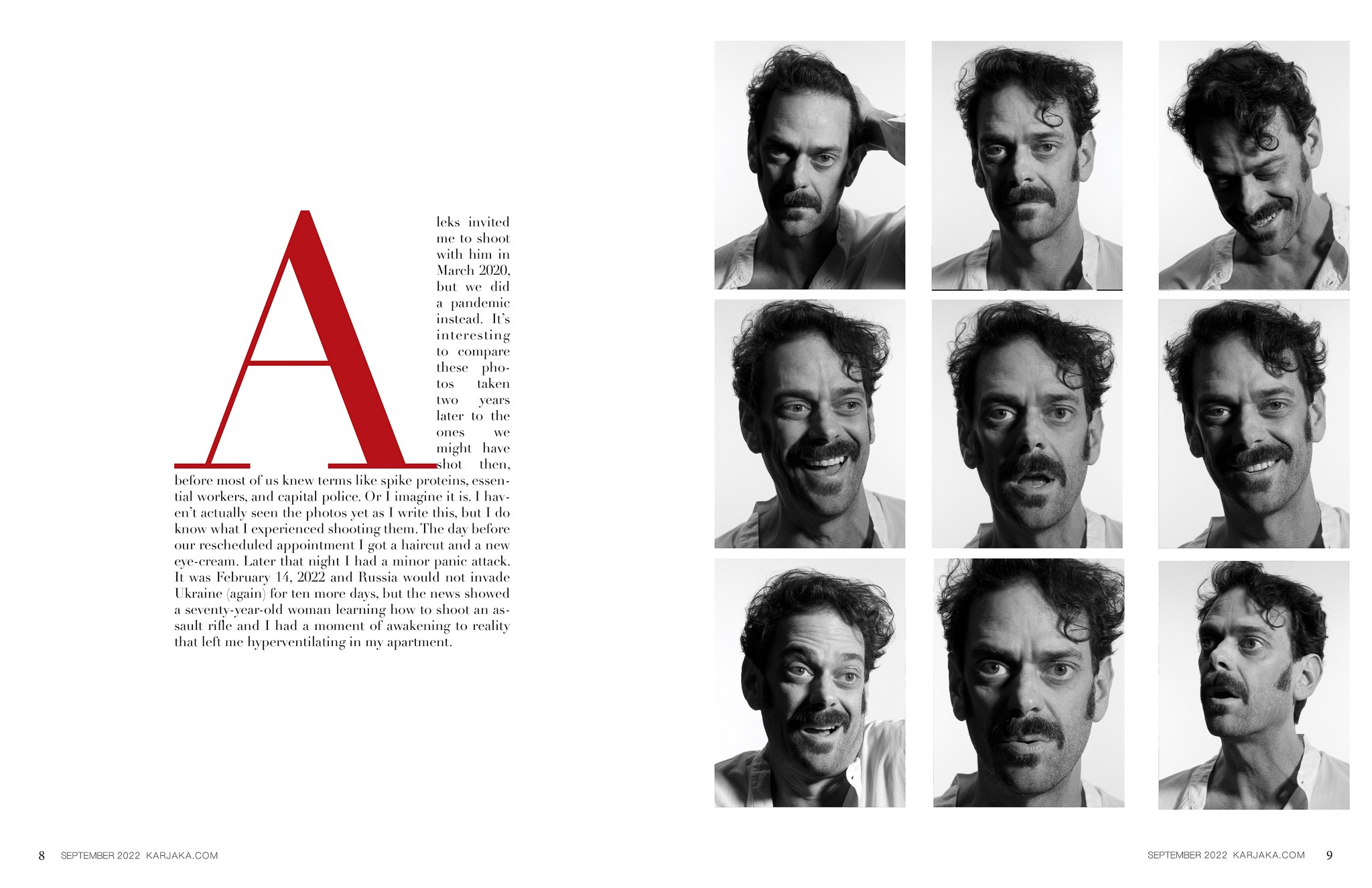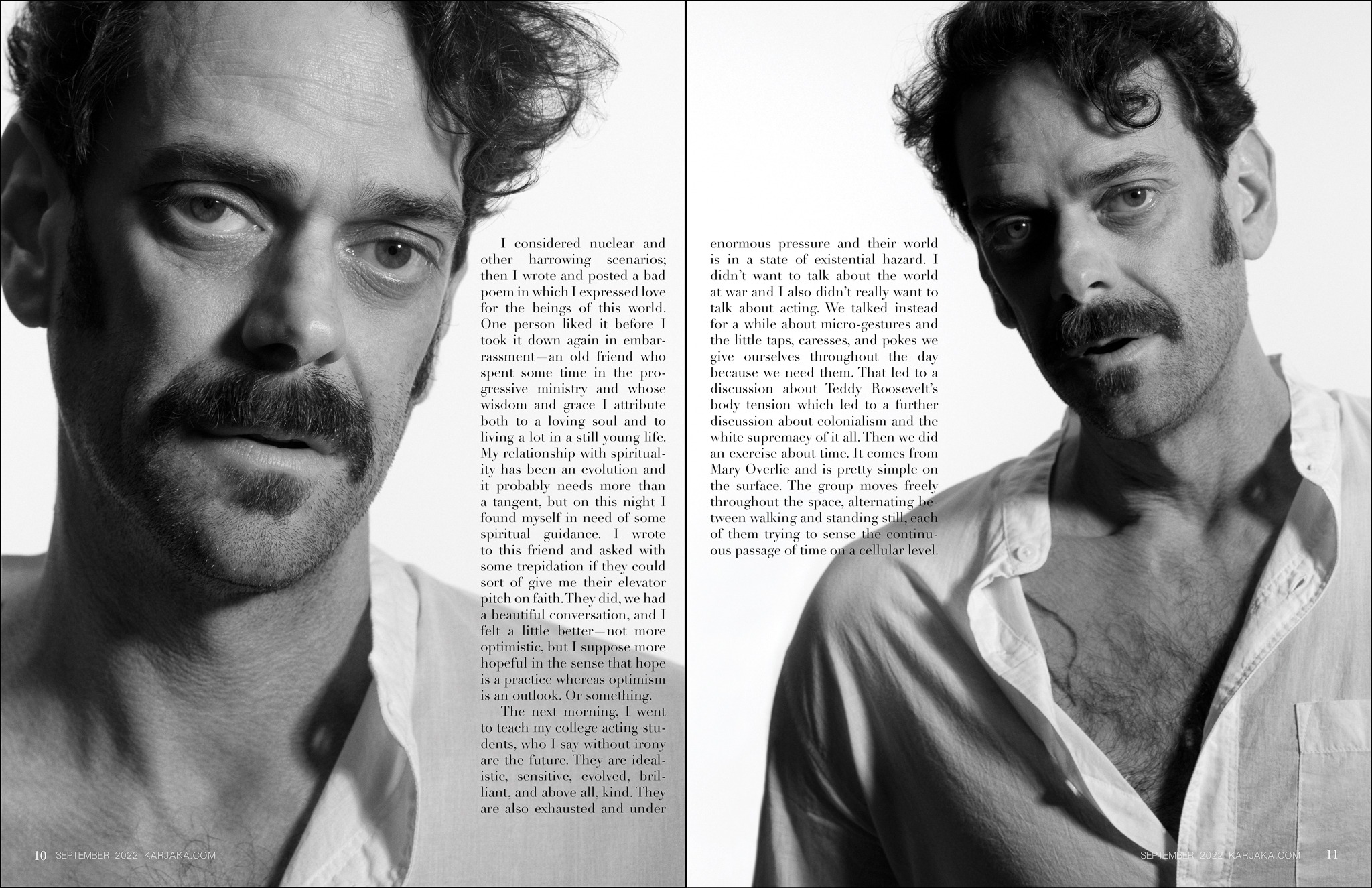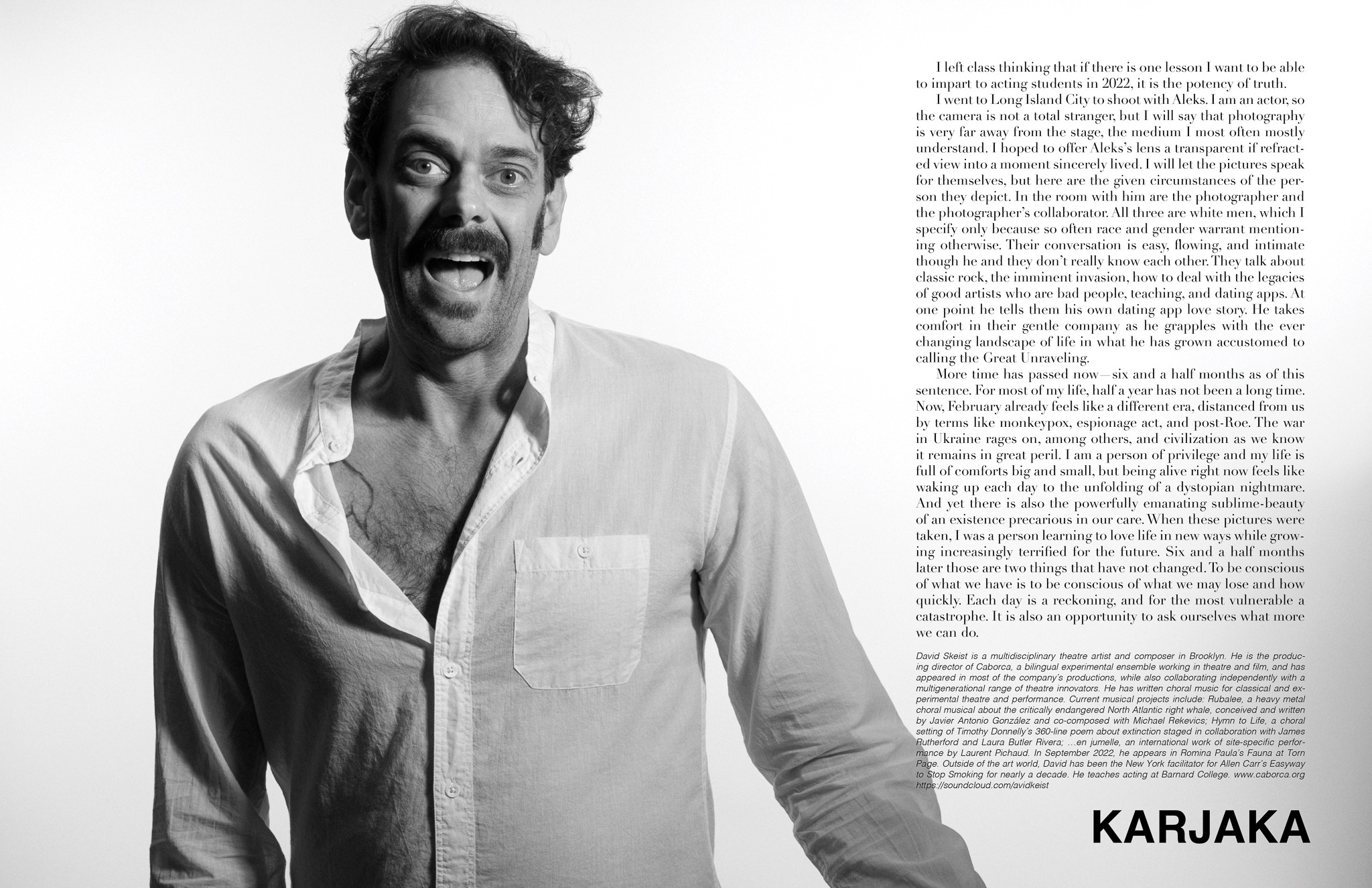 Aleks invited me to shoot with him in March 2020, but we did a pandemic instead. It's interesting to compare these photos taken two years later to the ones we might have shot then, before most of us knew terms like spike proteins, essential workers, and capital police. Or I imagine it is. I haven't actually seen the photos yet as I write this, but I do know what I experienced shooting them. The day before our rescheduled appointment I got a haircut and a new eye-cream. Later that night I had a minor panic attack. It was February 14, 2022 and Russia would not invade Ukraine (again) for ten more days, but the news showed a seventy-year-old woman learning how to shoot an assault rifle and I had a moment of awakening to reality that left me hyperventilating in my apartment.
I considered nuclear and other harrowing scenarios; then I wrote and posted a bad poem in which I expressed love for the beings of this world. One person liked it before I took it down again in embarrassment—an old friend who spent some time in the progressive ministry and whose wisdom and grace I attribute both to a loving soul and to living a lot in a still young life. My relationship with spirituality has been an evolution and it probably needs more than a tangent, but on this night I found myself in need of some spiritual guidance. I wrote to this friend and asked with some trepidation if they could sort of give me their elevator pitch on faith. They did, we had a beautiful conversation, and I felt a little better—not more optimistic, but I suppose more hopeful in the sense that hope is a practice whereas optimism is an outlook. Or something.
The next morning, I went to teach my college acting students, who I say without irony are the future. They are idealistic, sensitive, evolved, brilliant, and above all, kind. They are also exhausted and under enormous pressure and their world is in a state of existential hazard. I didn't want to talk about the world at war and I also didn't really want to talk about acting. We talked instead for a while about micro-gestures and the little taps, caresses, and pokes we give ourselves throughout the day because we need them. That led to a discussion about Teddy Roosevelt's body tension which led to a further discussion about colonialism and the white supremacy of it all. Then we did an exercise about time. It comes from Mary Overlie and is pretty simple on the surface. The group moves freely throughout the space, alternating between walking and standing still, each of them trying to sense the continuous passage of time on a cellular level. I left class thinking that if there is one lesson I want to be able to impart to acting students in 2022, it is the potency of truth.

I went to Long Island City to shoot with Aleks. I am an actor, so the camera is not a total stranger, but I will say that photography is very far away from the stage, the medium I most often mostly understand. I hoped to offer Aleks's lens a transparent if refracted view into a moment sincerely lived. I will let the pictures speak for themselves, but here are the given circumstances of the person they depict. In the room with him are the photographer and the photographer's collaborator. All three are white men, which I specify only because so often race and gender warrant mentioning otherwise. Their conversation is easy, flowing, and intimate though he and they don't really know each other. They talk about classic rock, the imminent invasion, how to deal with the legacies of good artists who are bad people, teaching, and dating apps. At one point he tells them his own dating app love story. He takes comfort in their gentle company as he grapples with the ever changing landscape of life in what he has grown accustomed to calling the Great Unraveling.
More time has passed now—six and a half months as of this sentence. For most of my life, half a year has not been a long time. Now, February already feels like a different era, distanced from us by terms like monkeypox, espionage act, and post-Roe. The war in Ukraine rages on, among others, and civilization as we know it remains in great peril. I am a person of privilege and my life is full of comforts big and small, but being alive right now feels like waking up each day to the unfolding of a dystopian nightmare. And yet there is also the powerfully emanating sublime-beauty of an existence precarious in our care. When these pictures were taken, I was a person learning to love life in new ways while growing increasingly terrified for the future. Six and a half months later those are two things that have not changed. To be conscious of what we have is to be conscious of what we may lose and how quickly. Each day is a reckoning, and for the most vulnerable a catastrophe. It is also an opportunity to ask ourselves what more we can do.
---

David Skeist is a multidisciplinary theatre artist and composer in Brooklyn. He is the producing director of Caborca, a bilingual experimental ensemble working in theatre and film, and has appeared in most of the company's productions, while also collaborating independently with a multigenerational range of theatre innovators. He has written choral music for classical and experimental theatre and performance. Current musical projects include: Rubalee, a heavy metal choral musical about the critically endangered North Atlantic right whale, conceived and written by Javier Antonio González and co-composed with Michael Rekevics; Hymn to Life, a choral setting of Timothy Donnelly's 360-line poem about extinction staged in collaboration with James Rutherford and Laura Butler Rivera; …en jumelle, an international work of site-specific performance by Laurent Pichaud. In September 2022, he appears in Romina Paula's Fauna at Torn Page. Outside of the art world, David has been the New York facilitator for Allen Carr's Easyway to Stop Smoking for nearly a decade. He teaches acting at Barnard College. www.caborca.org https://soundcloud.com/avidkeist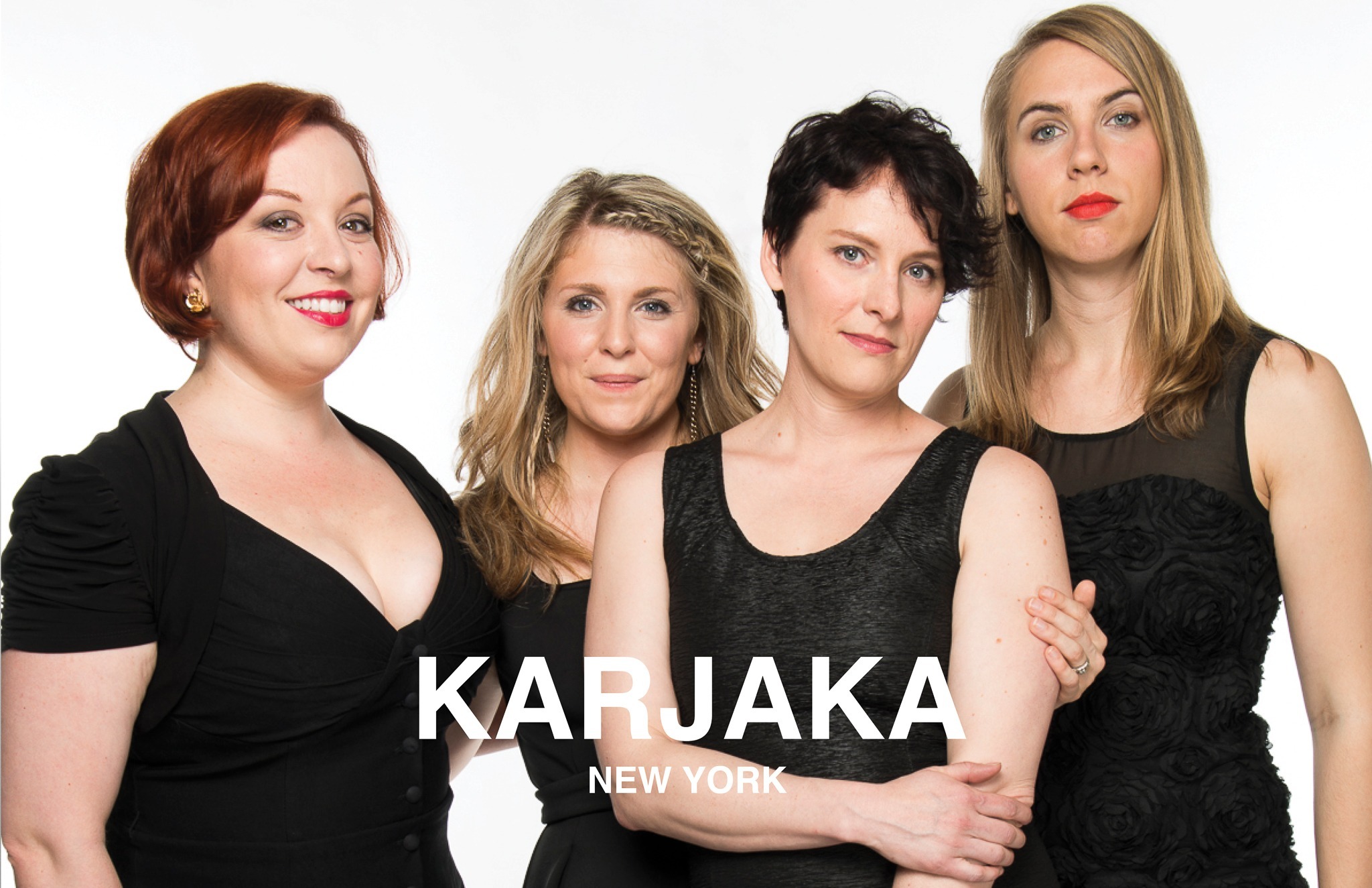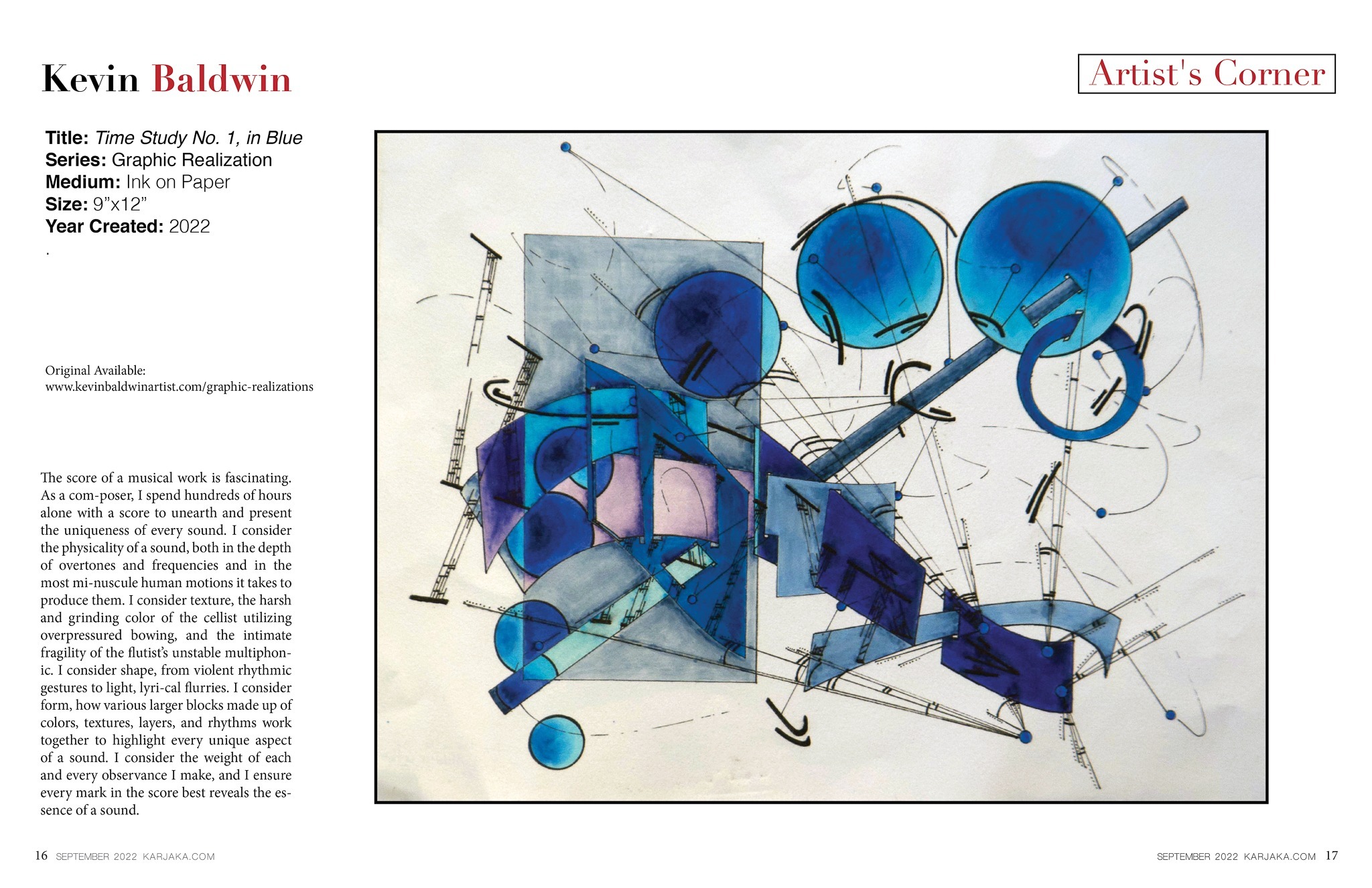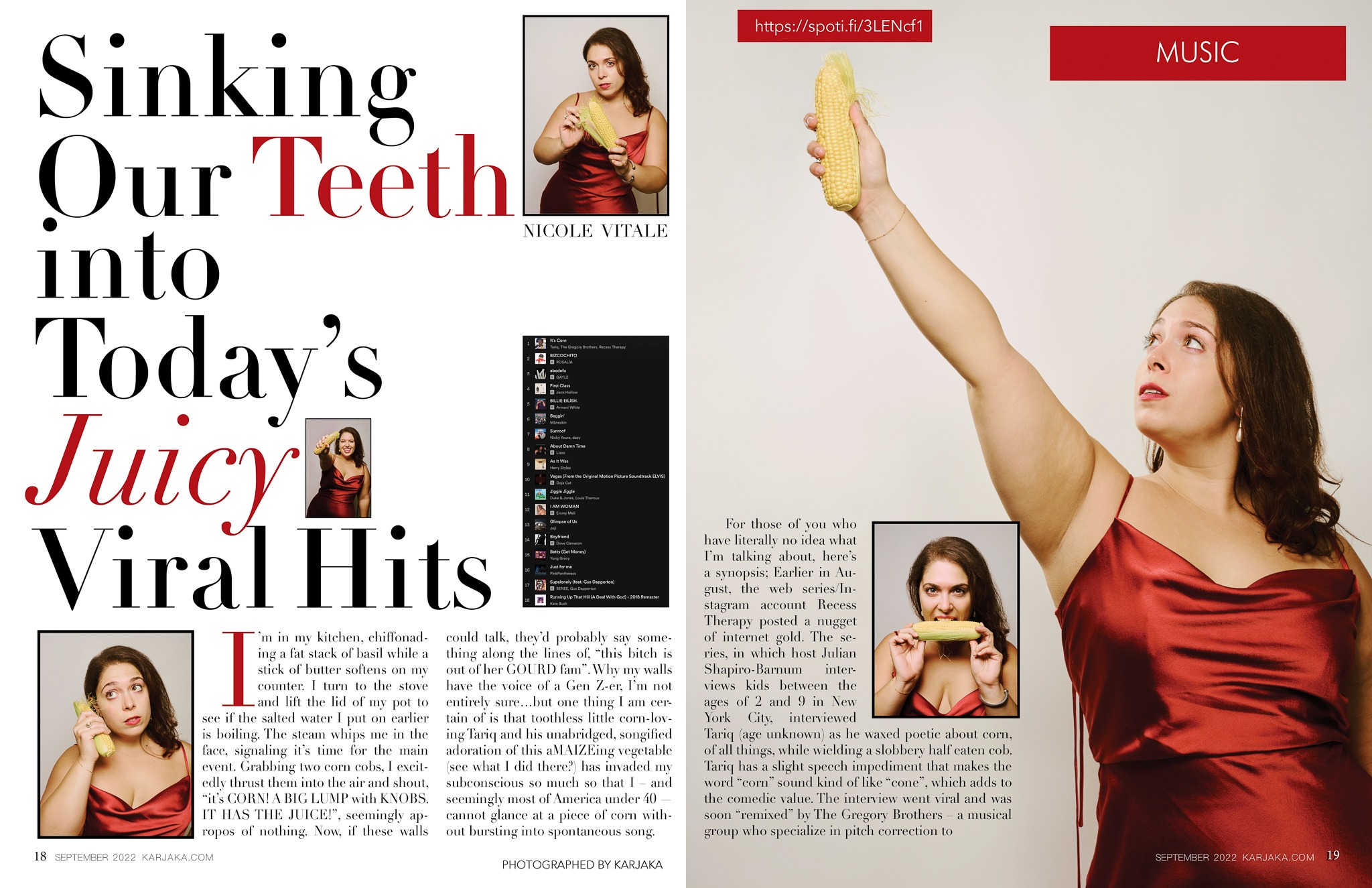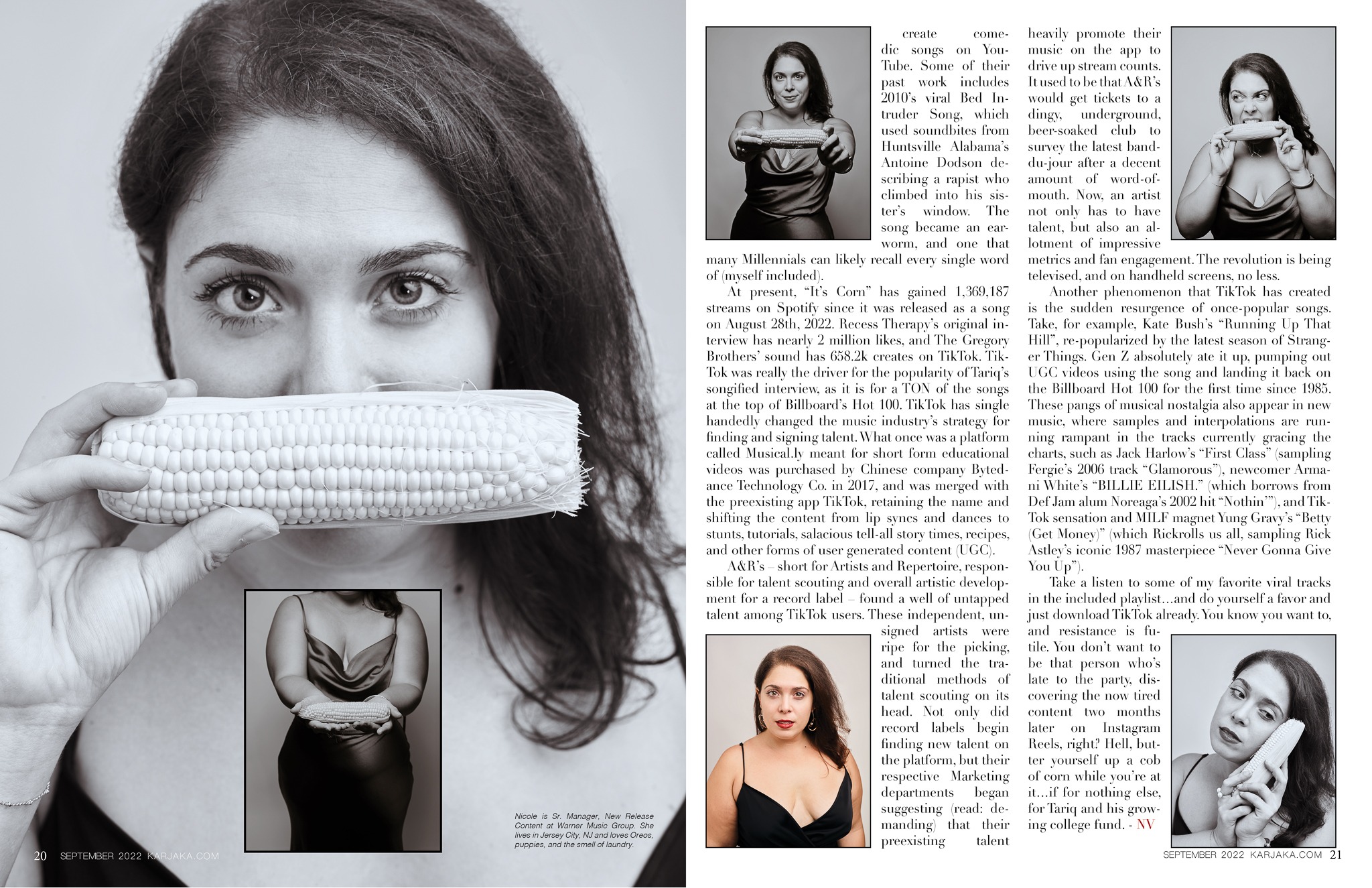 I'm in my kitchen, chiffonading a fat stack of basil while a stick of butter softens on my counter. I turn to the stove and lift the lid of my pot to see if the salted water I put on earlier is boiling. The steam whips me in the face, signaling it's time for the main event. Grabbing two corn cobs, I excitedly thrust them into the air and shout, "it's CORN! A BIG LUMP with KNOBS. IT HAS THE JUICE!", seemingly apropos of nothing. Now, if these walls could talk, they'd probably say something along the lines of, "this bitch is out of her GOURD fam". Why my walls have the voice of a Gen Z-er, I'm not entirely sure…but one thing I am certain of is that toothless little corn-loving Tariq and his unabridged, songified adoration of this aMAIZEing vegetable (see what I did there?) has invaded my subconscious so much so that I – and seemingly most of America under 40 — cannot glance at a piece of corn without bursting into spontaneous song.
For those of you who have literally no idea what I'm talking about, here's a synopsis; Earlier in August, the web series/Instagram account Recess Therapy posted a nugget of internet gold. The series, in which host Julian Shapiro-Barnum interviews kids between the ages of 2 and 9 in New York City, interviewed Tariq (age unknown) as he waxed poetic about corn, of all things, while wielding a slobbery half eaten cob. Tariq has a slight speech impediment that makes the word "corn" sound kind of like "cone", which adds to the comedic value. The interview went viral and was soon "remixed" by The Gregory Brothers – a musical group who specialize in pitch correction to create comedic songs on YouTube. Some of their past work includes 2010's viral Bed Intruder Song, which used soundbites from Huntsville Alabama's Antoine Dodson describing a rapist who climbed into his sister's window. The song became an ear-worm, and one that many Millennials can likely recall every single word of (myself included).
At present, "It's Corn" has gained 1,369,187 streams on Spotify since it was released as a song on August 28th, 2022. Recess Therapy's original interview has nearly 2 million likes, and The Gregory Brothers' sound has 658.2k creates on TikTok. TikTok was really the driver for the popularity of Tariq's songified interview, as it is for a TON of the songs at the top of Billboard's Hot 100. TikTok has single handedly changed the music industry's strategy for finding and signing talent. What once was a platform called Musical.ly meant for short form educational videos was purchased by Chinese company Bytedance Technology Co. in 2017, and was merged with the preexisting app TikTok, retaining the name and shifting the content from lip syncs and dances to stunts, tutorials, salacious tell-all story times, recipes, and other forms of user generated content (UGC).
A&R's – short for Artists and Repertoire, responsible for talent scouting and overall artistic development for a record label – found a well of untapped talent among TikTok users. These independent, unsigned artists were ripe for the picking, and turned the traditional methods of talent scouting on its head. Not only did record labels begin finding new talent on the platform, but their respective Marketing departments began suggesting (read: demanding) that their preexisting talent heavily promote their music on the app to drive up stream counts. It used to be that A&R's would get tickets to a dingy, underground, beer-soaked club to survey the latest band-du-jour after a decent amount of word-of-mouth. Now, an artist not only has to have talent, but also an allotment of impressive metrics and fan engagement. The revolution is being televised, and on handheld screens, no less.
Another phenomenon that TikTok has created is the sudden resurgence of once-popular songs. Take, for example, Kate Bush's "Running Up That Hill", re-popularized by the latest season of Stranger Things. Gen Z absolutely ate it up, pumping out UGC videos using the song and landing it back on the Billboard Hot 100 for the first time since 1985. These pangs of musical nostalgia also appear in new music, where samples and interpolations are running rampant in the tracks currently gracing the charts, such as Jack Harlow's "First Class" (sampling Fergie's 2006 track "Glamorous"), newcomer Armani White's "BILLIE EILISH." (which borrows from Def Jam alum Noreaga's 2002 hit "Nothin'"), and TikTok sensation and MILF magnet Yung Gravy's "Betty (Get Money)" (which Rickrolls us all, sampling Rick Astley's iconic 1987 masterpiece "Never Gonna Give You Up").
Take a listen to some of my favorite viral tracks in the included playlist…and do yourself a favor and just download TikTok already. You know you want to, and resistance is futile. You don't want to be that person who's late to the party, discovering the now tired content two months later on Instagram Reels, right? Hell, butter yourself up a cob of corn while you're at it…if for nothing else, for Tariq and his growing college fund.
Nicole is Sr. Manager, New Release Content at Warner Music Group. She lives in Jersey City, NJ and loves Oreos, puppies, and the smell of laundry.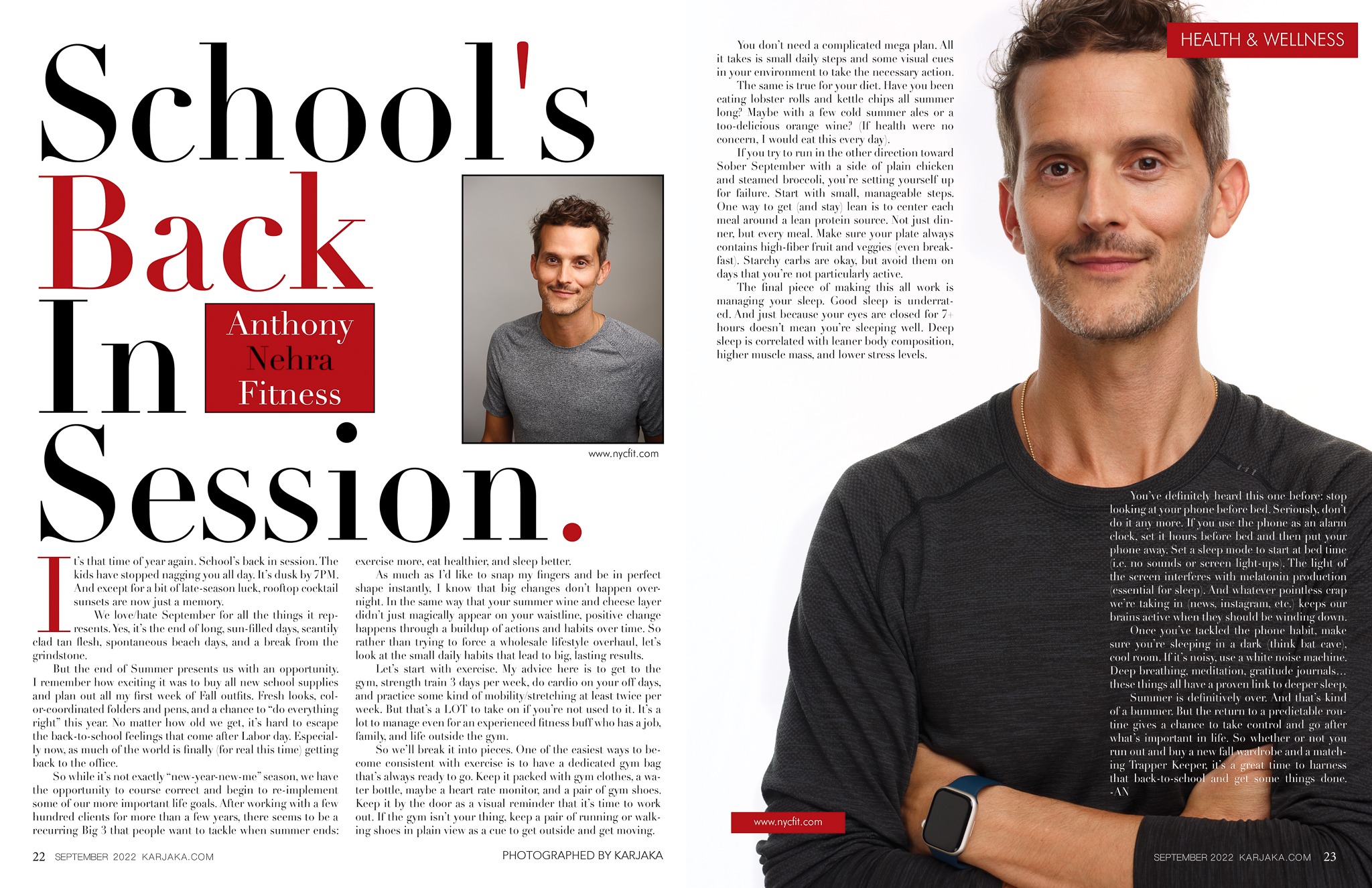 It's that time of year again. School's back in session. The kids have stopped nagging you all day. It's dusk by 7PM. And except for a bit of late-season luck, rooftop cocktail sunsets are now just a memory.
We love/hate September for all the things it represents. Yes, it's the end of long, sun-filled days, scantily clad tan flesh, spontaneous beach days, and a break from the grindstone.
But the end of Summer presents us with an opportunity. I remember how exciting it was to buy all new school supplies and plan out all my first week of Fall outfits. Fresh looks, color-coordinated folders and pens, and a chance to "do everything right" this year. No matter how old we get, it's hard to escape the back-to-school feelings that come after Labor day. Especially now, as much of the world is finally (for real this time) getting back to the office.
So while it's not exactly "new-year-new-me" season, we have the opportunity to course correct and begin to re-implement some of our more important life goals. After working with a few hundred clients for more than a few years, there seems to be a recurring Big 3 that people want to tackle when summer ends: exercise more, eat healthier, and sleep better.
As much as I'd like to snap my fingers and be in perfect shape instantly, I know that big changes don't happen overnight. In the same way that your summer wine and cheese layer didn't just magically appear on your waistline, positive change happens through a buildup of actions and habits over time. So rather than trying to force a wholesale lifestyle overhaul, let's look at the small daily habits that lead to big, lasting results.
Let's start with exercise. My advice here is to get to the gym, strength train 3 days per week, do cardio on your off days, and practice some kind of mobility/stretching at least twice per week. But that's a LOT to take on if you're not used to it. It's a lot to manage even for an experienced fitness buff who has a job, family, and life outside the gym.
So we'll break it into pieces. One of the easiest ways to become consistent with exercise is to have a dedicated gym bag that's always ready to go. Keep it packed with gym clothes, a water bottle, maybe a heart rate monitor, and a pair of gym shoes. Keep it by the door as a visual reminder that it's time to work out. If the gym isn't your thing, keep a pair of running or walking shoes in plain view as a cue to get outside and get moving.
You don't need a complicated mega plan. All it takes is small daily steps and some visual cues in your environment to take the necessary action.
The same is true for your diet. Have you been eating lobster rolls and kettle chips all summer long? Maybe with a few cold summer ales or a too-delicious orange wine? (If health were no concern, I would eat this every day).
If you try to run in the other direction toward Sober September with a side of plain chicken and steamed broccoli, you're setting yourself up for failure. Start with small, manageable steps. One way to get (and stay) lean is to center each meal around a lean protein source. Not just dinner, but every meal. Make sure your plate always contains high-fiber fruit and veggies (even breakfast). Starchy carbs are okay, but avoid them on days that you're not particularly active.
The final piece of making this all work is managing your sleep. Good sleep is underrated. And just because your eyes are closed for 7+ hours doesn't mean you're sleeping well. Deep sleep is correlated with leaner body composition, higher muscle mass, and lower stress levels.
You've definitely heard this one before: stop looking at your phone before bed. Seriously, don't do it any more. If you use the phone as an alarm clock, set it hours before bed and then put your phone away. Set a sleep mode to start at bed time (i.e. no sounds or screen light-ups). The light of the screen interferes with melatonin production (essential for sleep). And whatever pointless crap we're taking in (news, instagram, etc.) keeps our brains active when they should be winding down.
Once you've tackled the phone habit, make sure you're sleeping in a dark (think bat cave), cool room. If it's noisy, use a white noise machine. Deep breathing, meditation, gratitude journals…these things all have a proven link to deeper sleep.
Summer is definitively over. And that's kind of a bummer. But the return to a predictable routine gives a chance to take control and go after what's important in life. So whether or not you run out and buy a new fall wardrobe and a matching Trapper Keeper, it's a great time to harness that back-to-school and get some things done.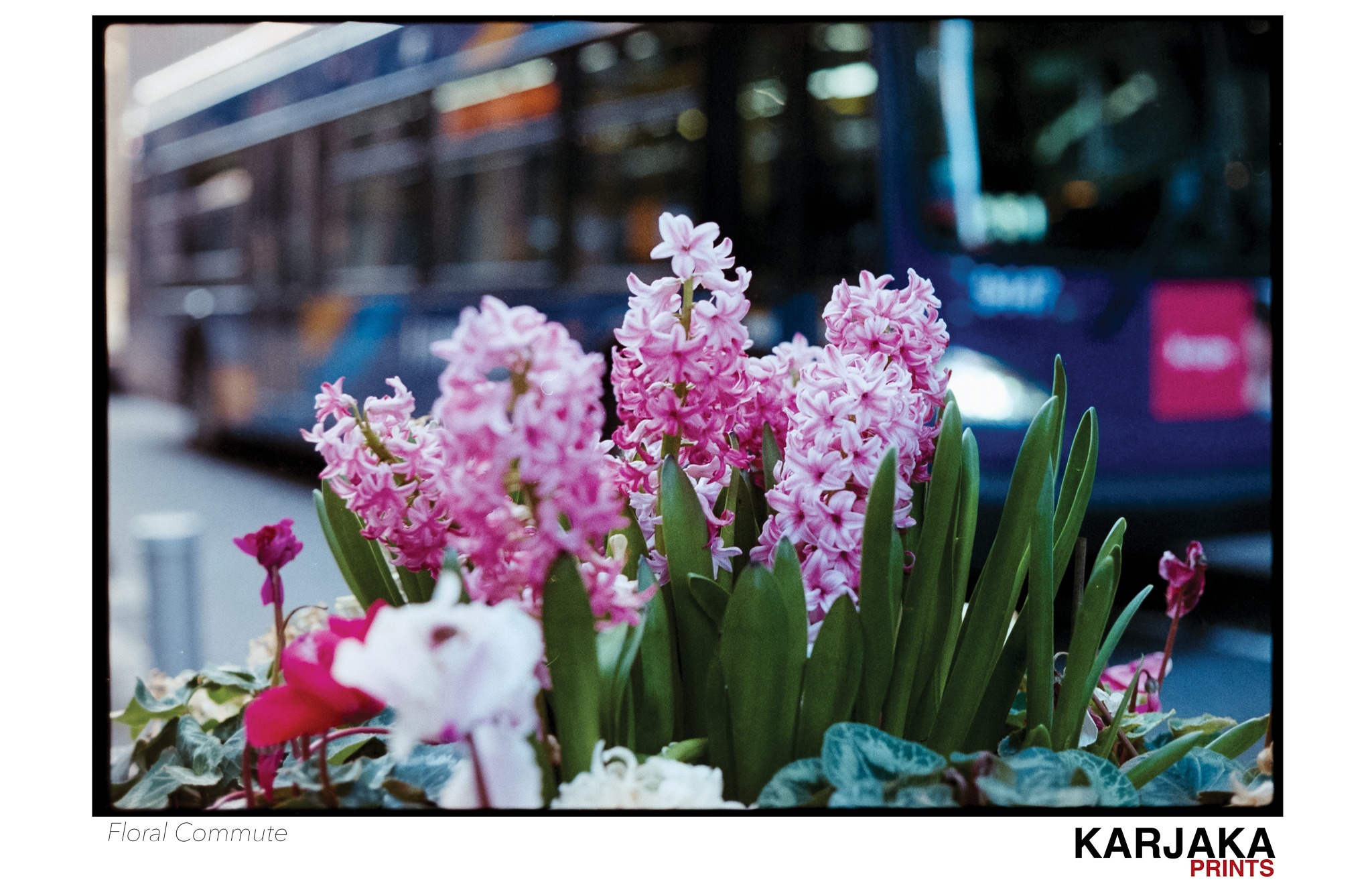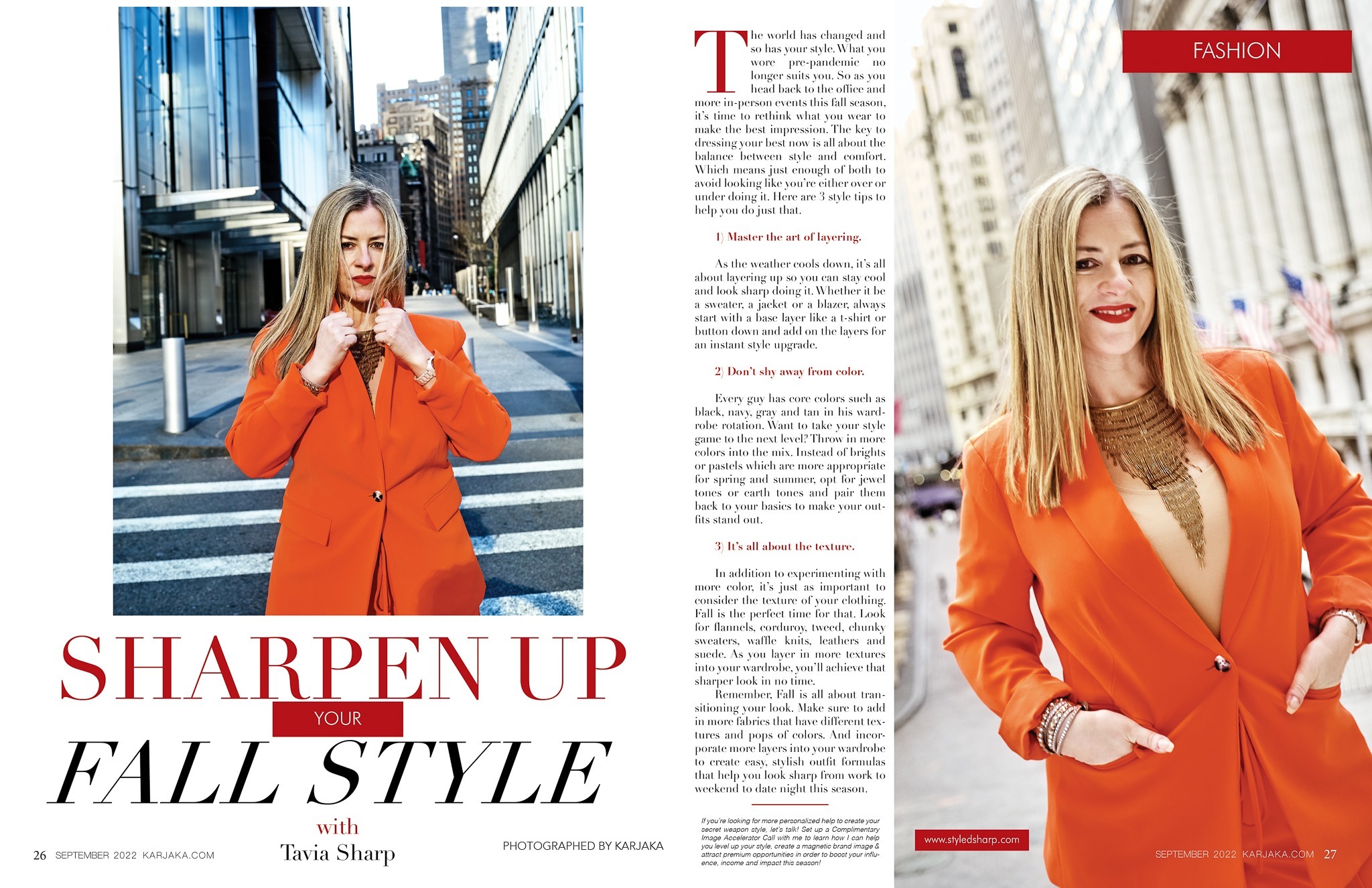 The world has changed and so has your style. What you wore pre-pandemic no longer suits you. So as you head back to the office and more in-person events this fall season, it's time to rethink what you wear to make the best impression. The key to dressing your best now is all about the balance between style and comfort. Which means just enough of both to avoid looking like you're either over or under doing it. Here are 3 style tips to help you do just that.
1) Master the art of layering.
As the weather cools down, it's all about layering up so you can stay cool and look sharp doing it. Whether it be a sweater, a jacket or a blazer, always start with a base layer like a t-shirt or button down and add on the layers for an instant style upgrade.
2) Don't shy away from color.
Every guy has core colors such as black, navy, gray and tan in his wardrobe rotation. Want to take your style game to the next level? Throw in more colors into the mix. Instead of brights or pastels which are more appropriate for spring and summer, opt for jewel tones or earth tones and pair them back to your basics to make your outfits stand out.
3) It's all about the texture.
In addition to experimenting with more color, it's just as important to consider the texture of your clothing. Fall is the perfect time for that. Look for flannels, corduroy, tweed, chunky sweaters, waffle knits, leathers and suede. As you layer in more textures into your wardrobe, you'll achieve that sharper look in no time.
Remember, Fall is all about transitioning your look. Make sure to add in more fabrics that have different textures and pops of colors. And incorporate more layers into your wardrobe to create easy, stylish outfit formulas that help you look sharp from work to weekend to date night this season.
---
If you're looking for more personalized help to create your secret weapon style, let's talk! Set up a Complimentary Image Accelerator Call with me to learn how I can help you level up your style, create a magnetic brand image & attract premium opportunities in order to boost your influence, income and impact this season!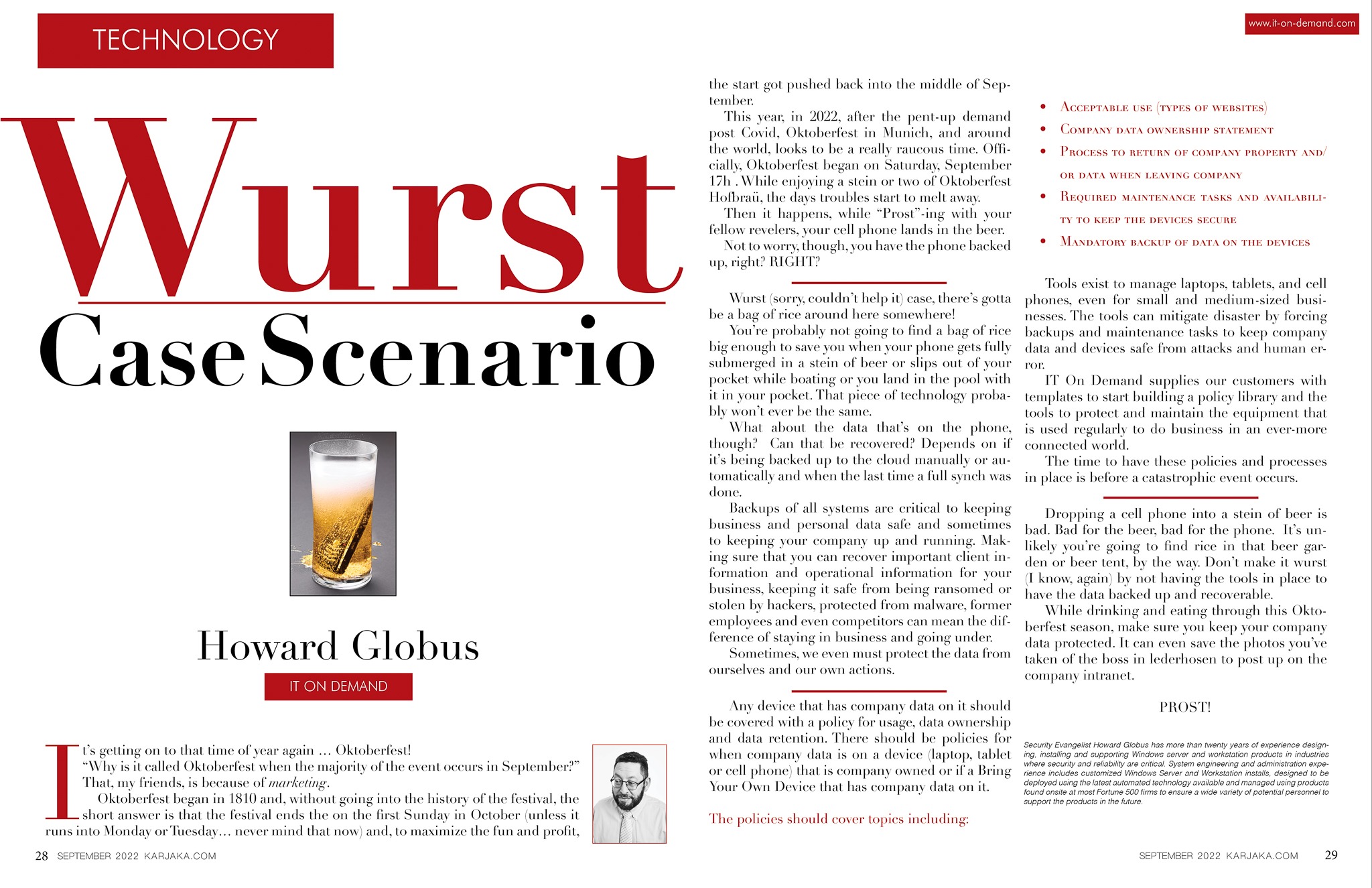 It's getting on to that time of year again … Oktoberfest!
"Why is it called Oktoberfest when the majority of the event occurs in September?"
That, my friends, is because of marketing.
Oktoberfest began in 1810 and, without going into the history of the festival, the short answer is that the festival ends the on the first Sunday in October (unless it runs into Monday or Tuesday… never mind that now) and, to maximize the fun and profit, the start got pushed back into the middle of September.
This year, in 2022, after the pent-up demand post Covid, Oktoberfest in Munich, and around the world, looks to be a really raucous time. Officially, Oktoberfest began on Saturday, September 17h . While enjoying a stein or two of Oktoberfest Hofbraü, the days troubles start to melt away.
Then it happens, while "Prost"-ing with your fellow revelers, your cell phone lands in the beer.
Not to worry, though, you have the phone backed up, right? RIGHT?
Wurst (sorry, couldn't help it) case, there's gotta be a bag of rice around here somewhere!
You're probably not going to find a bag of rice big enough to save you when your phone gets fully submerged in a stein of beer or slips out of your pocket while boating or you land in the pool with it in your pocket. That piece of technology probably won't ever be the same.
What about the data that's on the phone, though? Can that be recovered? Depends on if it's being backed up to the cloud manually or automatically and when the last time a full synch was done.
Backups of all systems are critical to keeping business and personal data safe and sometimes to keeping your company up and running. Making sure that you can recover important client information and operational information for your business, keeping it safe from being ransomed or stolen by hackers, protected from malware, former employees and even competitors can mean the difference of staying in business and going under.
Sometimes, we even must protect the data from ourselves and our own actions.
Any device that has company data on it should be covered with a policy for usage, data ownership and data retention. There should be policies for when company data is on a device (laptop, tablet or cell phone) that is company owned or if a Bring Your Own Device that has company data on it.
The policies should cover topics including:
Acceptable use (types of websites)
Company data ownership statement
Process to return of company property and/or data when leaving company
Required maintenance tasks and availability to keep the devices secure
Mandatory backup of data on the devices
Tools exist to manage laptops, tablets, and cell phones, even for small and medium-sized businesses. The tools can mitigate disaster by forcing backups and maintenance tasks to keep company data and devices safe from attacks and human error.
IT On Demand supplies our customers with templates to start building a policy library and the tools to protect and maintain the equipment that is used regularly to do business in an ever-more connected world.
The time to have these policies and processes in place is before a catastrophic event occurs.
Dropping a cell phone into a stein of beer is bad. Bad for the beer, bad for the phone. It's unlikely you're going to find rice in that beer garden or beer tent, by the way. Don't make it wurst (I know, again) by not having the tools in place to have the data backed up and recoverable.
While drinking and eating through this Oktoberfest season, make sure you keep your company data protected. It can even save the photos you've taken of the boss in lederhosen to post up on the company intranet.
PROST!
---
Security Evangelist Howard Globus has more than twenty years of experience designing, installing and supporting Windows server and workstation products in industries where security and reliability are critical. System engineering and administration experience includes customized Windows Server and Workstation installs, designed to be deployed using the latest automated technology available and managed using products found onsite at most Fortune 500 firms to ensure a wide variety of potential personnel to support the products in the future.