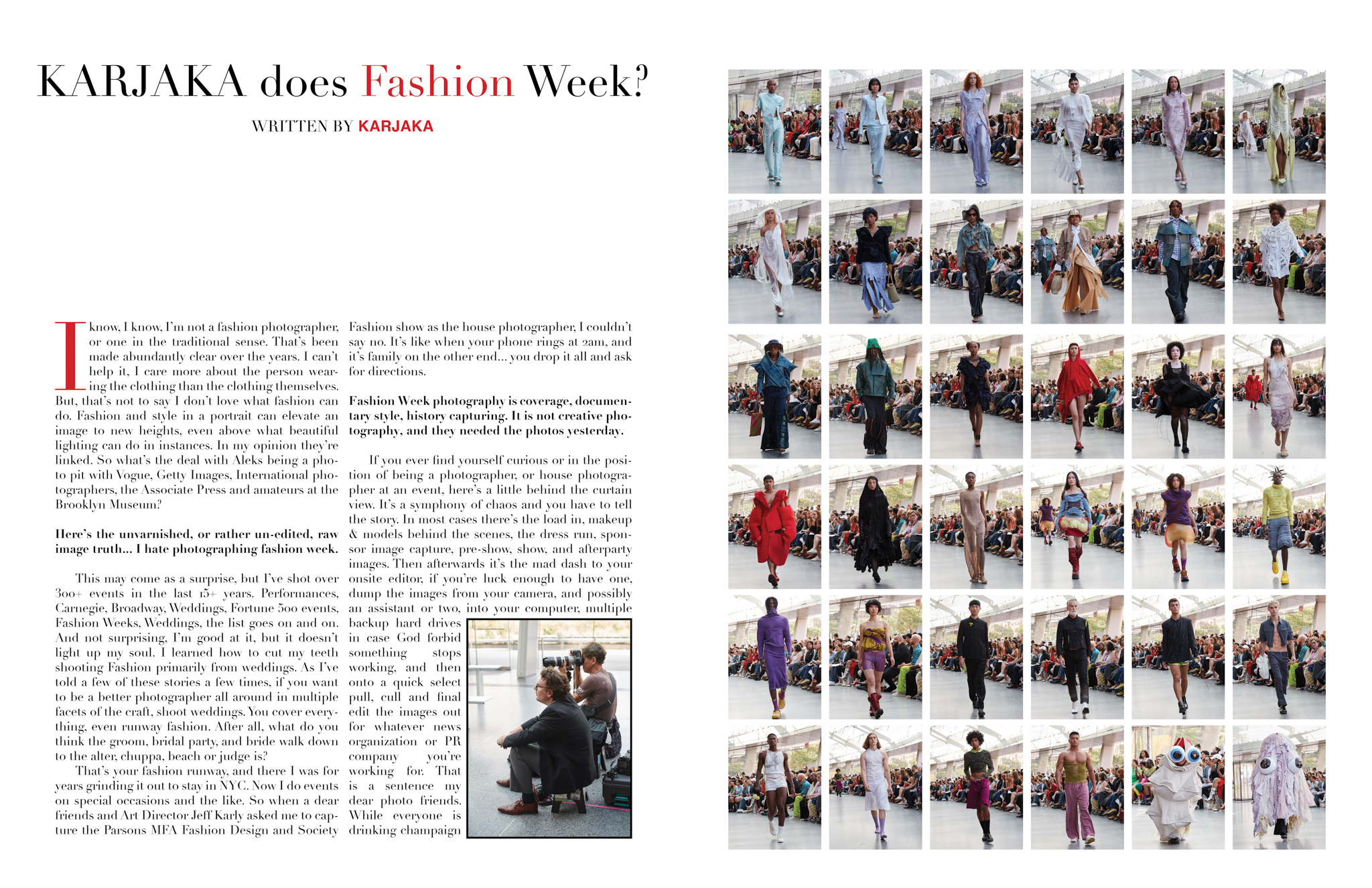 I know, I know, I'm not a fashion photographer, or one in the traditional sense. That's been made abundantly clear over the years. I can't help it, I care more about the person wearing the clothing than the clothing themselves. But, that's not to say I don't love what fashion can do. Fashion and style in a portrait can elevate an image to new heights, even above what beautiful lighting can do in instances. In my opinion they're linked. So what's the deal with Aleks being a photo pit with Vogue, Getty Images, International photographers, the Associate Press and amateurs at the Brooklyn Museum?
Here's the unvarnished, or rather un-edited, raw image truth… I hate photographing fashion week.
This may come as a surprise, but I've shot over 300+ events in the last 15+ years. Performances, Carnegie, Broadway, Weddings, Fortune 500 events, Fashion Weeks, Weddings, the list goes on and on. And not surprising, I'm good at it, but it doesn't light up my soul. I learned how to cut my teeth shooting Fashion primarily from weddings. As I've told a few of these stories a few times, if you want to be a better photographer all around in multiple facets of the craft, shoot weddings. You cover everything, even runway fashion. After all, what do you think the groom, bridal party, and bride walk down to the alter, chuppa, beach or judge is?
That's your fashion runway, and there I was for years grinding it out to stay in NYC. Now I do events on special occasions and the like. So when a dear friends and Art Director Jeff Karly asked me to capture the Parsons MFA Fashion Design and Society Fashion show as the house photographer, I couldn't say no. It's like when your phone rings at 2am, and it's family on the other end… you drop it all and ask for directions.
Fashion Week photography is coverage, documentary style, history capturing. It is not creative photography, and they needed the photos yesterday.
If you ever find yourself curious or in the position of being a photographer, or house photographer at an event, here's a little behind the curtain view. It's a symphony of chaos and you have to tell the story. In most cases there's the load in, makeup & models behind the scenes, the dress run, sponsor image capture, pre-show, show, and afterparty images. Then afterwards it's the mad dash to your onsite editor, if you're luck enough to have one, dump the images from your camera, and possibly an assistant or two, into your computer, multiple backup hard drives in case God forbid something stops working, and then onto a quick select pull, cull and final edit the images out for whatever news organization or PR company you're working for. That is a sentence my dear photo friends. While everyone is drinking champaign and various hobknobbing is commencing, you're just starting the editing process. OR if you have another show to capture that evening you have to pray the trains are working, that the show you just shot ended on time, or that your Uber will really be there in 4 mins. Meanwhile you're dumping and backing up on your computer in transit.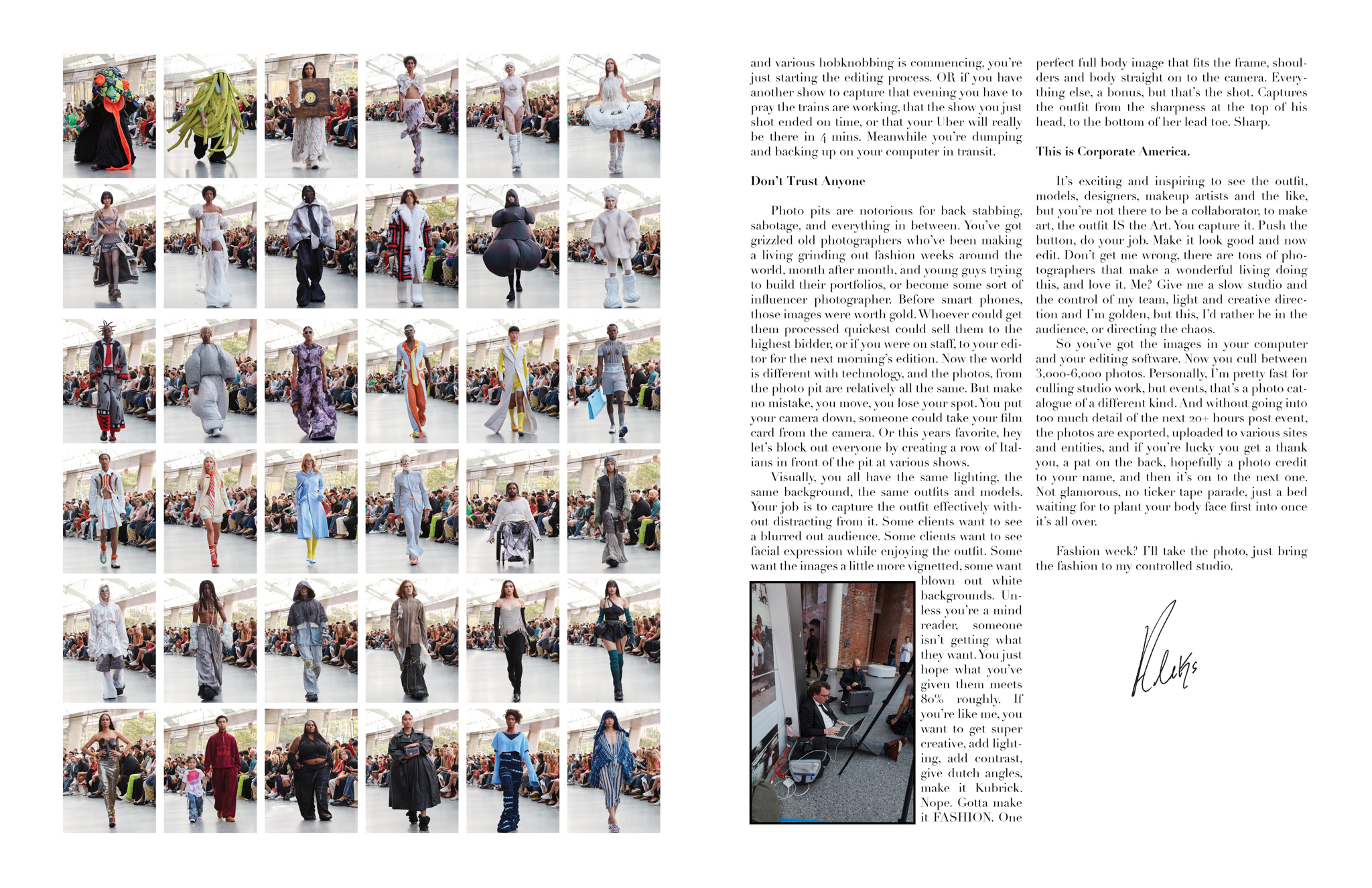 Don't Trust Anyone
Photo pits are notorious for back stabbing, sabotage, and everything in between. You've got grizzled old photographers who've been making a living grinding out fashion weeks around the world, month after month, and young guys trying to build their portfolios, or become some sort of influencer photographer. Before smart phones, those images were worth gold. Whoever could get them processed quickest could sell them to the highest bidder, or if you were on staff, to your editor for the next morning's edition. Now the world is different with technology, and the photos, from the photo pit are relatively all the same. But make no mistake, you move, you lose your spot. You put your camera down, someone could take your film card from the camera. Or this years favorite, hey let's block out everyone by creating a row of Italians in front of the pit at various shows.
Visually, you all have the same lighting, the same background, the same outfits and models. Your job is to capture the outfit effectively without distracting from it. Some clients want to see a blurred out audience. Some clients want to see facial expression while enjoying the outfit. Some want the images a little more vignetted, some want blown out white backgrounds. Unless you're a mind reader, someone isn't getting what they want. You just hope what you've given them meets 80% roughly. If you're like me, you want to get super creative, add lighting, add contrast, give dutch angles, make it Kubrick. Nope. Gotta make it FASHION. One perfect full body image that fits the frame, shoulders and body straight on to the camera. Everything else, a bonus, but that's the shot. Captures the outfit from the sharpness at the top of his head, to the bottom of her lead toe. Sharp.
This is Corporate America.
It's exciting and inspiring to see the outfit, models, designers, makeup artists and the like, but you're not there to be a collaborator, to make art, the outfit IS the Art. You capture it. Push the button, do your job. Make it look good and now edit. Don't get me wrong, there are tons of photographers that make a wonderful living doing this, and love it. Me? Give me a slow studio and the control of my team, light and creative direction and I'm golden, but this, I'd rather be in the audience, or directing the chaos.
So you've got the images in your computer and your editing software. Now you cull between 3,000-6,000 photos. Personally, I'm pretty fast for culling studio work, but events, that's a photo catalogue of a different kind. And without going into too much detail of the next 20+ hours post event, the photos are exported, uploaded to various sites and entities, and if you're lucky you get a thank you, a pat on the back, hopefully a photo credit to your name, and then it's on to the next one. Not glamorous, no ticker tape parade, just a bed waiting for to plant your body face first into once it's all over.
Fashion week? I'll take the photo, just bring the fashion to my controlled studio.